Having a hard time finding the perfect bra? Imagine a bra that fits like a dream, looks great under clothes, and is cute to boot. "Impossible!" you say? Not if you're armed with accurate measurements and the know-how to choose the bra that's right for you.
According to most studies, more than 80% of women are wearing the wrong size bra! With statistics like that, it's likely that you're one of them.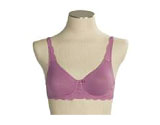 Shop Bras
Sure, finding that perfect lingerie or sports bra can be a challenge, but Sierra Trading Post is here to help. We've compiled a list of our top quality vendors that elaborates on their product lines, including individual sizing and fit guides to help you find a brassiere you revere.
A well-fitting lingerie bra should not only be comfortable but should make you look and feel your best. The ideal bra can lift, separate, accentuate, support, minimize, or maximize your assets.
Your bra should feel comfortably snug, not binding or loose. The front center of the bra should rest on or close to the chest bone and the straps should be adjusted to support and align your breasts evenly. For optimal comfort and support, the back wings (strips of fabric which extend from the outer base of the cups and secure in the back) of your bra should rest comfortably at or below your shoulder blades.
Lingerie Bra-ssary of Terms
Comfort Straps
Comfort straps are wider-than-average straps and are usually padded or lined to distribute the weight of the breast evenly and increase comfort.
Fit Tip: If you're a fuller-busted woman, comfort straps are essential if you've experienced shoulder or neck pain from straps digging into your shoulders.
Contour Bra
A contour bra has shaped cups that are always padded or lined and feature an underwire. Because they offer a significant amount of coverage and control, contour bras are a perfect choice for women seeking a sculpted silhouette under their clothes. Contour bras don't increase bust size; they create a rounder, symmetrical look.
Convertible
A bra designed with modifiable and sometimes detachable straps is a convertible bra. These are meant to be worn under halter, racerback, cross-back, one-shoulder, or low-back clothing.
Demi Cup
A demi cup bra offers minimal coverage for petite and average women. Demi bras cover the nipple and approximately ½ of the breast.
Full Cup/Full Coverage
A full cup bra completely covers most of the breast, offering more coverage and more support than a demi cup bra.
Minimizer
A minimizer bra does just that; it minimizes the bust by up to one cup size.
Molded
The cups on this bra are machine molded. They mirror the woman's shape for a natural look under clothing. Molded bras are generally unlined and may either have soft cups or underwire.
Padded
Padded bras have a padded lining in the cups. Graduated padding is thicker at the base of the cups and creates a natural looking silhouette and the appearance of increased cleavage.
Push-Up
Push up-bras create the appearance of increased cleavage using angled cups (which generally have underwires) and a variety of padding types.
Seamless
Seamless bras are a great choice for pairing with knitwear or jersey material because they are essentially invisible under clothing. These may also be called `T-shirt' bras. A bra is considered seamless if it is constructed without seamed cups. There may be seams in other parts of the bra and still be considered seamless.
Underwire
This is a thin, flexible wire which offers added support to the cups of some undergarments. Generally, there are two types of underwire: mesh and seamless. Mesh underwire is found in most underwire bras. Seamless underwire is virtually invisible under clothing.
How to Establish your size in most lingerie bra brands
Measure Around Your Bust:
Extend the measuring tape around your back and across the fullest part of your bust. Make sure the measuring tape around your back remains parallel to the floor. Measure the total number of inches and record it.
Measure Above Your Bust:
Extend the measuring tape around your back and under your arms, making sure that the tape remains parallel to the floor. With your arms down, place the tape just above your bust where your breast tissue starts. Measure the total number of inches and record it. This measurement is your band size.
Determine Your Bra Size:
Subtract the second measurement from the first measurement. The difference is your cup size. For example, if your first measurement was 39" and your second measurement was 35", you would use this equation: 39"- 35" = 4". According to the chart below, you would be a D cup. If you didn't end up with a whole number, round up to the nearest whole inch.
| | |
| --- | --- |
| 1-inch difference | A Cup |
| 2-inch difference | B Cup |
| 3-inch difference | C Cup |
| 4-inch difference | D Cup |
| 5-inch difference | E Cup (DD) |
| 6-inch difference | F Cup (DDD) |
| 7-inch difference | G Cup (DDDD) |
| 8-inch difference | H Cup |
| 9-inch difference | I Cup |
| 10-inch difference | J Cup |
If the number for your band measurement (the second measurement) is an uneven number, round up to the next even number. Bra band sizes only come in even numbers. Since your band measurement was 35", you must round up to 36". This would make your true size a 36D.
This chart may also be used to figure out your sports bra size when a brand, like Moving Comfort, calls out for a specific cup size.