For many families, the dining room is a place to share stories and catch up on the day's events over a home-cooked meal. It's a place for brunches and lunches, holiday suppers and dinner parties. Creating the perfect dining experience isn't all about the dishes and silverware, but setting an elegant table can certainly make feasting and socializing more enjoyable. Whether you've recently decided to furnish your dining room with some new tableware or just need to fill in the gaps, this overview should help address some of the common questions associated with selecting tableware.
The place setting is the cornerstone of any dining table, but the specific components can vary depending on formality and the type of meal being served. The diagram below shows a common table setting arrangement.
Depending on the size of your dining room table, most people prefer to have between eight and twelve place settings. If serving champagne, the flute should be placed behind the wine glasses, since sparkling wine is typically served after the meal. To save space, it's usually best for the host to bring coffee cups and saucers out after clearing the dinner plates and before serving dessert.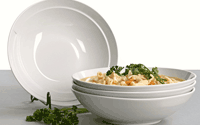 Shop Dinnerware
So, what's the difference between the materials used to make dinnerware? Below are five of the most common types of materials found in dining rooms:
Earthenware is a type of ceramic that is fired at low temperature, and is one of the oldest forms of ceramic material. Earthenware may or may not be dishwasher safe.
Stoneware is fired at higher temperatures than earthernware, generally making it more durable. Stoneware is often dishwasher and microwave safe.
Porcelain china or fine china is a type of ceramic fired at extremely high temperatures. The result is a very smooth, durable and slightly translucent material. It was originally developed in China during the Han Dynasty.
Bone china is a type of porcelain prized for its superior strength and chip resistance, and was first developed in England in the mid-18th century. The added durability is achieved by adding bone ash, hence the name.
Glassware is a popular addition to traditional ceramic dinnerware. Dessert plates, salad plates and serving plates are often made of glass and may feature ornate patterns. Nachtmann dinnerware is a fine example.
Melamine is an organic compound used to create resin, which can then be used to make plates and bowls that are very strong and heat-resistant. Melamine is dishwasher safe, but usually not microwave safe. Le Cadeaux dinnerware is an excellent option for melamine dishes and bowls.
For formal dinners, meals are usually served in courses from the kitchen. Formal dinner courses are most often served in the following order: appetizer or soup course (unless soup is the main course), main course (entrée), salad course and dessert course. Some prefer to have the salad course before the main course, depending on personal preference. Bread is usually made available throughout the meal.
Shop Serveware
For more casual, family-style dinners, the entrée, sides, bread and salad can simply be placed on the table in containers and served in a roundtable fashion. If the dining table is small, it's often best to carve roasts or poultry in the kitchen and bring the pre-carved entrée out on a smaller platter. Of course, the variety of serveware you choose depends on the size of the meal you intend to serve.
Silverware and stainless steel flatware are available in a wide range of styles, from minimalist to ornate. Depending on your personal taste, you should choose a flatware pattern to complement your dishes. Most flatware sets have matching serving sets available, which typically contain a serving spoon, meat fork and cake server. You may also be able to buy a matching butter knife and sugar spoon.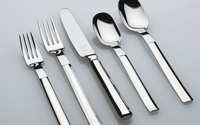 Shop Flatware
Stainless steel or silver?
Stainless Steel
The quality of stainless steel flatware is determined by the nickel content. A designation of 18/0 corresponds to a chromium content of 18 and a nickel content of zero. Similarly, an 18/10 ratio signifies 18-percent chromium and 10-percent nickel. Essentially, higher nickel content provides better rust resistance and a shinier finish. Zwilling J.A. Henckels flatware is an excellent choice.
Silver
Most silverware is made from sterling silver, which is a silver alloy. It should be handwashed using gentle soap and water. Harsher detergents and high-temp dishwashers can damage silverware over time. Silverware also requires occasional polishing to prevent tarnishing.
As mentioned earlier, the four drinkware components needed for a table setting are a drinking glass or goblet, red wine glass, white wine glass and champagne flute. You may also wish to include a set of coffee or tea cups and saucers to accompany the dessert course.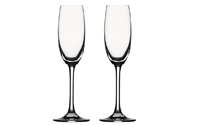 Shop Drinkware
Most contemporary stemware is made of glass, such as Spiegelau drinkware. However, crystal glassware may also be used. Traditionally, crystal was created using lead glass, and is desired for its enhanced brilliance. Antique lead crystal is still used by some families, as it can be passed down through the generations. Lead crystal should be washed before and after meals, and beverages should not be stored in antique decanters for more than a few hours, as leeching can occur. Most modern crystal is made with lead-free crystal glass.
To help protect the dining table and add a pleasing aesthetic, many hosts will use a tablecloth, which may be combined with a table runner. Traditionally, tablecloths were made of linen. However, most contemporary cloths are made of polyester or poly-cotton blends, which are easier to wash. Placemats and coasters are more commonly used for casual dinners. Finally, consider adding a finishing touch to your table with freshly cut flowers and candles.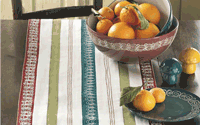 Dining Décor