We're sure you've heard it all before. "The right pedal systems and cycling shoes can change your ride for the better." But with all the confusing terminology out there it's hard to know how and where to start looking for the appropriate cycling footwear. (Wait, toe clips don't actually clip into anything, but "clipless" pedals actually do require that you clip in your cycling shoes? Huh?)
The proper cycling shoes shouldn't fight you at every turn of the pedals. They should be responsive, convert energy into speed and maximize power to the pedals without sacrificing comfort.
We've created this cycling shoe guide to help you understand the technology behind pedal systems and their corresponding shoes to get you on the road to touring bliss or downhill thrills.
Cycling shoe designs are dictated by the types of pedals with which they are compatible. Some cycling shoes are meant to be used with one type of pedal only, while other shoes have more adaptive systems for use with different types of pedals. The thing to remember is that cycling shoes, cleats and pedals are all pretty specific to one another, so be sure all your pedaling-system components are compatible with one another.
You have three options when it comes to bicycle pedals: flat or "platform" pedals, toe cages (or "toe clips") and clipless pedals.

Flat/Platform Pedals
In mountain biking and BMX racing, platform pedals refer to any flat pedal without a cage. Platform pedals typically feature short, rounded studs on the surface to enhance grip but limit damage to a rider's shins and ankles in case of an accident.
Platform pedals range from disposable plastic units used for test rides on new bicycles to high-end downhill models. Budget pedal models may be made of steel, plastic or aluminum, and come standard on many less-expensive mountain bikes and comfort cruisers. These metal platform pedals are generally considered disposable after many miles of use, meaning they cannot be rebuilt when worn out. More expensive platform pedals, on the other hand, are available with replaceable metal traction pins and cartridge bearings.
The major advantage of flat pedals is that they are compatible with just about any pair of shoes, and don't confine the feet in any way (this is important for new cyclists). Experienced cyclists know that flat pedals are not as efficient as other pedal systems, however.
Toe Cages
Most entry-level road bike pedals are equipped with standard "toe cages." (These may also be referred to as "toe straps" or "toe clips.") As the name implies, these pedals feature a cage into which you slide the front of your foot. Toe cages also feature adjustable straps that you tighten around your foot so it remains in the cage and flat against the pedal while you're riding.
Toe cages are good for beginners because they don't require you to invest in new pedals or cycling-specific shoes. They also provide a slightly improved performance over flat pedals by increasing the power in your pedal stroke. They do this by virtue of your shoe being held more firmly against the pedal and by allowing you to lend pedaling power on the upstroke as well as the downstroke. The downside to toe cages is that straps frequently need to be adjusted on the fly and this requires you to bend down, an activity which can cause you to lose balance until you have become proficient.
Clipless Pedals
No matter their shape (round, square or oblong), clipless pedals feature a composite body, a steel pedal and spring axles. Like platform pedals, clipless pedals are flat, but they feature a locking mechanism that interacts with the cleat on your shoe to keep your foot in place while pedaling. They are also usually much smaller and lighter than platform pedals. The term "clipless" could also be interpreted as "cageless," because clipless pedals do not have an external toe cage.
Clipless pedals offer the utmost in performance, because they keep your feet locked in place to deliver constant pedaling power no matter where each foot is in the stroke cycle. These pedals are generally one-sided for road bikes and two-sided for mountain bikes. In other words, road bike pedals allow you to clip into one side of the pedal only, while mountain bike pedals allow you to clip into both sides. Clipless MTB pedals allow a rider to clip into both sides because when riding off-road, one side of a pedal may get caked with mud or debris, making clipping in difficult.
Specific types of clipless pedals require compatible shoes. And in order to find compatible shoes, you need to know which type of clipless system your pedals use.
Note: Many pedal manufacturers make models for both road biking and mountain biking, with some exceptions. Check the product specifications of any cycling shoe to make sure you're getting the appropriate system for the pedals you'll be using.
The majority of clipless pedals and cycling shoes on the market use an SPD (Shimano Pedaling Dynamics) system. Originally manufactured only by Shimano (hence the name), many companies besides Shimano now make SPD style pedals. Like all clipless pedal systems, the SPD system consists of a metal cleat screwed into the sole of the cycling shoe and a pedal that accepts this cleat, allowing it to clip in. An SPD cleat looks like a flat metal shamrock, with the tapered top end pointing toward the front of the shoe. You slide this tapered front end into a notch in the front of the pedal, and then press the two side ends of the shamrock down on a metal bar which yields to the pressure, moves out of the way to the back and allows the cleat to "click in" beneath it.
Shop SPD Cycling Shoes
SPD pedals require that you set tension on the springs to hold the cleats to the pedals. This takes some fine tuning, as too much tension may make it difficult for you to unclip from the pedals, while too little tension may make it difficult to stay clipped in.
3-Hole Cleat
Almost exclusively used for road bike pedals and shoes, 3-hole systems are similar to SPD systems except use a three-bolt/ three-hole system in a triangular pattern to affix the shoe to the pedal. There are several major manufacturers of 3-hole pedal systems.
LOOK
Pioneered the use of clipless pedals in the 1980s for cycling applications based on equipment originally developed for ski bindings. In the LOOK system, the cleat is engaged by simply pushing down and forward on the pedal or by twisting the cleat in sideways. The cyclist releases the foot from the pedal by twisting the heel outward.
While this does sound similar to the SPD system, the two systems are not compatible (i.e. you can't fit an SPD-specific shoe into a LOOK-specific pedal). SPD cleats are sometimes smaller, potentially making shoes with those cleats easier to walk in.
Time
3-hole pedals are used by many metropolitan bicycle couriers, because of a very small cleat size for easy walking, very low weight and simple entry and release. These pedals are so easy to use that the rider usually does not even need to see the pedals to clip into them.
Note: Many cycling shoes are designed to fit any of the above pedal systems. At Sierra Trading Post, the specifications for these widely acceptable shoes will say "Compatible with most major pedal systems."
The type of riding you prefer determines the type of pedals you need.
Casual riders (those cyclists who ride their bike to the corner café for Sunday morning coffee) have no real need for a clipless pedal system. Flat pedals will work great for most of these riders; toe cages may be the best choice if you own a road bike. Both adjust to whatever footwear you're wearing and are easy to get in and out of when you're constantly starting and stopping in town, but toe cages provide more pedaling efficiency.
Road cyclists should always go with a clipless (or cageless) system for the most efficient energy transfer during long rides.
Mountain bikers need to get in and out of their pedals quickly when the going gets tough. Most mountain bikes come equipped with wide platform pedals, but if you're a serious mountain biker, you may want to upgrade to a clipless pedal system or toe cages.
Mountain bikers need to consider a few things before deciding on a pedal system. Clipless systems can be tricky to get out of in a hurry on a rough trail - the foot naturally wants to slide backward when you're heading for a tip-over, but clipless pedals require you to turn your foot at a (very unnatural) 45-degree angle to release your shoes. However, clipless pedal systems do help you more easily clear obstacles with bunny hops and wheelies. Toe cages, on the other hand, will require continual adjustments on the trail but are easier to get out of in a sticky situation. Every mountain biker needs to decide which system works best for him or her.
Cycling shoes aren't your typical athletic footwear. Cycling shoes have stiff or rigid soles to maximize power transfer and efficiency during each pedal rotation. They are characterized by these stiff, unpadded soles, specially-placed cleats, a very snug fit and very breathable uppers. And unlike other athletic shoes, cycling shoes aren't meant to walk or run in. Their "sole" purpose is aerodynamic energy transfer.
It's possible to cycle in regular athletic shoes, but shoes designed specifically for cycling make riding easier and more comfortable. Why? Cycling shoes have stiffer, less-cushioned soles than other shoes, which transfer more of your downward leg force into your pedals and limit the amount of energy you would lose when compressing the sole during each downward stroke. The result is a more efficient pedal stroke and less chance of fatigue. Cycling shoes may also feature reinforced toes and uppers that stand up better than standard athletic shoes to wear and tear.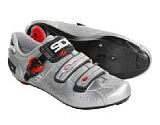 Shop Cycling Shoes
Casual/Touring Cycling Shoes
Casual cycling shoes are used for recreational cycling only. They have softer, more comfortable soles than road and mountain biking shoes and most models are comfortable enough to walk in. Usually casual cycling shoes are used in conjunction with toe cages or flat pedals. However, if you want to harness the energy efficiency of a clipless system, some casual cycling shoes feature removable cleats that are clipless pedal-compatible.
Road Cycling Shoes
Road cycling shoes are almost always clipless system-compatible. The defining characteristics of road cycling shoes are very rigid soles (so rigid they can't be bent), breathable uppers, reinforced arches and very minimal weight. These shoes are very sleek and don't have much, if any, tread. Usually, road cycling shoes can be adjusted on the move, with settings for uphill climbs and downhill sprints. Most models feature hook-and-loop closure for easy on/off and quick adjustments mid-ride.
Clipless pedal systems are not standardized, so you have to make sure the cycling shoes you buy will match up with your pedals. (Recognizing this problem, many bike manufacturers don't even equip their bikes with pedals, figuring customers will add their own pedal and shoe system!) To avoid this problem altogether, be vigilant about looking at the compatibility specifications for different pairs of cycling shoes.
It is important to note that many high-end road cycling shoes are 3-hole cleat compatible only, and not compatible with SPD pedals. Also, if you go with a toe-cage system to avoid compatibility problems with road cycling shoes, it's best to buy shoes that have high, reinforced rubber on the toe to protect against wear from constant pushing against the cage.

Off-Road/Mountain Biking Shoes
Whether used with clipless pedals or toe cages, mountain biking shoes will have very aggressive treads or cleats for scrambling up steep, slippery trails. Some models even have removable studs near the toes for traction on muddy ground. The uppers of these shoes are very durable to resist debris and shoelaces, if present, are hidden under the tongue to prevent them from getting caught in the spokes. Mountain biking shoes also have slightly softer soles than road shoes, but are still stiffer than regular athletic shoes.
Some mountain biking shoes have a slight amount of engineered flex in the toe area in front of the cleat mount. This feels more like a normal shoe when you're not on the bike and when climbing obstacles while pushing or carrying the bike. More expensive shoes usually have less frontal flex because more advanced riders spend more time in the saddle, and less walking around obstacles.
Indoor Cycling/Spinning
If spinning class is part of your regular workout routine and you use clipless pedals on your indoor bike, you may want to look for clip-in cycling shoes with recessed cleat mechanisms. Since the cleats don't protrude from the sole, you can easily walk to and from class in these shoes. Plus, the recessed cleats won't scratch hardwood floors or tile.
Downhill Racing
Downhill cycling pedals have a large platform-shaped exterior and a flattened surface with no clips, to allow a rider to easily free up his or her feet. Downhill racing shoes provide greater ankle support than regular mountain biking shoes, with reinforced toe caps and extra-rugged treads.
Shoe Fit
All cycling shoes should fit snugly around your foot. They should feel noticeably tighter than regular athletic shoes, but should not be so tight that they interfere with blood circulation. Be sure to allow for a little room in the toe box for curling or stretching your toes, though.
The heel cup of your cycling shoe should be snug enough to hold your heel in place through the entire pedal rotation. There should be even pressure on the instep when the shoe is laced and the ball of your foot should lie at the widest part of the shoe to allow for proper cleat positioning.
Materials
Your cycling shoes need to be lightweight but durable. You can cut down on the weight of the shoe by choosing plastic cleats over metal cleats and a hook-and-loop closure over shoelaces.
The material used in the construction of cycling shoes is usually divided into three categories.
Inexpensive cycling shoes have an injection-molded composite (plastic) sole, which is economical but heavy and most prone to flexing.
Mid-priced cycling shoes use a combination of composites and carbon fiber or plastic and fiberglass, making them more durable and lighter than inexpensive shoes.
High-end, competition-level cycling shoes will always have carbon fiber soles. Although they are on the higher end of the price spectrum, carbon-soled cycling shoes are extremely lightweight and provide the most efficient energy transfer.
Foot Protection Extras
Most cycling shoes are designed to provide a lot of ventilation to keep your feet cool and dry. But if you ride in cold or rainy conditions, you'll need additional protection to keep you comfortable. Neoprene booties that slide over the outside of your cycling shoes are available, to protect feet from penetrating moisture. Also, cycling shoes with Gore-Texr waterproof breathable membranes and insulated winter cycling shoes are available for extreme-weather riding. Waterproof socks can be worn underneath these shoes to keep moisture out and warmth in.
Generally, your pedals and shoes require minimal care to keep them in good condition. Here are a few things you can do to prolong the life of this cycling gear:
Before you use your cycling shoes, spray them with a waterproofing conditioner to protect them from moisture.
A toe-clip system requires almost no maintenance. Dabbing a spot of lube where the pedal meets the crank every few months is all it takes to keep things in working order.
Clipless pedals and cleats should be lubricated more often than toe-clip/ caged systems, especially if you ride in muddy conditions. Once your cleats start getting stuck or stop clicking in and out of the pedals quickly and smoothly, you need to clean and lubricate them thoroughly.
If muck gets caught in your cleats on the trail, simply rinse them off with fresh water; do a more thorough cleaning when you get home.