Cycling isn't just for summer. Year-round riding can offer many rewards. Fall riding offers ideal weather and a break from summer heat; winter riding lets you take advantage of sunny days and prevents cabin fever; and spring riding means longer days on the road as you prepare for summer cycling. To ride regardless of the season, however, you need to have the right cycling clothing and gear.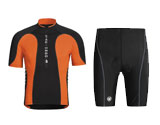 Shop Men's Cycling Clothing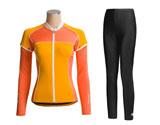 Shop Women's Cycling Clothing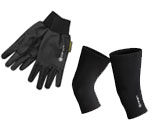 Shop Gloves and Protection
Jerseys
Known for their bright, flashy colors, cycling jerseys lend huge advantages to your comfort while riding. Their stretch-woven fabric (usually polyester) wicks moisture and dries quickly while a front zip allows you to regulate body temperature. Handy back pouches or zip pockets store tools, snacks and extra clothing easily.
Quick Tip: Although sometimes a bit over the top in their graphic expressions, brightly designed jerseys increase visibility to automobiles.
Shorts and Bibs
A good pair of cycling shorts is the easiest way to increase your comfort on a bicycle. The most important element is the chamois and a soft pad sewn into the shorts to absorb moisture and reduce chafing.
Quick Tip: If you're not ready to face the world wearing tight spandex shorts, there are casual-looking baggy styles (popular for mountain biking) that give the same level of comfort.
Jackets
On a bike, your best defense against changing weather is a jacket. Cycling jackets are lightweight and packable to stuff easily into a back pocket or accessory bag. Breathable fabrics like polyester and nylon resist wind and rain without restricting movement. Elastic hems and cuffs seal out the elements, too.
Quick Tip: When fitting a cycling jacket, make sure the sleeves are long enough for complete coverage while riding.
Gloves
Cycling gloves do more than keep your hands warm on a chilly ride. Some styles have strategically placed padding on the palm to absorb road vibrations and reduce fatigue. If you plan to ride off the beaten path, you may look to full-finger gloves with padding on the back of the hand for added protection. Most gloves also have a soft brow wipe on the thumb which comes in handy during an intense workout.
Quick Tip: Cycling gloves should fit snug but not tight.
Socks
Since cycling is a no-impact sport, cycling socks have virtually no padding and mainly serve to wick moisture and prevent blisters. Look for synthetic fabrics like polyester and nylon or natural fibers like wool for superior moisture management.
Arm and Leg Warmers
Arm and leg warmers are good alternatives to a jacket and tights on cooler rides. Plus, they are easy to shed once your muscles get warmed up or the temperature rises.
Shop Bikes & Bike Frames
Shop Helmets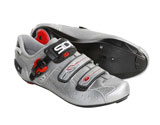 Shop Cycling Shoes
Bicycles
Helmets
Helmets have become more and more popular in recreational sports and cycling is no exception. Cycling helmets have a sleek design centered on aerodynamics and ventilation and although most manufacturers design them specific to road, mountain or recreational riding, all styles provide equal protection. Choosing one usually boils down to personal comfort and preference.
Quick Tip: Spending more money on a helmet doesn't buy better protection in the event of a crash. Helmets with a higher price tag will usually be lighter, less bulky and have better ventilation.
Sunglasses
Sunglasses are a must when riding a bicycle. Not only do they protect from sun glare and harmful UV rays, they also shield your eyes from dirt and debris kicked up by other riders and cars. Nearly any sport-specific sunglasses will suffice, but consider the importance of peripheral vision to cycling.
Quick Tip: Sunglasses with interchangeable lenses allow you to adjust to changing light conditions—pop in clear or amber lenses when your afternoon ride goes long.
Cycling Shoes and Clipless Pedals
Cycling shoes and clipless pedals are a progressive step for those who ride for aerobic fitness and want more efficiency from their pedal stroke. Cycling shoes fit more snugly than athletic shoes and have stiff midsoles to transfer power to the pedal, and improving smoothness and speed. Mountain bike-specific shoes have a lugged outsole and recessed cleats for ease of walking whereas road-specific shoes usually have smooth outsoles.
Quick Tip: If you're not quite ready to take the big step from flat pedals to clipless, toe cages are an inexpensive way to gain a little more power.
Water bottles and Hydration Packs
We all know the importance of hydration, as a rule of thumb, you should drink one liter of water for every hour of activity. Any standard water bottle will do the trick or try a hydration backpack with an internal bladder. Hydration packs are also great on longer rides when you're carrying more gear.
Accessories
There are certain items you should bring on every ride and a small accessory bag is an easy way to carry it all.
Quick Tip: Your bag should fit at least the bare necessities: spare tube, hand-held pump, patch kit, tire levers and a multitool.
Sierra Trading Post is a proud sponsor of Leave No Trace Center for Outdoor Ethics. Please follow the seven principles outlined below to ensure future enjoyment of your favorite hiking trails.
Plan Ahead and Prepare
Travel and Camp on Durable Surfaces (Stay on the trail!)
Dispose of Waste Properly
Leave What You Find
Minimize Campfire Impacts
Respect Wildlife
Be Considerate of Other Visitors