Whether you enjoy taking a yoga class on Wednesday evenings or you participate in rigorous Crossfit workouts several times a week, investing in good workout clothing will make a big difference in your comfort level and motivation. It's not just about fashion or looking good -- it's also about fit and performance. The right fitness clothing can enhance your sense of confidence and help you enjoy exercising without the discomfort that comes with ill-fitting, underachieving apparel.
Start making your clothes work as hard as you do. From the 24-hour gym to your favorite local running trail, we'll cover all of the essentials you'll need to help you stay motivated and feeling your best.
Shop Men's Fitness Clothing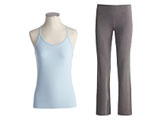 Shop Women's Fitness Clothing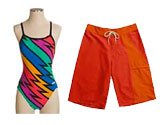 Shop Swimwear
Although you may not even realize it, working out in cotton shirts and shorts will end up weighing you down with extra moisture. Of course, all that sweat buildup doesn't make for a very pleasant feeling, either. Investing in moisture-wicking, fast-drying workout clothing is a must.
Synthetic fabrics like polyester and spandex are durable, lightweight, breathable and quick-drying. Superfine merino wool garments from brands like Icebreaker and SmartWool are also excellent options. These high-performance fibers will help regulate body temperature by transporting sweat away from your skin. In the heat, this helps keep you cool. When your workout is over, you won't catch a chill due to damp clothing. Garments made from these materials are also excellent for layering, which allows you to customize your comfort level on the fly when you're exercising outdoors.
To create a well-rounded fitness wardrobe, you'll want to invest in a variety of garments from the following list:
Workout Shirts & Tank Tops
Workout shirts and tanks are a big step up from a basic cotton T-shirt. Most have a breathable, jersey-like weave designed to wick moisture and maintain air circulation. Workout shirts come in numerous styles, from T-necks to tank tops, so they can be worn during almost any activity. Compression shirts make a very sleek, moisture-wicking base layer under looser-fitting tops to offer support and prevent underarm chafing.
Workout Pants, Shorts & Bottoms
Exercise pants and running pants are lightweight, breathable and allow for a full range of motion. These pants should offer a snug fit with ample stretch or a looser fit for easy strides. Zips or snaps at the ankles make getting in and out of your pants easier. Some track pants have snaps that go all the way up either side, allowing you to layer them over shorts and remove them without taking off your shoes.
Fitness shorts come in a wide variety of styles, lengths and materials. For high-intensity activities like running or cross-training, look for shorter, lightweight shorts with ample stretch for freedom of movement. Some running shorts also have a built-in brief for coverage. Shorts with longer inseams and a jersey-like feel are a good choice for less aerobic activities, like lifting weights.
Compression shorts and tights are made of extremely stretchy, moisture-wicking and breathable fabrics like polyester and spandex. Compression clothing is designed to hug the body, minimize chaffing and support muscles.
Quick Tip: Avoid washing most workout wear with fabric softeners. They may decrease the wicking abilities of the synthetic fabrics.
Workout Socks
Exercise socks from brands like SmartWool and Bridgedale are made from lightweight, wicking materials like CoolMax® polyester to keep your feet dry and prevent blisters. Padding in the heel and ball of the foot provides cushioning and protection. Features like reinforced arches lend extra support. Merino wool and wool-blend socks are good for outdoor activities in cooler weather. Always avoid cotton socks for working out. They wick poorly, dry slowly and usually don't offer much, if any, cushioning.
Sports Bras
Different sports bras are designed with different activity levels and cup sizes in mind. More intense activities call for a compression or encapsulating bra with the highest level of support. Some shimmel tops are made with a built-in sports bra, which makes them a great choice for low-impact activities like Pilates or yoga. Shimmels are ideal for women who want the support of a sports bra with the added coverage of a tank top in a single garment. For more detailed info on choosing a sports bra, check out our Bra Fit Guide.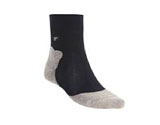 Shop Fitness Socks
Swimsuits
The type of swimsuit you wear for lap swimming or competitive swimming is different than a suit you might wear to the beach. A performance swimsuit should fit snugly to reduce drag.
There are three common choices for men's swimwear:
Briefs are form-fitting, brief-cut suits designed for lap swimming and racing.
Boxer briefs are snug with a slightly longer cut for a little extra coverage.
Swim trunks and board shorts are loose-fitting and cut longer to cover the thighs. The extra fabric on a pair of swim trunks will increase drag in the water, making them less ideal for swimming. But they're still a great choice for surfing, paddle boarding or playing beach volleyball.
There are two main options for women's swimwear:
One-piece suits with a racerback, also called performance swimsuits, allow for optimal freedom of movement and assurance that straps will stay put.
Two-piece suits designed for aerobic activities typically have a cropped top or a longer tank for extended torso coverage. These are good for water aerobics and beach volleyball, but are not as streamlined as one-piece swimsuits, making them less ideal for swimming.
For more detailed information on swimsuit styles and fit, check out our Swimwear Guide.
Jackets
Lightweight shell jackets can be worn if there is a chance of changing weather conditions during an outdoor workout. Most running jackets, for example, are extremely lightweight and breathable. Features like mesh vents and pit zips also help to prevent moisture build-up and vent excess heat.
To keep your core temperature consistent when you're exercising outdoors in colder weather, you'll want to layer your clothing. This will allow you to shed layers as needed to prevent overheating during aerobic activities. Layering typically involves three types of clothing: a lightweight base layer, an insulating mid-layer, and a water-resistant outer layer.
No matter which activity you're participating in, your layers need to be versatile and efficient. It's much easier to wear several lightweight items that can be removed as weather conditions or activity levels change.
Base Layer
For your base layer, look for garments made from lightweight, wicking fabrics like polyester, merino wool, CoolMax®, Polartec® PowerDry® and Capilene®. Many base layers also have some amount of spandex added for flexibility.
Mid Layer
Fleece vests and lightweight fleece pullovers are two good examples of insulating middle layers. Wearing a fleece vest or pullover will help maintain your body temperature by trapping warm air against your skin.
Outer Layer
Your exterior layer should provide wind and moisture protection, without adding too much weight or bulk. Look for a water-resistant, breathable shell that is designed for activities like running or cycling. Windstopper® jackets are also a good option for blustery days.
When more severe weather is a possibility, consider a seam-sealed, waterproof breathable shell. Lightweight Gore-Tex® shells are a good choice for hiking, trail running, climbing, skiing and mountain biking in inclement conditions. Of course, Gore-Tex® isn't your only option for protection in harsh weather. Other brands, like Omni-Tech® and MemBrain®, are also excellent.
Hats & Gloves
You always need to pay attention to your head and extremities in cold conditions. Carry along a fleece or lightweight wool hat for winter workouts. Gloves are also a must-have item for cold weather exercise.
For detailed information on dressing for cold weather, check out our Layering Guide or Head-to-Toe Winter Dressing Guide.
Athletic Shoes
Determine the type of shoes you'll buy based on your exercise routine.
If you're a runner, selecting an appropriate pair of running shoes is an absolute must. If your runs venture off the paved roads and sidewalks, a pair of trail running shoes will provide added support and traction. Not sure if you need cushioning running shoes or motion control running shoes? Check out our Running Shoe Guide for detailed information on fit and styles.
For court sports, like racquetball and tennis, you'll want a pair of lightweight tennis shoes. Because court sports require the body to move forward, backward and side-to-side, court shoes are subjected to heavy abuse. Look for a court shoe with a sturdy sole and stable heel to deal with multi-directional forces.
Cross-training shoes are the most versatile athletic shoes available. They meet the basic comfort, cushioning and stability requirements for most workouts, including aerobics, weight training, elliptical machines, stair machines, etc.). Cross-trainers should have wide, stable outsoles that provide support and a moderate amount of cushioning.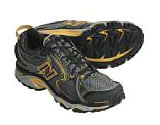 Shop Fitness Shoes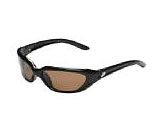 Shop Sunglasses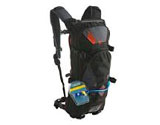 Shop Hydration Systems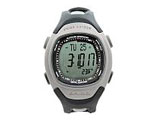 Shop Sport Watches
Sunglasses
The sun's rays are harmful to your eyes, so protect those peepers when you're training outdoors with a pair of sport sunglasses. To meet the various demands of both recreational and competitive athletes, many eyewear brands offer lightweight, flexible sunglasses made of durable materials that feature grip components and high-tech performance lenses with 100% UV protection. Check out our Sunglasses Guide to help you find a pair you can wear for various outdoor activities.
Water Bottles & Hydration
Whether you need a basic water bottle to take to the gym or a compact hydration pack for long-distance trail running, there are many options to choose from. Water bottles designed for running, for example, often feature molded hand grips or come in "holsters" that attach to your wrist. For hands-free hydration without the bulk of a full-sized hydration pack, you might consider a low-profile hydration belt. Hydration belts feature multiple bottles that you can fill with water or sports drinks, and some also include a holder for energy gel and other nutrition.
Caps & Visors
Whatever headwear you choose, just make sure it's lightweight and breathable. For running, tennis and other outdoor sports, visors and caps with some amount of mesh are ideal. Look for a moisture-wicking headband to keep the sweat from running into your eyes. Built-in sun protection is also a good idea.
Sports Watch
Besides keeping track of time, many sport watches track mileage, lap times, etc.
Heart Rate Monitor
A heart rate monitor will help you stay in your target heart rate zone for optimal training.
Keeping yourself motivated during a workout is challenging enough. Sticking to a long-term fitness goals is even harder. If you set a goal to work out three days a week, it's important to stick to that goal. Skipping workout sessions can lead to a breakdown of motivation. If you must skip a day, try to make it up on another day. If you find yourself getting bored of your routine, try new workouts or activities. Here are a few more motivational workout tips:
Don't think of exercise as punishment. Build in regular goal rewards, like getting a massage or spa treatment, to maintain your motivation. Even something as small as an after workout smoothie can be a good reward.
Start an exercise routine with a buddy. You'll be more apt to work out when you know someone else is counting on you.
Keep a fitness journal to track goals and routines. Write down the dates and times of your scheduled workouts in your day planner.
Find an objective way to monitor your progress. Tracking weight loss isn't the most important metric for success. Faster times, longer distances, more weight or more reps are all goals you can work towards.
If you think your workout routine is stagnating or you've hit a plateau in your progress, consider making an appointment with a personal trainer or enrolling in a class.

If your goal is to drop a few pounds, it helps to know which activities burn the most calories. Below is a chart depicting the different calorie expenditures of a 150-lb. person during one hour of exercise, based on the type of activity.
| | |
| --- | --- |
| Activity | Calories Burned Per Hour |
| Elliptical Trainer | 774 |
| Skiing (cross-country) | 774 |
| Rock Climbing | 747 |
| Cycling (14-16 mph) | 720 |
| Running (6 mph) | 684 |
| Skiing (downhill) | 594 |
| Rowing Machine (moderate) | 477 |
| Stair Step Machine | 477 |
| Racquetball (casual) | 477 |
| Aerobics (low-impact) | 414 |
| Tennis (singles) | 414 |
| Hiking | 405 |
| Skating (inline) | 342 |
| Pilates (beginner) | 252 |
| Weightlifting (general) | 234 |
*These figures were gathered from a calculator available at Health Status Internet Assessments and are offered here as estimates only. Actual calorie expenditure will vary based on body weight and exercise intensity level.
Note: Always consult a physician or other qualified health provider prior to beginning any new exercise program to assess your health and reduce the risk of injury.