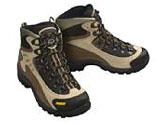 Shop Men's Hiking Footwear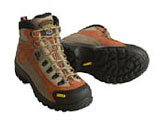 Shop Women's Hiking Footwear
Shop Hiking Socks
As an outdoor enthusiast, one of your most important rites of passage is to shoulder a pack and hike into the mysterious wonder of nature. You prepare. You plan. You buy what you think is a great pair of hiking boots. only to discover they're not a good choice for your trek.
The hiking boots feel heavy and uncomfortable after a couple of hours on the trail. They blister your feet. The pain is excruciating. You wait for the break-in period to end. But it never does, and before you know it, the soles have thinned and the lugs have worn away. The hiking boots are still uncomfortable.
Hiking boots are the most important hiking gear purchase you will make. And not all brands or models are created equal. The right hiking footwear will carry you far, fast and comfortably. It should be as light and comfortable as possible for the type of hiking you're doing, while also keeping your feet dry, warm, and well-protected.
Sierra Trading Post has created this hiking boot buying guide to help you become familiar with types of hiking boots, hiking shoes, materials used, construction and fit, so your feet can remain pain-free, even on the most challenging terrain. Too bad we can't say that about the rest of your body.

Hiking footwear is divided into three basic categories: lightweight hiking boots, backpacking boots (midweight hiking boots) and mountaineering boots (or extended backpacking boots). You should determine which type of hiking you'll do most to prevent yourself from buying inappropriate footwear. After all, you don't want to be the hiker seen wearing top-of-the-line mountaineering boots for a stroll through city park!
Lightweight Hiking Boots and Trail Shoes
Designed for day hikes only. This type of footwear stresses comfort and cushioning above all else and as a result, lightweight hiking boots and shoes are usually less supportive and durable than heavier duty types.
Backpacking or Midweight Hiking Boots
Designed for hiking over rougher ground while wearing a moderately heavy backpack. Backpacking boots tend to be more durable and supportive than lightweight shoes and boots, but are still primarily intended for shorter trips of 1-4 days over moderately rough terrain.
Mountaineering or Extended Backpacking Boots
Designed for on- and off-trail hiking with a heavy pack during longer, multi-day trips. Mountaineering boots are durable, supportive and provide ample ankle protection. These boots have thick, stiff soles designed for the roughest terrain and may be crampon-compatible for winter climbing.
With all types of hiking footwear, weight, durability and water resistance are of the highest priority. Thus the materials used in the construction of hiking footwear are of the utmost importance. Here are some materials to consider.
Nylon, mesh and split-grain leather boots and shoes are breathable and lightweight, making them ideal for warm-weather day hikes. Hiking footwear made from these materials is easier on your feet and generally takes less time to break in than heavier boots. Plus, boots made from split-grain leather are less expensive than ones made from full-grain leather, making them the perfect investment for the casual hiker. On the downside, nylon, mesh and split-grain leather boots are not as water-resistant or durable as full-grain leather footwear. However, waterproof linings are available to provide a higher level of waterproof protection in these boots.
Full-grain leather resists water well and is durable and supportive. It is used in the construction of midweight backpacking or heavyweight mountaineering boots, for hikers who will be carrying massive loads over unstable terrain. Full-grain leather footwear is heavier and less breathable than lightweight hiking footwear, but is generally more durable. Be warned that full-grain leather boots usually require a bit of breaking in. Never take your boots directly from the box to the trail!
Waterproof barriers are built into a lot of hiking footwear-from lightweight hikers to heavy-duty mountaineering models-to enhance water resistance. The performance of these waterproof barriers depends on the type of waterproof material used and how well you care for your boots or shoes.
Waterproof Linings
Barriers built into hiking shoes or boots to prevent moisture from passing from the outside materials through to your feet. While they do a good job of keeping moisture at bay, waterproof linings require a bit of care for optimal performance. Even then, linings like Gore-Texr can wear out quicker than you might imagine. Also, while the lining may keep your feet totally dry, it doesn't prevent the boots themselves from absorbing moisture outside of the waterproof barrier. Wet boots are heavy boots, and if your boots stay wet for a long time, they will begin to quickly degrade.
Waterproof Leather
Topically treated to resist moisture. However, if a boot is poorly constructed, leaks may still occur. Check the seams on waterproof leather footwear for signs of weakness (like loose threads or missing stitches). Realize that even "waterproof" leather will allow moisture to pass through if soaked for extended periods.
Waterproof Construction
Refers to design techniques that enhance waterproofness, like seam-sealing or specialized stitching. Waterproof construction techniques are usually combined with topical waterproof treatments for maximum moisture resistance. This level of protection is only necessary for extremely wet climates or multiple run-ins with water obstacles.
Construction is as important as the materials used when it comes to hiking footwear. Low-quality construction can lead to leaks, ripped seams or worn soles. And on the trail, those problems are hard to ignore. Generally, the more seams a boot has, the higher the risk for leaks and tears. Look for footwear with an upper that has minimal seams for optimal water resistance and durability.
The upper part of a hiking boot is either stitched or cemented to the sole of the boot. Stitching is very durable and can be removed in order to replace the sole once it's worn out. Cementing, on the other hand, is less expensive than stitching and translates into lower-priced footwear. Cemented bonds tend to wear down quicker than boot stitching, however.
There are multiple types of lacing systems found on hiking boots, based on the number of eyelets and intended use of the boot. Below are some common lacing styles:

The height of the upper helps determine the ideal use for a specific boot. A too-high or too-low boot may hinder your ability to safely navigate the trail.
Hiking/Trail Shoes
Similar in height to running shoes. They don't offer a significant amount of stability on rugged terrain and should be avoided on challenging, multi-day hikes. However, their light weight is good for carrying small loads over short distances on well-maintained trails.
Mid-Cut or Ankle-High Boots
Provide increased stability for the foot and ankle on rougher terrain. In these boots, your ankles are fully wrapped for support and protection from debris. They allow you to walk easily, but lack the full support needed for steep terrain or heavy loads. Both hiking boots and midweight backpacking boots are offered in this height.
High-Cut Boots
Hit well above your ankle and provide superior support on rough, uneven alpine terrain. They also provide the most stability of any boot when you must carry a heavy pack. Generally, high-cut boots take the longest to break in. All mountaineering boots fall into this category.

There are several layers in the sole of a hiking boot. Starting at the top, the insole contacts the bottom of the foot; a rigid shank provides stability; the midsole provides shock absorption; and the outsole contacts the ground with various treads, called "lugs."
The insole is usually a soft, wicking layer designed to cushion the foot. Sometimes this component is a removable foam layer and may be referred to as a "footbed."
Note: Shoe manufacturers sometimes refer to a stiff inner component of the sole as the "insole," but at Sierra Trading Post we usually provide information on only this softer top layer.
A hiking boot's shank is the stiff part of the sole that provides support underfoot just below the insole. Inexpensive boots have a shank made of bonded wood fibers, reinforced with a three-quarter-length steel shank that starts at the heel of the boot and ends just past the arch. Better boots use full-length molded nylon or polypropylene shanks which retain their stiffness much longer. Many lighter hiking shoes lack any shank because they don't need the added stability and focus more on a lighter weight.
The midsole of a boot, located just below the shank, helps to absorb shock and provide stability and comfort. It can be made from a variety of materials:
Compression-molded EVA (Ethyl Vinyl Acetate, a foam material) midsoles are made of expanded EVA and make for a lightweight shoe or boot.
Injection-molded EVA midsoles are made from melted pellets of EVA. They offer a more uniform density from heel to toe than compression-molded EVA midsoles.
Polyurethane (PU) midsoles are lightweight and offer cushioning, shock absorption, flexibility and added durability.
TPR (Thermoplastic Rubber, a combination of petroleum-based chemicals) midsoles offer lightweight durability and flexibility.
Hiking shoes and lightweight boots generally have thick, cushioned midsoles made from EVA, making them similar to the midsoles found in running shoes. EVA midsoles absorb shock well but tend to permanently compress after three to six months of heavy use. Midweight backpacking and mountaineering boots usually have polyurethane or TPR midsoles. While these midsoles provide significantly less cushioning than EVA midsoles, they still absorb shock well and are much more durable.
Most midweight backpacking and mountaineering boots feature a deep-lugged outsole. A deeply lugged outsole has very pronounced grooves for traction on unstable terrain. Shallow-lugged outsoles are more flexible and less supportive than deep-lugged outsoles and are found on trail running shoes and light hiking footwear.
Lug soles are outsoles made from a type of hard, durable rubber compound that provides excellent traction and abrasion resistance. One of the highest-quality types of hiking lug sole is a Vibramr outsole. This company creates trail-proven lug soles with various tread patterns, all which have Vibramr's signature octagonal-shaped yellow sole insert. Vibramr outsoles are used by leading hiking boot manufacturers like Asolo, Vasque, Merrell, Columbia and The North Face.
It doesn't matter if a shoe has all the bells and whistles; if it doesn't fit, it's not right for you. Here are a few fit tips to help get you down the trail in comfort.
Your boots should feel snug around the ball and instep of your foot, but loose enough so you can flex your foot forward comfortably. Rock onto the balls of your feet and then back on your heels. This motion should not make your feet feel restricted.
You should be able to wiggle your toes comfortably inside the toe box. With the right amount of room in the toe box, you should be able to spread your toes for stability and to allow for natural swelling. A fairly roomy toe box will also prevent cutting off your circulation, which increases your chance of getting cold feet.
Your heel should stay in place when you walk. This reduces the friction that causes blisters and prevents your foot from sliding forward.
When trying on or breaking-in hiking boots, be sure to wear the same socks that you will in the field.
Address all fit problems. Extra insoles, better socks and various lacing techniques may need to be employed to get your most comfortable fit. If you have high arches, for example, you may need to invest in a new footbed (in the form of an orthotic insert) to fill the excess space in your boot. Thick, moisture-managing socks keep blisters at bay, while lacing your boots in a different way may eliminate hot spots on the top of your foot.
Remember that while a boot will become a little softer after a breaking-in period, an ill-fitting boot can never be broken in enough to solve problems inherent in the fit.
Since hiking boots and shoes are designed to be used off the beaten path, they offer some features usually not found in urban footwear:
Rands are tough rubber bumpers on the edges of the boots designed to protect your feet and increase the life of the boots by reinforcing high-wear areas. Rands are almost always found on the front of hiking boots or hiking shoes, and are called "toe rands."
Tongue gussets link the tongue to the upper of the boot or shoe to prevent the entry of trail debris and water. Waterproof hiking boots can only be waterproof as high as the top of the tongue gusset.
Thickly padded collars provide ankle support and comfort, and help keep dirt from getting into your boot.
Cambreller lining or a similar synthetic lining will wick sweat away from your feet.
At the very least, brush all dirt and debris off your hiking boots after each use. Caked-on mud and muck can ruin leather over time.
Nylon and mesh uppers can be washed with mild soap and warm water. Do not use harsh detergents.
If your boots get soaked, stuff them loosely with newspaper or paper towels and leave them to dry in a naturally warm place. Do not dry them by placing them near a heater or other heat source, which can damage and dry out the leather.
Condition your leather boots with a leather treatment if suggested by the manufacturer; many full-grain leather boots respond well to leather treatments, but suede and nubuck can lose their fuzzy "nap" if treated. Dry leather cracks and wears much faster than supple, moisturized leather.