First things first... pick what you like!
Search by keyword or item number in the search box.
Browse by category to see our complete product selection.
Easy as pie... pick color, size, quantity, and click the "Add Item(s) To Cart" button.
Review the items in your shopping cart and click the "Proceed to Checkout" link or the "view cart/checkout" link found at the top of the site.
If you are finished shopping, click "Proceed to Checkout." Otherwise, repeat step 1 or click "Continue Shopping".
If you are a new online customer, fill out your billing and payment information that matches the credit card you plan to use. If you already have an online account with us, you may log in at this time.
Double check your information and your order details.
Click the "Place My Order" button at the bottom of the page.
You're done! Print out your invoice for your own records and submit your order to us so we can ship it out "asap."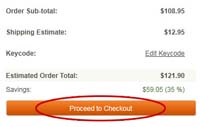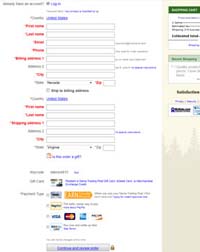 Congratulations! Your order is complete. If you have any further questions, try our FAQ section.