In the mid-1800's, American hunters and anglers realized that the rapidly disappearing wildlife would soon be eradicated if they didn't take steps to set limits and manage game species as a natural resource. North America's Wildlife Conservation Model was drafted on two basic principles: fish and wildlife should be managed in a way that sustains their populations forever and that game species belong to the citizens. The North American conservation model still remains in place to protect animal populations, assuring the management and survival of animal populations throughout the continent.
Over 65% of all state fish and wildlife agency budgets come from hunting and fishing related tax revenues. In the U.S. alone, anglers and hunters contribute nearly $70 billion annually to the country's economy. With the support of outdoor enthusiasts like you, Sierra Trading Post contributes to organizations like the American Fisheries Society, Rocky Mountain Elk Foundation, and the Wyoming Wildlife Federation. Thanks to the North American sportsman, millions of acres of land are set aside to be enjoyed by all. Join Sierra Trading Post by protecting wildlife and their habitats.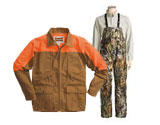 Shop Men's Hunting Clothing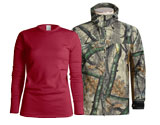 Shop Women's Hunting Clothing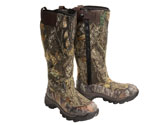 Shop Hunting Footwear
Whether you hunt big game, small game, predators or fowl, there's a good chance you need camo hunting clothing designed to keep you concealed and protected from the elements. Having the proper clothing and apparel is just as essential to hunting success as having the right equipment. Hunting clothing is typically:
More durable and weather resistant than normal clothing.
Designed with special features for the field, such as scent-masking fabrics, extra pockets for gear, etc.
Fitted to provide more flexibility and unrestricted freedom of movement.
To help give you an extra edge, brands like Scent-Lok® build odor-blocking features into their camo hunting clothing and apparel. Other brands like Browning and Columbia Sportswear construct clothing and jackets with hunter-specific features like ammo pouches and special compartments for your game calls, field dressing supplies, navigation equipment and other gear. By outfitting yourself with the proper clothing, you greatly increase your chance for a successful hunt.
Camo and Blaze Orange
There are almost as many styles of camo hunting clothing available as there are types of game. The most common styles of camo include woodland, marsh, brush and winter variants. Essentially, you should pick a pattern that most resembles the colors, plants and seasonal foliage of terrain you will be hunting in. For safety, the placement and amount of blaze orange a hunter is required to wear varies widely from region to region, and may also differ depending on the type of hunting (bow hunters sometimes have more latitude with camo because they often stalk game at closer distances).
Hunting Jackets
Your hunting jacket is your first line of defense against wind, rain and snow, so it's important to consider the type of conditions you may encounter in the field. If you plan to be in a cold, snowy environment, an insulated, waterproof camo hunting jacket is a must-have piece of gear. Brands like Scent-Lok®, Columbia Sportswear and Browning all make fantastic camo hunting jackets, and many include built-in extras like reinforced shooting patches, game bags and zip vents. Convertible hunting parkas offer versatility with removable liners.
Hunting Vests
Blaze orange and camo hunting vests are staples in mild-to-moderate conditions. Vests range from full camo, to camo-blaze combinations and full blaze. With special features like spare ammo compartments, gear loops, multiple pockets and shooting patches, your hunting vest provides additional protection from the elements and keeps important items close at hand. Browning, Boyt and Columbia Sportswear are three superb brands for camo hunting vests.
Hunting Pants and Bibs
One key difference between hunting pants and normal pants is the type of material. Typically made from quiet fabrics, like fleece and soft shell materials, camo hunting pants are designed to conceal noise in addition to providing camouflage and weather protection. Other features to look for in camo hunting pants:
Wind- and water-resistant shells for weather protection
Padded or reinforced knees to resist wear and tear
Special linings that insulate and wick away sweat
Zip-cuff openings for easier on/off over boots
Cargo pockets and ammo pockets
Hunting pants are also cut to provide freedom of movement when crouching, kneeling or stalking game. If rain or snow is a possibility, be sure to choose a pair of waterproof hunting pants with a Gore-Tex® shell or similar from Browning, Scent-Lok® or Columbia Sportswear.
Hunting Boots
Your hunting boots carry you through a range of topography, from brushy hillsides to swampy marshes to thickly forested woodlands. For this reason, hunting boots are available in a wide range of styles, from mid-height insulated hunting boots for winter backcountry, to extra-tall waterproof camo hunting boots for marshy environments. Most hunting boots are built with extra-rugged uppers and rugged traction soles to provide stability on rough or uneven terrain. Consider combining your boots with a pair of cushioned, moisture-wicking hunting socks for extra comfort — your feet will thank after a long trek in the field. Check out Rocky Lynx, Irish Setter and Columbia Sportswear for a great selection of camo hunting boots in a range of styles.
A Note on Layering
Proper layering is particularly important for hunting the field in comfort. Avoid cotton undergarments that tend to hold sweat and dry slowly. Starting out with a set of lightweight, moisture-wicking thermal underwear (usually polyester, merino wool or silk) underneath your hunting clothes make life in the bush a lot more pleasant. Check out our layering guide for more tips.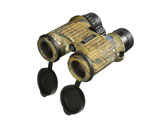 Shop Binoculars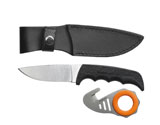 Shop Hunting Knives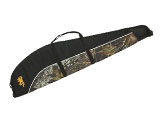 Shop Gun Cases
Once you've outfitted yourself with the proper clothing, the next step is to start looking at hunting gear. Pack all of the appropriate hunting equipment and ensure you're never stuck out in the field without something you need, whether that be field dressing gear or emergency supplies. For a full list of all the recommended items, download our comprehensive Hunting Checklist.
Hunting Optics
Having a pair of binoculars to spot game from longer distances is a huge benefit out in the field, and having the right scope often makes the difference when it's time to take that shot. Check out our Optics Guide for detailed information on how to select, use and care for your hunting optics.
Hunting Knives
Aside from field dressing and skinning game, your hunting knife may also serve as a crucial survival tool, so it's a good idea to select a knife with a reasonably large blade. Should the need arise, that blade is capable of cutting small branches to make an emergency shelter. Or pack two knives, a larger bowie knife for survival and camping applications and a smaller knife just for field dressing. Here are some common features to look for in a hunting or skinning knife:
Stainless steel blade resists corrosion
A sharp, curved drop-point or clip-point blade
Handles with good grip or made of non-slip materials
Additional features like gut hooks for faster skinning
If you opt for a folder rather than a fixed blade knife, make sure you select a model with a locking blade. Most hunters prefer a razor edge or straight edge blade for making precise cuts when field dressing. Remember to maintain your knife's edge with a sharpening kit, and clean the blade thoroughly before storing. For high-quality hunting knives, Ruko, Boker and Browning are all great brands to check out.
Gun Cases
Keep your firearm protected during transport by buying a gun case. Styles range from more basic rifle cases made of canvas and leather, to locking, impact-resistant composite or metal gun cases designed for secure storage and airline travel. Most gun cases and rifle cases feature a padded or foam-lined interior for additional protection from abrasion and impacts. Gun cases from Browning and Vanguard are both excellent choices.
First Aid and Emergency Preparedness
It's a good idea to have a small first aid kit with you in the field to treat cuts, scrapes, insect bites, burns and other potential injuries. If you plan on hunting in the backcountry, it's also prudent to carry survival gear, such as a space blanket, signal mirror, firesteel or windproof matches, water purifier, map, compass and small flashlight. Another handy item to have for winter trips is a few spare hand warmers. Adventure Medical Kits, Helenbac, Grabber and Coleman are all good sources for first aid and emergency gear.
Check out our Hunting Gear Checklist for a full breakdown of everything you'll need for your next trip.
Hunting Licenses and Tags
Rules and procedures for acquiring a general hunting license vary from state to state, and even more from country to country. If you're planning to hunt in the U.S., most states require that you have an up-to-date hunting license. Depending on the state, there may also be different licenses, more commonly called "tags," for specific types of game, especially big game animals. In other words, if you want to hunt elk, states require that you apply for an elk tag well in advance, in addition to having your general hunting license. Other game tags, such as a wild turkey tags, may have a bag limit, which varies depending on the population of animals each season.
Getting Licensed
If you've never received a hunting license before, the most common way to get licensed is to enroll in a state-approved hunter education course. After successful completion of the course, which may require a written test, you'll most likely pay a fee to receive your hunting license. Some hunting licenses must be renewed annually or after a certain period of time, which usually does not require another class. Some states offer lifetime general hunting licenses that never expire. For information about obtaining your hunting license or applying for a game tag, visit your state's Game and Fish Department website or your state's Division of Wildlife website. If you're planning to hunt out of state, you will most likely need to acquire a limited, non-resident hunting license from that region.
Hunting Seasons, Rules and Regulations
The hunting seasons, submission process for tags, rules and regulations vary from region to region. For example, the location and amount of blaze orange required for safety is different from state to state, and may also vary depending on the type of hunting (bow hunters often have different regulations). Many of these hunting rules and regulations will be covered in a hunter education course. Additional information is available by visiting your state's Game and Fish Department website or Division of Wildlife website.
Sierra Trading Post is a proud sponsor of Leave No Trace Center for Outdoor Ethics. Please follow the seven principles outlined below to ensure future enjoyment of your favorite hiking trails.
Plan Ahead and Prepare
Travel and Camp on Durable Surfaces (Stay on the trail!)
Dispose of Waste Properly
Leave What You Find
Minimize Campfire Impacts
Respect Wildlife
Be Considerate of Other Visitors