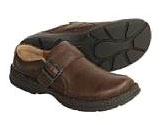 Shop Leather Footwear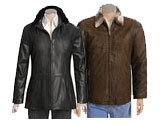 Shop Leather Jackets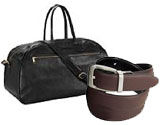 Shop Leather Bags and Belts
It has outfitted the desperados of the Old West, protected our WWII flyboys in the skies over Europe, bucked the establishment on the backs of Marlon Brando and James Dean, and streamed down designer runways during Olympus Fashion Week. Leather apparel is undoubtedly infused with American culture, rebel spirit, and rock and roll bravado, but leather has many faces. It can be dressed up and donned for a stroll down 5th Avenue or roughed up and worn to fix barbed wire on the ranch.
Leather isn't simply a chic fixture of Americana; it is a hard working, versatile, and durable staple in outerwear and sportswear. Genuine leather is resistant to wind and abrasion, making it an ideal protective layer for use during outdoor activities in various conditions. Leather apparel manufacturers are also taking advantage of emerging technologies and incorporating elements like synthetic insulation or 3-in-1 layering systems to make leather outerwear even warmer and more versatile.
Leather will always be a favorite with garment manufacturers, fashion aficionados, and rugged outdoorsmen alike because of its adaptable nature and unwavering allure. At Sierra Trading Post, we've created this guide to help you understand the basics of leather and the types available, so you can invest in the enduring beauty of an iconic leather garment.
About 65% of leather products on the market today are made from cowhide because it is the most uniform in color and its large size makes it economical. Hides from sheep, goats, pigs, and exotic animals like alligators, snakes, and ostriches make up the remainder of leather goods in production.
Benefits of Leather Apparel
It "gives" a little and molds to your body to provide a custom fit.
It won't stretch out or lose its shape.
It is breathable and wind-resistant.
It can be worn comfortably year-round.
It does not wrinkle easily.
Tanning
The tanning process converts animal hides into apparel-ready leather by curing, softening, and breaking in the raw leather. Depending on the desired finish, a hide may also be waxed, rolled, lubricated, injected with oil, split, shaved or dyed.
Appearance
When choosing leather, remember that it is a natural material and nature's signatures will be thoroughly imbedded in it. Healed scars, blemishes, or other markings should be considered natural beauty marks that make each item unique. Color variations will also occur. During the tanning process, each hide absorbs the curing liquid in varying amounts, much like wood will when stained. Don't think of these variations as defects; they are what make your piece distinctive!
Full Grain Leather
Made from the finest raw material.
Has not been sanded to remove imperfections.
Offers grain in its natural state for the greatest fiber strength and durability.
# Wears well for a custom look in boots, shoes and accessories.
Top Grain Leather
Prized for its texture: fuzzy on one side, smooth on the other.
Made from lower quality raw materials than full grain leather.
Has had all natural grain sanded off and an artificial grain applied.
May be "embossed" for a less expensive re-creation of more exotic leather.
Often used for handbags and footwear with a smooth exterior.
Suede
Genuine suede is usually made from cowhide, although doe suede, goat suede, and pig suede are also available.
Made from the lower (split) layer of a hide, which is then sanded or napped to add texture.
Less durable and abrasion resistant - but much softer - than standard full grain leather.
Its softness, thinness, and pliability make it suitable for lightweight jackets or other garments worn close to the skin.
# Due to its textured nature and open pores, suede becomes dirty quickly and is especially susceptible to water damage.
Shearling
Sheepskin or lambskin pelt that has been tanned with the wool still adhering to the hide.
The leather goes through a shearing process to obtain a consistent depth of the wool fibers for a uniform look and feel.
Typical shearling products feature leather on the outside and shorn wool on the underside.
Naturally thermostatic and moisture-wicking.
Used predominantly in boots, slippers, and winter jackets and coats.
Nubuck
Is top grain cowhide leather that has been sanded or buffed to produce a velvet-like surface.
Created from the outer side of a hide, giving it strength, thickness, and a very fine grain.
Very lightweight, with a feel finer than suede.
Usually colored or dyed to cover up the sanding process.
Used in high-end shoes, outerwear, belts, and handbags because of its luxurious feel and durability.
Less Common/Specialty Leathers
Buckskin is made by using fatty materials during the tanning process, resulting in a supple, suede-like finish.
Patent leather has been given a high-gloss finish.
Deerskin is often used in gloves because of its softness and stretch. It commands a high price because of its relative rarity and durability.
Napa leather is extremely soft and supple and is commonly found in higher quality apparel and accessories, like purses and fine shoes.
Genuine Leather
When a garment is labeled "Genuine Leather", it is usually made from one of the following types of leathers. Products made from these types of leathers do not hold up as well to the strains of frequent use and should be purchased only if you plan to use the item occasionally.
Split grain leather is the innermost layer of a hide and is not as durable as top grain or full grain leather because of its looser fibers.
Bonded leather is the lowest grade of leather on the market. Bonded leather items are constructed using a manmade product, such as cardboard, that is then surrounded with fragments of split leather and secured by glue. It has the look and feel of leather, but not the durability.
Disclaimer: All cleaning methods discussed should be tested on an inconspicuous part of the garment before application.
Store leather garments in a cool, dry area.
Place leather garments on hangers so their shape is maintained.
Keep leathers out of direct sunlight.
Avoid spraying perfume or hairspray on leather.
Allow damp leather garments to dry naturally.
Use a leather conditioner to restore flexibility and suppleness.
Choose a leather cleaner that allows the natural lubricating oils to be retained. The cleaning agent should not leave behind any greasy residue.
Use moisture barriers to protect leather from rain or other liquids.
For suede: Use a dry sponge or suede brush to wipe dried dirt away, and remove set-in stains with an art gum eraser, undiluted vinegar, or specialty cleaning agents. Restore suede's nap with a shoe brush or emery board.
For shearling: Most stains can be removed with chalk dust if treated immediately. Using regular white blackboard chalk, make a pile of dust on the stain by scraping the chalk stick with a knife edge. Allow the dust to remain on the stain overnight, then brush off with a suede brush. If shearling garments get wet, shake excess moisture away and hang in a well-ventilated area. Have all shearling garments cleaned and conditioned by a leather specialist at least once a year.