Moving Comfort designs sports bras with every woman's unique body and activity level in mind. Moving Comfort offers a full line of sports bras and other undergarments, including plus sizes, for low-impact activities or high-energy pursuits. And because fit varies with styling, Moving Comfort has created measurement and fit guides exclusive to their products.
This fit guide will help you find the right size of Moving Comfort sports bra. You might also want to read our Bra Fit Guide for more general tips on bra fit.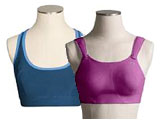 Shop Moving Comfort
Use these guidelines to ensure a proper fit in a Moving Comfort sports bra. You'll need to determine your band size, bust size and cup size.
Step 1: Bra/Band Size
When determining your band size in inches, first measure around your ribcage, just underneath your breasts. The tape should be snug, but not constrictive, and straight all around. Add five inches to this ribcage measurement, then round up to the nearest even number. This is your band measurement and also your Moving Comfort bra size.
Step 2: Bust Size
Measure around the fullest part of your bust. Keep the tape straight across your back, but slightly loose all around. Round this measurement up to the next whole number and record in inches. This number is only used to help determine your Moving Comfort cup size.
Step 3: Cup Size
Subtract your band size (step 1) from your bust size (step 2). The result will determine your Moving Comfort sports bra cup size, based on the table below. For example, if your bra/band size was 34" and your bust measurement was 36", the difference would be 2". That means your cup size would be B. Your overall Moving Comfort bra size would be a 34B.
| | | | | | | |
| --- | --- | --- | --- | --- | --- | --- |
| Difference | 1" | 2" | 3" | 4" | 5" | 6" |
| Cup Size | A | B | C | D | DD | E |
Fit Tip: Wear a lingerie bra that doesn't minimize or offer extra padding when you measure your band and bust sizes. Otherwise your measurements may be less accurate.
Your Moving Comfort sports bra needs to minimize breast movement by compressing, encapsulating or doing both. Here's what you need to know:
Compression sports bras simply press the breasts against your chest to minimize movement. Best for women with smaller breasts.
Encapsulation sports bras surround and support each breast individually, in addition to offering more shape.
Combination sports bras combine compression and encapsulation for superior support and comfort. Ideal for women with larger breasts and for use during high-impact activities.
If you buy a Moving Comfort sports bra online, you'll still want to try it on once it arrives to make sure it fits properly. Here are a few things to look for when verifying the fit of a Moving Comfort sports bra:
Band
Should fit more snug than a lingerie bra but still allow a deep breath without discomfort.
Should be wide and have a lot of stretch.
Should not ride up in the back; if it does, it may be too loose.
Cups
Your breasts should be completely held in the cups without overflowing.
The fabric on the cups should appear smooth when being worn. Wrinkles or puckers indicate the cup size may be too large.
The underwire should rest on your ribcage below each breast and follow your body's shape.
Straps
Should have minimal stretch to prevent excessive movement.
Should not fall off or dig into shoulders. Wider straps will be more comfortable and disperse weight better, while adjustable straps may offer the best fit.
When shopping for a Moving Comfort sports bra, there are a few additional considerations prior to making a purchase.
Impact Level
Low: Walking, yoga, pilates, weight training
Medium: Elliptical trainer, hiking, power walking
High: Running, soccer, tennis
Fabrics
Moving Comfort knows how important smooth, moisture-wicking fabrics are in the construction of quality sports bras. That's why many of their sports bras have Tactel® nylon or DriLayer® polyester fabrics for moisture transfer; cotton is never the primary fabric used. Moving Comfort sports bras also make use of Lycra® or spandex for long-lasting, dependable stretch.
Replacement
Expect to replace a Moving Comfort sports bra every 6-12 months, depending on frequency of usage. Once you can't read a bra's label anymore, it's definitely time to retire it. You can make it last longer by hand washing it. If you prefer to machine wash your Moving Comfort bras for convenience, always fasten the hooks before washing and hang to dry.