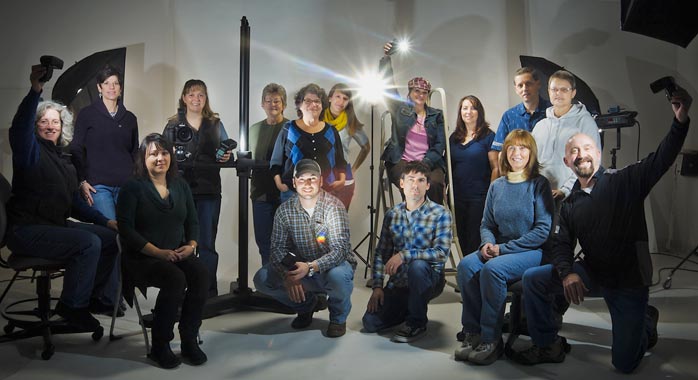 STP Photography Team: Roseann Ritter, Rene Meisel, Heather Sisneros, Shelly Cavanaugh, Kay Griffin, Janet Opp, Adam Freeman, Sara Heideman, Andrea Franco, Allen Burd, Pam Ruhaak, Doug Jackson, Patti Robinson, Sarah Aragon, and Mike Curran
A tremendous amount of work goes into every shot that we use on our website or in our catalogs, and our photography team is behind all of it. This multi-faceted group utilizes nine specialty studios to style and shoot high-quality images for our marketing material. And in 2011, this speedy group logged an impressive 51,981 images!
Manager: Allen Burd (drives the overall direction and output of the team)
Stylists: Sarah Aragon, Pam Ruhaak, Kay Griffin (research, prepare and style product before being shot)
Photographers: Roseann Ritter, Mike Curran, Shelly Cavanaugh, Doug Jackson, Andrea Franco, Patti Robinson, Janet Opp, Heather Sisneros (photograph high-quality images for catalog and web)
Vendor Photo Specialist: Sara Heideman (requests vendor and lifestyle photos from our great brands, ensuring each shot meets our high-quality standards)
Product Presentation Coordinator: Rene Meisel (acts as a liaison between the photographers and our buyers to ensure everything is merchandised properly)
Videographer: Adam Freeman (prepares and shoots product videos)
We give the customer a product image that is visually descriptive to help them make the right purchasing decision. This is done in a highly efficient work environment to keep costs low, so we can pass along the savings to the customer.
We are in the process of adding more model shots and product videos to help improve the look and feel of our product presentation. We're also remodeling one of our studios to shoot more complex home and gift shots.
Check back often to read about our other interesting teams at Sierra Trading Post.
Marketing/eCommerce
Merchandising
Creative Services
Web Ops & Emerging Technologies
Administrative
Customer Service
Facility Maintenance/Security
Order Fulfillment (Shipping/Packing/Picking)
Information Technology
Human Resources
Receiving
Returns
Buying
Retail