Blue jeans or khakis, chinos or capris, dress or casual; any way you wear them, pants and jeans are a fundamental part of your wardrobe. And chances are you've had a few frustrating online shopping expeditions trying to find the perfect pants – pants that fit correctly when they arrive; jeans that flatter your figure or make a statement about your style.
Finding a pair of pants that really fits is no easy task. Many women have never found a cut or style that fits their curves best. Some men are simply tired of finding pants that fit at the waist, but that are so short they look like they're ready for a flood.
At Sierra Trading Post, we don't think shopping for pants online should be a gamble. We're giving you the tools to help you make sense of your measurements and the often confusing "jeans jargon," so you find pants, jeans and slacks that exceed your expectations.
To determine your correct pant size, you'll need to know two measurements: your waist and inseam. Here's how to find them (using a flexible cloth tape measure):
Lay your best-fitting pair of pants out flat on a table or bed.
Make sure the pants are buttoned or zipped up completely.
For Inseam: Measure from the top of the inner pant leg seam (the crotch) to the opening at the bottom of the pant leg.
For Waist: Measure the waistband of the pants from the inside. (If you measure the waistband from the outside, its thickness could distort your true size.) If you find this difficult, you can simply measure around your exposed waist where your pant waistband rests.
Note: Always make sure the measuring tape lies flat or snugly against your body or the pants when taking these measurements.
Different pant leg shapes are referred to as "cuts," a term that is governed by the pattern design. The cut generally describes the actual shape of the pants and should be selected to flatter your unique body shape. Pant details like color, pocket placement and other embellishments are important, but they can't disguise a bad cut.
Below is a list of common leg cuts for pants and jeans, together with their descriptions.
Straight Leg
Pants with a straight, narrow leg that does not flare at the ankle.
Flared Leg
Pants that are narrow at the knee with an extra-wide flare from calf to ankle.
Boot Cut
Pants that are cut to skim over the thigh and flare slightly at the lower leg.
Tapered Leg
Pants that narrow toward the ankle.
Capri
Pants that end anywhere between the knee and mid-calf.
Cropped
Pants that end at any length from the mid-calf to the ankle.
Relaxed Fit
Pants that are relaxed and full from hip to ankle.
Skinny Leg
Snug fit through the legs and end in a small leg opening.
While some women's pants are sized according to waist and inseam measurements, others are alpha-labeled (XS to XL) or sized numerically from a size 4 to a size 20. Consult the chart below to make general women's pant size conversions.
It is important to note that some women's clothing brands at Sierra Trading Post offer sizes in "petite," "regular," and "tall" lengths. To get the best fit, be sure to order a pair of pants in the proper length for your height.
| | | | | | |
| --- | --- | --- | --- | --- | --- |
| Women's Sizes | Extra-Small | Small | Medium | Large | Extra-Large |
| Numerical Sizes | 4 | 6-8 | 10-12 | 14-16 | 18 |
| Approx. Waist Size | 25.5" | 26.5" - 27.5" | 28.5" - 30" | 31.5" - 33" | 35" - 37" |
What Does "Rise" Mean?
The rise in women's pants is the distance between the crotch and the waistband. The shorter this length, the lower the pants will sit on your waist. Not sure which rise style will fit you best? Simply consider the rise of your favorite pants based on the descriptions or measurements below.
Sierra Trading Post may name one of four distinct rises in a pair of women's pants: high rise, natural waist, just below waist and low rise.
High Rise
High rise pants are those which are fastened above the narrowest part of the waist, well above the navel. The rise is usually around 12 inches.
Natural Waist
The rise on a natural waist positions the waistband – as the name implies – right at your natural waist, which is at your navel or just above it. The rise of a natural waist will measure around 11 to 12 inches from the crotch seam to the top of the band.
Shop Women's Pants
Just Below Waist
The waistband of pants designated "just below waist" will sit below your natural waist or just below your navel. "Just below waist" means the pants will measure approximately 10 to 11 inches from the crotch seam to the top of the waistband.
Low Rise
The waistband of a pair of low rise pants will sit low on your waist, generally several inches below your navel. A low rise will measure around 8 to 10 inches from the crotch seam to the top.
Men's pants are almost always sized only in inches, by waist and inseam measurements. The waist measurement should always be listed first. For example, if a men's pair of pants or jeans is listed as 32 x 34", the waist measurement is 32" while the inseam measurement is 34".
Rise: Not Just for Women Anymore
Thought low rise pants were just for women? Well, you're in for a surprise. Fashions continually change and men's pants haven't remained impervious to those changes. Some clothing designers and retailers, aware of men's new demands, are embracing the latest trends in rise and cut. In particular, some designer men's jeans have a lower rise than traditional men's pants.
As with women's pants, the rise in men's pants refers to the length between the crotch and the waistband. The shorter the length, the lower the pants will sit on your waist. Traditionally, the rise in men's pants has been about 12 inches, bringing the pants to sit just below the navel. However, men's low rise pants are now in circulation. The waistband of a pair of men's low rise pants will be roughly 9 to 11 inches.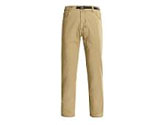 Shop Men's Pants
Men's Jeans: Common Cuts
As with the addition of new rises, men's jeans are now being produced in numerous shapes or cuts. Here's a list of some common cuts for men's jeans and pants.
Regular/Traditional/Classic
These jeans usually skim the seat and thigh with a leg that tapers slightly to the ankle.
Loose/Baggy
These jeans typically have a full seat and a loose thigh, with a straight leg.
Relaxed
These pants are generally relaxed through the seat and thigh (i.e. not as baggy as a loose-fitting pant) with a somewhat tapered leg.
Boot Cut
These jeans are cut to skim the thigh with a slightly flared opening at the lower leg.
Note: The cuts described above vary between different brands. Be sure to read the description of any brand's jean style on the brand's website.