The proliferation of panties on the market today has prompted us to develop some helpful definitions so our customers will know the difference between a "tanga" and a "hipster." We want women to be able to choose a panty style that will not only feel comfortable, but perhaps even go some distance in the fit-and-flatter, nip-and-tuck department.
Without the right panties under your designer pants, you may be creating or accentuating bumps and bulges. Luckily, there are numerous panty styles on the market designed to minimize those dreaded panty lines, and provide a smooth foundation for all the great styles you want to wear over them.
Whether it's briefs, boy shorts or bikinis you're after, Sierra Trading Post hopes this guide leads you to the perfect pair.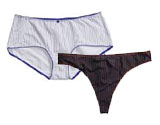 Shop All Panties
Boy Shorts & Hipsters
Relatively new on the underwear scene are boy shorts and hipsters. A boy-cut short is a full-coverage panty style with a low-riding waistline and leg openings that rest just above the thigh. Because they sit so low on the waist, boy shorts can visually lengthen your torso. Well-fitting, curve-skimming boy shorts can also smooth lumps and bumps on your hip and upper thigh area.
Hipsters offer the same low-riding waistline as boy shorts, but the leg openings hit well above the thigh, helping to avoid the fabric "ride-up" you sometimes get when wearing longer-cut boy shorts. While hipsters are generally considered a full-coverage style, some may be cut a bit higher in the rear than classic boy shorts or briefs.
Briefs
If comfort is your primary concern, briefs are for you. The traditional brief offers full coverage in the front and back with a waistband that sits at or slightly above your natural waistline. Briefs also have a low, squared-off leg line.
There are a few styles that fall under the larger umbrella category of briefs:
Modern Briefs
Like traditional briefs, offer full front and back coverage, but have a lower rise. Their waistbands sit a few inches below the natural waistline.
High-Cut Briefs
Offer the same full coverage as traditional briefs, but have high-cut leg openings in front. The waistband sits at or just above your natural waistline.
French-Cut Briefs
The highest-cut leg openings of all brief styles. The leg openings hit the highest point on the hip and are positioned more to the front of the panties than the standard high-cut brief. The waistband should sit at your natural waistline.
Control Briefs
Meant to slim your tummy, bottom or upper thighs. They look like traditional or high-cut briefs, but feature control panels at the front, rear or both.
Boxers/Girl Shorts
Women's boxer shorts (also known as "girl shorts") are designed to be worn as loungewear, as a base layer or as a body shaper.
Loungewear boxers are cut much like men's boxer shorts and are not meant to be worn under clothing. They are loose-fitting and often feature an elastic waistband with a drawstring.
Women's performance boxers are meant to be worn while exercising. They are usually made from breathable, moisture-wicking fabrics that fit snugly against the body and stretch with you as you move.
Compression boxers (shapewear) feature control panels in the tummy, rear or thighs. These styles may have high waistbands and longer legs to tighten up trouble areas.
Thongs
The idea that thongs are uncomfortable or worn for less-than-practical intentions is antiquated and without merit. These bareback basics have much practical purpose, in that they eliminate unsightly panty lines under skirts and snug-fitting pants and are often more comfortable than full-coverage panties because of their minimal fabric.
While all are backless, thongs come in a variety of styles:
G-String
Featuring a little more than a triangle of fabric in front and a thin "string" of fabric around the hips and down the back. This is one of the skimpiest thong styles and is best reserved for wearing undertight-fitting bottoms to eliminate visible panty lines.
V-String
Similar to G-strings but feature a rear string that separates into a "V" of two strings (or a small triangle of fabric) at the rear waistband.
T-Back
Waistbands or strings that stretch straight across your waist; so from the back, the side and bottom straps have a "T" shape.
Rios
Similar to T-backs except the waistband rises above the hips at the sides instead of sitting straight across your waist and back.
Tangas
Offer the most coverage of any thong style. They generally have wide waistbands and back straps.
Bikinis
Bikini-cut panties are classic and flattering for women of all shapes and sizes. Bikinis give full coverage in the back with leg openings that are cut above the thigh. Most bikinis sit about three inches below the natural waistline, although with the popularity of low-rise pants, some are now cut even lower. String bikinis, as the name implies, are designed with thinner straps (strings) at the sides for a less-bulky fit under clothing.
For comfort, fit is key. If your bikini panties are too tight, they can bind up your backside and draw attention to problem areas, even under clothing. Ideally, they should fit close enough to your body that they don't gape, but not so close that the waistband or leg openings dig into your skin.
Seamless/No-Show/Invisible Panties
Panties categorized as "seamless," "no-show" or "invisible" are sleek and smooth and virtually disappear under clothing. Seamless designs are most often made from a stretchy, wrinkle-free synthetic material like spandex, polyester, nylon, Lycrar or a blend of these. Seamless styles often come tag-free for an even smoother look under clothing. These panties offer a range of coverage styles, from skimpy to more conservative.
The type of fabric your panties are made from is as important as their style, cut and fit.
Cotton
Cotton panties are inexpensive, durable, comfortable and breathable. One advantage of these panties is that they can be tossed in the washer and dryer without sacrificing much shape or fit. Most panties are made with cotton or a cotton blend.
Silk/Satin
Popular fabric choices for women who want a chic-looking panty, most silk and satin panties need to be hand-washed and hung to dry, so caring for them can be a little labor intensive. They can also be heavily embellished with lace and other detailing that may be visible through clothing.
Polyester/Synthetics
Polyester and other stretchy synthetics provide the best seamless support. These materials are also popular for exercising because they wick moisture and dry quickly. Polyester and other synthetic materials generally must be hung to dry after washing.