The plethora of underwear styles available today is a double-edged sword. On one hand, it's amazing to have such a vast selection of fabrics, cuts, rises, colors and styles to choose from. On the other, it's intimidating and often hard to decide where to start.
But don't worry! To make your next panty shopping experience easier, we'll explain all the popular panty style options vying for your attention. We'll also point out some key benefits and features of each style, de-mystify the differences in fabric to ensure you find the perfect pair to suit your needs.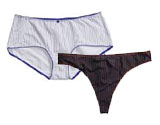 Shop All Panties
Boy Shorts
Boy-cut panties, or boy shorts, are full-coverage panties with a low-rise waistline. The leg openings extend a few inches below the widest part of the hip, or just above the mid-thigh. Because they sit low on the waist, boy shorts can visually lengthen the torso. Snug-fitting boy shorts can also help smooth the hip and upper thigh area.
Classic Briefs
If comfort is your primary goal, classic briefs are always great choice. The traditional brief offers full coverage in the front and back, and the waistband usually sits slightly above the natural waistline. The leg openings on briefs tend to fall at the widest part of the hip. Because classic briefs tend to have a higher waistband, you should avoid this style if you wear low-rise pants. (Go with a hipster or bikini brief instead, since these styles tend to have a lower rise.)
High-Cut Briefs
Like traditional briefs, high-cut, or French-cut, briefs supply full front and rear coverage. The difference is that high-cut briefs have leg openings that hit at the highest point on the hip, creating the appearance of longer legs. The waistband typically sits at or slightly above the natural waistline. Avoid wearing this style with low-rise pants, as the waistband tends to sit higher.
Hipster Panties
Hipster panties offer the same low-rise waistline as boy shorts, but the leg openings hit well above the thigh. This helps prevent uncomfortable ride-up that some women may experience when wearing longer-cut boy shorts. Although hipsters are generally considered to be a full-coverage style, some may be cut higher in the rear than classic boy shorts or briefs.
Bikini Briefs
Bikini-cut panties, or bikini briefs, are classic and flattering for women of many shapes and sizes. Bikini briefs provide full coverage in the back and have leg openings that are cut above the thigh. Most bikini briefs sit about three inches below the natural waistline, making them a great choice to wear with low-rise pants. An alternate bikini brief style is the string bikini brief, designed with thinner straps at the sides.
Thong Panties
When it comes to eliminating panty lines underneath garments, a thong is the best option available. Although "seamless," "no show" and "invisible" panties certainly minimize lines from showing underneath most garments, thongs are the best choice for wearing under thin garments or those with a very snug fit. Many women prefer the minimal design of a thong, especially because thongs are less likely to bunch or ride up like full-bottomed panties. Of course, for women who've never worn a thong before, the fit may take some getting used to.
There are also variations of the classic thong, listed below:
Tangas typically have a wider waistband and back.
Boy Short Thongs are hybrid panties that combine the front coverage of boy shorts with the minimal rear of a thong. If you like the feel of a tanga thong but prefer more material in the front, a boy short thong is a good compromise.
G-Strings are designed with a small triangle of fabric in front and a thin "string" of fabric around the hips and down the back. Because it's one of the most minimal styles, the G-string thong is an excellent option for wearing underneath very sheer bottoms or dresses.
V-Strings are very similar to G-strings, but feature a rear string that separates into a V-shape or a small triangle of fabric just above the tailbone.
Women's Boxers
Women's boxers, sometimes called "girl shorts," are essentially loose-fitting boxer shorts. Women's boxers look very similar to men's boxers, except they have no fly. Some may also include a drawstring waistband. Because of their looser fit, most women's boxers are primarily designed as loungewear or sleepwear, rather than underwear.
Another type of women's boxers, similar in style to men's boxer briefs, are women's performance boxers. These are designed to be worn during exercise and fit snugly against the body, and their fabric content includes plenty of stretch for freedom of movement and support. You can also purchase women's compression boxers, a type of shapewear that features control panels in the waist, rear or thigh area. This style may have a high waistband and longer legs to visually tighten up and smooth out common trouble zones.
Shapewear Panties
Designed to smooth and support, shapewear panties and control briefs are made of fabric with a generous amount of stretch.
Tummy-Shaping Panties extend above the navel and may include a built-in stretch panel for added support. Tummy-shaping panties may be boy shorts or briefs (sometimes called control briefs).
Thigh-Shaping Panties have longer legs made of stretch material to help smooth and support the thighs. This style can also help create a smoother the transition from posterior to upper thigh for a flattering look underneath pants and skirts.
Body-Shaping Panties combine a tummy-shaping panel in front with thigh-shaping legs.
When it comes to buying new panties, fabric is just as important as style and fit. In this section, we'll cover the most common fabric choices, along with some pros and cons of each.
Cotton Panties
High-quality cotton panties are breathable and soft against the skin. In addition to traditional cotton, you can also find cotton panties made using combed cotton or mercerized cotton. Most cotton panties can be machine washed on the gentle cycle and tend to be more durable than silk and satin panties. However, once cotton becomes damp, it dries slowly. For this reason, cotton panties are not ideal for hot weather and aerobic activities.
Polyester Panties
Because polyester wicks moisture and dries quickly, panties made from this fabric are a good choice for aerobic activities. When polyester is blended with spandex, it provides better support and shape retention than cotton. However, most polyester fabrics are not as lightweight as silk, satin or nylon, and some polyester fabrics are prone to pilling. It's a good idea to hand wash and line dry polyester panties, although an occasional machine wash on the gentle cycle shouldn't cause a problem.
Nylon Panties
Probably the most popular fabric choice for panties, nylon is often blended with spandex to provide a stretchy, secure fit. Nylon is lightweight, breathable and quick drying, making it a great choice for all-purpose wear. Nylon tends to be lighter and smoother than polyester and cotton. It's also more durable than silk. It's best to hand wash and line dry your nylon panties.
Silk Panties
Silk is extremely smooth, soft, lightweight, breathable and cool to the touch, making this fabric an excellent choice for hotter weather. Silk dries more quickly than cotton but is one of the most expensive materials. Silk panties should always be hand washed and line dried. Never machine dry your silk undergarments, as this may damage or shrink them.
Satin Panties
Glossy and extremely smooth to the touch, satin is a lightweight fabric comprised of polyester, nylon, cotton or a combination of different fibers. Satin is generally a more affordable alternative to silk. Because of its luster and smooth hand, satin is a popular choice for women's lingerie. Satin panties should be hand washed and line dried.
If you're not sure what panty size is best for you, start by measuring your waist with a flexible measuring tape. Place the tape at your natural waistline, usually about half an inch to an inch below your navel. Wrap the tape snugly around your waistline, making sure the measuring tape remains parallel to the floor for the most accurate measurement. As an additional measurement, you can also measure around the widest part of your hips.
Panty sizing is either numeric or alpha, depending on the brand. Some panties are also available in plus sizes. Compare your waist and hip measurements to the size chart below to get your approximate numeric size. If the panties you choose come in alpha sizes, hover over the size selection buttons to view the numeric size recommendation.
Note: These charts are intended to be a general reference only. Sizes from different vendors and manufacturers vary slightly, although this chart should get you close. Be sure to check the sizing tab on any items you plan to buy, as some brands may have a different sizing chart.
Standard Size Chart
| | | | | | | | | | | | | | |
| --- | --- | --- | --- | --- | --- | --- | --- | --- | --- | --- | --- | --- | --- |
| Size | 0 | 2 | 4 | 6 | 8 | 10 | 12 | 14 | 16 | 18 | 20 | 22 | 24 |
| Waist | 23.5 | 24.5 | 25.5 | 26.5 | 27.5 | 28.5 | 30 | 31.5 | 33 | 35 | 37 | 39 | 41 |
| Hip | 33.5 | 34.5 | 35.5 | 36.5 | 37.5 | 38.5 | 40 | 41.5 | 43 | 45 | 47 | 49 | 51 |
Plus Size Chart
| | | | | | | |
| --- | --- | --- | --- | --- | --- | --- |
| Size | 16W | 18W | 20W | 22W | 24W | 26W |
| Waist | 34 | 36 | 38 | 40 | 42 | 44 |
| Hip | 46 | 48 | 49 | 51 | 53 | 55 |