Founded in 1986 in Sparks, Nev.
Headquartered in Cheyenne, Wyo. since 1992
Acquired December 2012 by TJX Companies, the leading off-price retailer of apparel and home fashions in the U.S. and worldwide
Tagline: Great Deals. Great Brands.
Value proposition: Save Up To 70% Every Day
Sells Closeouts, Overstocks and 2nds
Sells outdoor gear, sporting goods, footwear, apparel home décor, and active, casual and dress clothing
Supports active lifestyles with product for camping, hiking, cycling, fishing, water sports, climbing, hunting, running, fitness and more
Partners with more than 3,000 brands; nearly 1,000 of those are respected outdoor brands
Sierra Trading Post facilities total more than 500,000 sq.ft. with 40 acres set aside for future expansion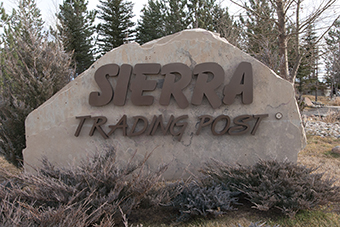 Top Internet Retailer
Mails 9 million full-color catalogs each year featuring hundreds of products
Four retail retail locations: Boise, Idaho; Reno, Nev.; Cheyenne and Cody, Wyo.
Customer call centers in Cheyenne and Cody, Wyo.
Fourth generation of SierraTradingPost.com includes customizable search, enhanced image zoom, straightforward drop-down menus and quick view
Highest level of customer satisfaction – more than 720,000 Bizrate.com reviews with an overall satisfaction score of 8.9 out of 10 and an average net loyalty score of 80.5% in 2013.
Net Promoter Score of +66.2 for customer satisfaction in 2013. The industry average for online retailers is 47%, and the industry leader scored 70%. NPS is based on a combination of all major in-house survey methods of new and existing customers who responded to more than 86,000 surveys.
Vast majority of customers' returns are processed and credited within 24 hours.
Handles all customer service requests via two Wyoming-based call centers, where 150 customer service agents handle nearly 100,000 emails, phone calls, chats and social media contacts monthly for a total of 1.16 million emails, calls and chats in 2013.
With expedient email service, customers see a response in less than an hour and experience immediate response via Live Chat and on Facebook and Twitter. With the exception of some holidays, email and chat are available to customers 24 hours a day and seven days a week.
In a sample of more than 85,000 phone calls, an internal analysis showed it took an average of just 15 seconds to connect a customer with a real person in our customer service department.
Serves customers in 93 countries across the globe
Fulfills 9,000+ orders daily
Fulfills 99.8% of all orders correctly
Ships 98% of all orders within one business day of the purchase, with 100% of all air orders shipping the same day
Shipped more than 2.75 million orders (11.3 million pieces of merchandise) in 2013
Committed to recycling and reusing
Employs 860+ employees
Hires an additional 200 employees during peak season
40% of employees with five years of service or more; 6% with more than 15 years of experience at Sierra Trading Post.
Headquartered in Cheyenne, Wyo., Sierra Trading Post is a top internet retailer known across the globe for offering "Great Deals. Great Brands." Sierra Trading Post purchases overstocks, closeouts and 2nds from more than 3,000 brand names, and has offered customers savings of up to 70% since 1986 on outdoor gear, shoes, clothing, accessories and home furnishings. Sierra Trading Post has stores in Boise, Idaho; Reno, Nev.; Cheyenne and Cody, Wyo., as well as a Technology Campus in Fort Collins, Colo. In December 2012, Sierra Trading Post was acquired by TJX Companies, the leading off-price retailer of apparel and home fashions in the US and worldwide.