Few things can top that rush when you hit a perfect line or stumble upon a swath of untouched powder, so it's no surprise that snowboarding is one of the fastest growing sports in the world. You don't have to be a hard-core adrenaline junkie to have a great snowboarding experience, either. People of all ages and backgrounds can learn to ride.
Whether you're still dabbling with the idea or you're ready for some advice on buying a new snowboard, you've come to the right place. In this handy snowboard guide, we'll cover everything from the basics, like how to size a snowboard, to more technical concepts, like camber vs. rocker.

Shop All
While just about any snowboard will get you down the mountain, having the right board, bindings and boots really does make a big difference. Modern snowboards from brands like Ride, Head and Arbor have become increasingly specialized over the years to accommodate different terrain and riding styles. The shape and materials used to make a board (which influence flex) determine the way a snowboard will handle, and subsequently what kind of riding it should be used for.
ALL-MOUNTAIN (FREERIDE)
All-mountain snowboards, also called freeride snowboards, are popular because of their ability to perform well on almost any terrain, from groomed corduroy to moderate powder. All-mountain snowboards typically have a medium flex, and may have traditional camber, rocker or some sort of hybrid camber (more on this later). These are the "all-purpose" vehicles of the snowboard family and make great boards for both beginners and advanced riders. However, if you're looking to excel at a particular style of riding, a more specialized board could be a better choice.
FREESTYLE (PARK)
Freestyle snowboards are designed for riders who spend the majority of their time in the terrain park hitting jumps and jibs. Made with materials that give the board increased flex and maneuverability, freestyle snowboards are usually symmetrical in shape (sometimes called true twin) and often have more tip and tail rise to help with landings and riding switch. Combined with flexible boots and low-profile bindings, a freestyle setup allows riders to perform ollies, grinds and butters with ease and transition faster between tricks.
FREECARVE (ALPINE)
Freecarve snowboards are stiffer, narrower and more asymmetrical (sometimes called directional) than all-mountain and freestyle boards, which makes them ideal for carving on steep, packed snow. Alpine snowboards are often used for racing and will typically be pared with a stiffer boot and binding for maximum control at high speeds. The added stiffness and narrower profile make these less ideal for the park or powder.
SPLITBOARD
A splitboard is highly specialized for tackling backcountry terrain. As the name implies, the board can be separated into two individual sections that function similarly to a pair of telemark skis. By adding skins, a rider can navigate uphill. Later, before making the descent, the rider simply removes the skins and returns the snowboard to its original shape.
POWDER BOARD
A powder board is a wide snowboard intended for deep, powdery snow and usually includes a rocker shape (sometimes called reverse camber). This shape helps the board float on the surface of deep snow.
There are several factors that determine how a snowboard will perform on different types of terrain. One of those factors is whether a snowboard has camber, rocker or some combination of the two. What the heck are camber and rocker? Let's break it down:
CAMBER

Up until the last few years, pretty much all snowboards were made with camber. Camber forms a convex arc between the tip and tail, so that the center of the board actually sits slightly above the ground when the board is unloaded. This design helps maintain edge contact during turns. Riders who like to carve fast on hardpack and groomed snow tend to prefer a board with traditional camber.
Rocker

Sometimes called reverse camber, the "rocker" shape is still a relatively new development in snowboarding and has only been around since the mid to late 2000s. Instead of a convex curve, a snowboard with rocker forms a slight concave arc, similar to the bottom of a canoe or rocking chair (hence the name). Boards with rocker are ideal for powder because they provide excellent flotation. This style also tends to be slightly more flexible, which also makes it popular for freestyle riding. Some riders describe rocker snowboards as feeling more "loose" and less likely to catch an edge.
HYBRID CAMBER

More recently, some companies have started to manufacture snowboards with a combination of both camber and rocker -- called hybrid camber. One example is a board with traditional camber underfoot and rocker in the center. The goal of a hybrid camber snowboard is to combine the benefits of camber (good edge contact) and rocker (good flotation and flexibility) in one design.
ZERO CAMBER

A board with "zero camber" is literally flat except for an upturned tip and tail. Some snowboard manufacturers claim this style feels more broken-in and forgiving than a traditional cambered board, yet more stable than a rocker snowboard. Others claim the drawback to zero camber is less "pop" and energy return.
SIDECUT & TURN RADIUS

Sidecuts are what give a snowboard its hourglass shape. The depth of the sidecut will determine the turn radius of the board. The turn radius measurement (usually expressed in meters) is based on a large, imaginary circle that coincides with the arc created by the sidecut. In other words, a board with a deeper sidecut will turn more tightly than a similarly-sized board with a shallower sidecut. How does this translate to performance? Boards with a shorter turn radius are often best for beginners and people who spend a lot of time in the park and pipe. Boards with a longer turn radius are wider in the middle, and therefore ideal for skiing in backcountry conditions.
FLEX
How much flex is best for you? That depends. More flexible boards turn easier at slower speeds and are geared toward beginners and freestyle riders. However, a board with a lot of flex is not ideal for hard, fast carving. For this reason, more experienced riders generally prefer a stiffer board. When in doubt, you can't go wrong with the versatility of a medium flex, all-mountain snowboard.
BOARD CONSTRUCTION
Core: Usually wood, foam or some combination. Wood cores are firmer and more responsive. Foam cores are more flexible and vibrate less. Some companies use materials like carbon fiber to reinforce the core and provide added stability.
Laminate: Fiberglass layers that sandwich the core on top and bottom for stiffness and strength.
Base: This is the part of the board that contacts the snow, and is usually polyethylene or composite. It may be either extruded or sintered. Extruded bases are less expensive and easier to repair. Sintered bases are faster and hold wax better.
Edge: Almost always metal, the edge is what provides grip on harder snow and ice during a turn. Your snowboard may occasionally need to be tuned to maintain the edge.
When it comes to choosing a snowboard size, first consider your height and weight. Generally speaking, a board should stand about as tall as the tip of your nose. From there, you can pick a longer or shorter board based on the following criteria:
Longer boards (which stand around eye level) are:
More stable but less maneuverable.
Best for deep powder, high speeds and advanced riders.
Ideal if you are heavy for your height or wear a pack -- you'll need the extra flotation.
Shorter boards (which stand at about your chin height) are:
Best for beginning riders.
Great for trick riding in the half pipe and going for big air.
Ideal if you're lightweight for your height -- it will be easier to control the board.
Measure yourself at home to determine your ideal board height. Remember to measure to the height of your appropriate facial feature -- not your overall height. Since snowboards are sized in centimeters, here's a quick conversion chart:
Snowboard Length Conversion Table
| | |
| --- | --- |
| Height of Eyes, Nose/Mouth or Chin (Inches) | Best Board Length (Centimeters) |
| 40 | 102 |
| 42 | 107 |
| 44 | 112 |
| 46 | 117 |
| 48 | 122 |
| 50 | 127 |
| 52 | 132 |
| 54 | 137 |
| 56 | 142 |
| 58 | 147 |
| 60 | 152 |
| 62 | 157 |
| 64 | 163 |
| 66 | 168 |
| 68 | 173 |
| 70 | 178 |
A key consideration when buying snowboard boots is your riding style and/or experience level, which will determine the ideal boot flex. Most brands, like DC Shoes, Ride and Thirty Two, make a range of snowboard boots with flex ratings from soft to stiff. Check out the following chart to get an idea of what might work for you:
Riding Style/Experience Level
Beginner
All-Mountain/Intermediate
All-Mountain/Advanced
Freecarve/Advanced
Freestyle
Powder/Backcountry
Boot Flex
Soft
Medium
Medium to Stiff
Stiff
Soft to Medium
Medium to Stiff
BOOT FIT TIPS
Boots should feel snug when tightly laced. Your toes should have some wiggle room, but preferably no more than a thumb's width of extra room in the toe box.
Look out for pressure points. Something that feels weird in the try-on phase could become downright painful after a day on the mountain.
Break them in. Just like hiking boots, consider wearing your snowboard boots around the house for a few days to get them ready for action.
Remember: If you have any problems with the fit of your boots, return them and Sierra Trading Post will gladly replace them with another pair.

Shop All
Bindings don't just keep your feet attached to your snowboard; they're also responsible for much of the energy transfer between you and your board. To get the best control and board responsiveness, make sure you buy bindings designed for your boot size.
Tip: Buy snowboard boots first, then make a decision on bindings. Your boots are going to determine what style and size bindings you'll need.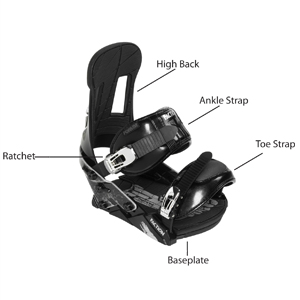 With few exceptions, bindings generally fasten to snowboards in a pre-drilled 4x4 mounting configuration using a circular baseplate. These fastening systems allow easy adjustment of foot placement and stance. This is important, since you may decide to adjust your stance as you become a more experienced rider. The "high back" supports your heel and calf. The height and type of high back will determine the degree of power transfer from your body to your board.
Binding Types
STRAP-IN BINDINGS
The most common snowboard bindings, strap-in bindings are compatible with most regular snowboard boots. Be sure that the top of the high back is lower than the top of your boot. The high back on bindings ranges from small (for freestyle mobility) to large (for all-mountain support).
STEP-IN BINDINGS
Step-ins use special quick-release mechanisms to secure your boots instead of straps, similar to a ski binding. Step-in bindings will generally only be compatible with a specific boot from the same manufacturer. Their major strength is the quick convenience of attaching and releasing your feet between runs. However, they aren't great choices for deep powder, as snow buildup can sometimes interfere with the release mechanisms.
"HYBRID" BINDINGS
Some manufacturers, like Flow snowboards, make "hybrid" bindings that offer the benefits of step-in bindings without the need for special boots.
HELMETS

Shop all Helmets
Snowboard helmets have come a long way over the years. Many modern snowboard helmets have added features like adjustable ventilation, built-in audio and even removable liners that can be exchanged for pads, allowing the helmet to be used in the summer for biking or skating (these are called all-season or multi-sport helmets). Smith, Bern and Giro are three excellent helmet brands worth checking out.
GOGGLES
Snowboarding goggles from companies like Dragon, Smith and Scott Sports come equipped with double lenses to prevent fogging and usually provide 100% protection from UV rays. Most modern goggles are helmet-compatible; however, it's not a bad idea to double check if you plan on wearing them with a helmet.
OTHER ACCESSORIES
Stomp pads are standard equipment on most snowboards and are designed to provide traction to your rear foot when it isn't secured in the binding. This comes in handy when getting on and off the chair lift.
A snowboard leash is a requirement at many ski areas, and is designed to prevent your board from running loose and hurting others if you need to step out of your bindings. Leashes are essentially a lanyard with a clip that links the binding to your front boot.