SUPERFEET USER'S GUIDE TRIM-TO-FIT®
Most active people take 8,000 - 13,000 steps a day. If your shoes don't support your feet properly, unstable foot movement can cause friction, blisters, bunions and overall misalignment. When your feet hurt, you hurt all over.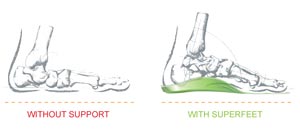 THE SUPERFEET DIFFERENCE
Proven fit, comfort and performance. Superfeet's Encapsulating Stabilizer System™ [ESS™] helps support and stabilize the feet, making your shoes fit better so you can avoid unnecessary discomfort or pain. The unique combination of our patented stabilizer cap and foam full length creates a deep heel cup to cradle the heel's fat pad for improved natural shock absorption.
THE PROPER FIT
Insole fit and comfort is influenced by model and size of shoe and insole, sock thickness, and lacing method. Superfeet is not responsible for discomfort or pain caused by improper insole or shoe fit, latent pre-existing medical conditions, or non-insole related issues. If foot ailments develop or persist after the break-in period, please consult a healthcare professional.
TRIM-TO-FIT®
The key to comfort is proper trimming
STEP 1:
REMOVE Remove the insole that came in your shoe.(Superfeet should rest on the bottom of your footwear for a good fit.)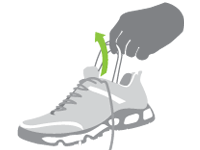 STEP 2:
TRACE Place your shoe's original insole on top of the Superfeet: line up the back edge of the heel (A) and the inside edge of the insole (B). Trace with a pen (C)

STEP 3:
TRIM Trim by cutting along the OUTSIDE of the tracing line. Be careful not to trim too short: trim it, try it… trim it, try it.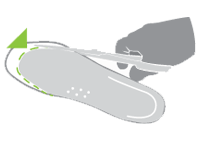 STEP 4: INSERT
Place trimmed Superfeet into your shoes. IMPORTANT! Superfeet must be able to move front-to-back inside your footwear (along with your foot) about 1/16" or 2mm.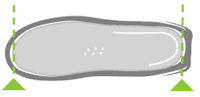 IF YOUR SHOE HAS NO REMOVABLE INSOLE
Place your shoe over your Superfeet and trace an outline around the toe. Then follow the Trim-to-Fit® trimming instructions.
BREAK-IN PERIOD
The tendons and muscles of your feet may need time to adjust to their properly supported position. It's a good idea to keep your original insoles until you have completed your break-in period.
With Superfeet, you may feel like the arch is too far back. This is simply the shape and design of the insole supporting your foot where it is needed - under the inside of your heel. We suggest taking a conservative break-in approach; try wearing your Superfeet for just 1-2 hours the first day, and gradually add more time each day.
It's not unusual for the break-in to last up to two weeks, but if you are experiencing pain after 5-7 days, remove the Superfeet and return to wearing your original insoles.
HOW TO CLEAN
Hand-wash Superfeet with mild soap and lukewarm water. An old toothbrush with soft bristles can remove ground-in dirt. Rinse well. Remove excess water with paper towel – allow insoles to air dry overnight.
DO NOT MACHINE WASH OR DRY. DO NOT AIR DRY NEAR A HEAT SOURCE!
60 DAY COMFORT GUARANTEE
You have nothing to lose but your sore feet. If you are not satisfied with your new insoles, return them within 60 days to your place of purchase for a credit or refund. Only valid with proof of purchase. Not valid for misused, abused or improperly cleaned Superfeet products. THIS GUARANTEE IS SUBJECT TO THE RETAILER'S RETURN POLICY.
WATERPROOF LINER DISCLAIMER
Most orthotics will conform to the heel in your footwear, and over time can wear through the lining. Superfeet offers no guarantee against this resulting side effect in footwear with waterproof liners such as Gore-tex®.
SUPERFEET SUSTAINABILITY
Our core values challenge us to "be socially and environmentally responsible at work and at home." We print our promotional materials on postconsumer paper with vegetable-based inks, seek out energy-efficient options whenever making business decisions, and have reduced the size and weight of our 100% recyclable packaging.