Sure, sleeping under the stars in the vast open wilderness sounds romantic – crickets chirping, the distant hoot of an owl, the calming sound of a nearby babbling brook, the two glowing eyes staring back at you – in the pitch black darkness – in a thunderstorm. Okay, so maybe that whole "sleeping under the stars" bit has been a tad idealized. But don't let those less-than-desirable elements of nature deter you from venturing into the woods; you just need to invest in a good tent.
Whether you're trekking into the backcountry or car camping in an established campground, it's smart to seek shelter in a tent when the sun goes down. Besides offering protection from erratic weather and unwanted animal intruders, a tent provides comfort and an intangible feeling of security.
With so many models to choose from, selecting the right tent to fit your needs can seem complicated at first. But relax; we're here to help you every step of the way.
Shop Tents
Like most outdoor equipment, tents have a vocabulary all their own, and, yes, it can seem like a foreign language. We've laid out some of the essential terms you need to know before you invest in a tent. Don't worry; you'll be "talkin' tent" in no time.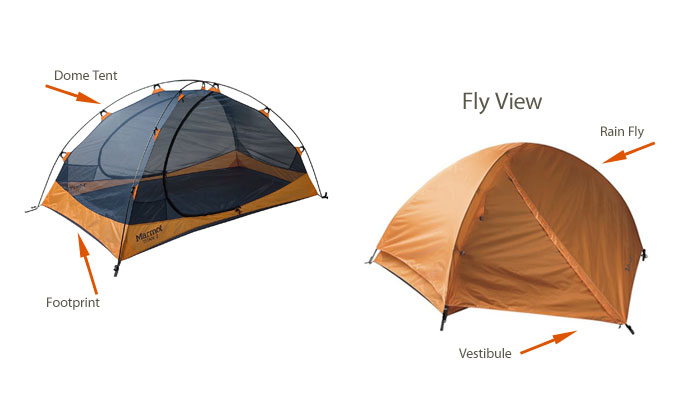 Types of Tents
Three-Season Tents
These are the most popular and widely available of tent models and are intended to be used during the spring, summer and fall months in temperate climates. Three-season tents are lightweight and are designed to perform well in windy or rainy conditions. They are not designed to handle a significant amount of snow, but a few inches won't cause a collapse. If you live in a climate with unpredictable late-spring or early-fall snowstorms, you may want to invest in a four-season tent (see below).
Dome Tents
A modern tent design that makes the most of space and head room is the dome tent. The dome tent has a round or oval roof with flexible poles that attach through the apex of the tent. The dome shape prevents snow from accumulating on top of your tent, causing it to collapse. The flexible poles and streamlined shape also enable the dome tent to handle strong winds. This makes them perfect for cold-weather camping.
Family or Basecamp Tents
These usually accommodate a large group of 4 to 10 people and often have multiple divided rooms. Dome-style models with only one room can be used in the backcountry, as long as group members are willing to split the weight and carry their fair share. The very large, family-size tent models with divided rooms are intended for use at campgrounds only because they are usually too heavy for backpacking.
Four-Season Tents
Far sturdier than their three-season counterparts, four-season tents are intended for use in severe weather. Four-season tents are designed with additional poles that strengthen the tent walls so they are more resilient in relentless wind and heavy snow. Four-season tents usually feature a dome design which prevents snow from accumulating on top of the tent, thus reducing the chance of collapse. As the name implies, these tents can be used year round but their extra poles make them slightly heavier than three-season tents.
Double-Wall Tents
A double-wall tent repels outside moisture by incorporating the use of a waterproof rainfly. Ventilated tent walls act as a separate layer to manage interior condensation. Double-wall tents are also warmer because the exterior rainfly creates an insulating dead-air space. Double-wall tents are heavier than single wall tents but can still be packed into the backcountry. For the recreational backpacker or car camper, a double-wall tent will adequately fit your needs and are also more reasonably priced.
Freestanding Tents
Most dome tents are freestanding and don't require the use of ropes or stakes for support. However, stakes are always recommended in areas where stiff winds are possible, even with freestanding tents.
Convertible Tents
These are three-season models that convert to four-season tents with the use of additional poles for strength and extra panels to zip over mesh walls to seal out the weather. These are less robust than true four-season tents but ventilate better.
Single-Wall Tents
These tents feature just one layer of waterproof and breathable laminate fabric. Single-wall tents are used mostly for high-mountain camping when weight is a consideration. Single-wall tents are light, compact and easy to pitch. However, moisture and heat tend to cause condensation in single-wall tents, so look for a model with some ventilation.
Warm-Weather Tents
Lightweight and designed for use by only one or two people, warm-weather tents feature mesh walls for ventilation. These can be used as three-season tents in very mild climates but are especially useful in hot, humid conditions.
Tent Specifications
Your formal tent education isn't quite complete. Now it's time to put your tent terminology to the test by making sense of the specifications located on the tag of every new tent. Below are some common phrases you'll encounter in plain English.
Material
The type of fabric used in the construction of the canopy, floor and rainfly is detailed in the specs. Typically, the canopy is made of ripstop nylon, polyester or mesh and the floor and rainfly are made of nylon taffeta or polyester.
Doors
There are some things to consider when you're deciding on the number of doors you want your tent to have. An extra door gives you and your camping companions an optional entry-exit if nature calls during the night and you don't want to crawl over your neighbor.
External Guy Points
External guy points are the reinforced loops of webbing stitched to the edge of the tent's rainfly. The number of guy points on your rainfly should be included on your tent's spec sheet. Guy points and stakes increase the stability of the tent in wind, snow and other inclement-weather situations.
Guy Lines Included
Guy lines are ropes that help anchor the tent and keep the walls taut to maximize interior space. Guy lines may be included with the tent package.
Floor Area
Floor Area is a measurement that refers to the square footage of the tent's interior.
Floor Dimensions
Shown in inches, this is the floor's maximum measurement. The first number is the length measurement and the second is the width. For example, if a tent measures 100x70" it means that the tent is 100 inches from head to foot and measures 70 inches at its widest point. Keep in mind that some tents have a tapered design, so even if the width measures 70" it could begin at 70" wide and decrease to a much smaller width.
Number of Poles
It's a simple matter of physics: more poles give your tent added rigidity and stability. Four-season and winter/mountaineering tents designed to withstand extreme weather conditions have more poles than three-season or warm-weather tents.
Packed Size
Measured in inches, this is the size of your folded and rolled tent when it's stored inside the stuff sack. A measurement of 10x24" means that the tent's packed size is 10" in diameter and is 24" long.
Weight
This measurement refers to the total weight of all the tent's components.
Backpacking Tip: As a rule of thumb, three-season backpacking tents should weigh approximately four pounds or less per person. For example, a good two-person backpacking tent should weigh no more than eight pounds.
Peak Height
To find out how much head room you have to sit up in the center of your tent, consult the peak height measurement. This usually measures between 42 and 48 inches for backpacking tents. Family or basecamp tents may be tall enough to stand up in, with peak heights of 72 inches or more.
Sleeping Capacity
To find out how many people you can shove in your tent, consult the sleeping capacity number. Be warned that these numbers may be a little generous. Err on the safe side and choose a tent that accommodates the number of people you usually take camping plus one more. This gives you extra room to store your gear. However, if extra room isn't a concern and snug is what you prefer, go with a tent that accommodates the exact number of people camping with you.
Vestibule Area
The vestibule is the covered area outside of the main body of the tent used to store extra gear. Like the floor area, the vestibule is measured in square feet. Some tents may have two vestibules. A rainfly is another option that creates a covered area for your gear outside the main body of your tent.

Sierra Trading Post Share Your Adventure Photo by Fallahian
A tent is a significant investment, and you want to buy one that you can use for years to come. The model with all the bells and whistles may be tempting, but do you really need all those extras? Here are a few questions to consider before you buy your tent.
At what time of year will you use the tent?
If you camp during the winter you will need a four-season tent: period.
If you plan to haul your tent out at the first signs of spring and not put it away until Halloween or later, you should consider four-season or convertible tents. This way, you're prepared for the unpredictably harsh weather that can accompany early spring and late fall.
For recreational campers who spend most of their time outdoors between May and September, a three-season tent is the way to go.
How many people will you be camping with?
If you consistently travel with a partner, you need at least a two-person tent. Tent manufacturers tend to be optimistic about how many people a tent sleeps. We recommend that you buy a tent with room for one additional person than you intend on camping with so you have room for your gear and extra supplies.
If the size of your group varies by trip, you may need more than one tent to fulfill your needs. (For example, if you travel solo one weekend only to camp with six of your closest friends the next, you'll need two different tents.)
However, if your budget is tight, buy the size that fits most of your trips. Tell your friends to get their own.
If you're decidedly a solo camper, you'll either need a one- or a two-person model. If you demand extra space, invest in a compact two-person tent. If you're a bare-bones camper, choose a lighter-weight, one-person model.
Generally, the more people you camp with, the heavier your tent can be. Divide the parts of the tent among yourselves if you're heading into the backcountry.
What is your camping destination?
If you usually stay at established campgrounds, look for a tent with features that appeal to you. Weight and size matter less when you don't have to carry your tent very far.
If you want to trek into the backcountry, you will need a lightweight tent with features to withstand any eventuality of weather and also comfortably fit your camping companions and accompanying gear.
What features do you absolutely need? What is your budget? What can you do without?
Consider all of the features of a tent cost, weight, ventilation, space, sturdiness, versatility, storage space, shape, height, number of windows and doors and color. Decide which features you absolutely need and which ones you can do without.
Rate all of your preferences in order of importance to find a tent that meets your requirements.
Additional Considerations
Here are a few more things to think about before you make your big purchase.
Handy Extras
A bathtub or tub floor is a seamless one-piece tent floor where the edges of the floor extend a few inches up the side of the tent before connecting with the walls. A bathtub/tub floor is the best waterproof design because the floor's seams are elevated above the ground. A floor made out of heavy gauge polyurethane-coated nylon taffeta or oxford nylon provides good waterproof protection.
Factory-taped seams have a waterproof material placed between overlapping seams which are then double stitched. This technique fortifies the seam and helps eliminate any gaps when the tent is stretched tautly. These seams are water resistant, but they are not fully waterproof. Factory-taped seams still need to be sealed (see below) to ensure the best protection.
Shock-corded poles are tent poles that come in sections and are held together by an elastic cord that runs through the center of all the segments of the pole.
The Footprint: Extending the Life of Your Tent
A footprint is a custom ground cloth designed to match the contours of your tent floor. A tent footprint simply helps protect the floor of the tent from abrasion. When you pitch your tent and then get in, your body weight and tossing and turning during the night can damage the fabric or abrade its protective waterproof coating as it comes in contact with the rough ground.
Let a footprint take the abuse instead. Footprints are constructed an inch or two smaller than the tent floor and sometimes have loops or hooks that attach to the tent stakes to achieve a custom fit that requires no tucking.
Footprints are usually sold as an accessory and may not be included in your tent package. If you can't find a footprint to fit your tent, a laminated tarp or even a plastic tablecloth can be used instead. These are lightweight, packable and inexpensive.
We Answer that Age-Old Question: Pole Sleeves or Clips?
Okay, well, maybe we don't give you a definitive answer, but here are some things to consider. As you know, the poles hold the tent's canopy upright to provide you space to move around. Poles connect to the tent in one of two ways – with clips or with sleeves.
Sleeves are considered the most stable option; clips can sometimes unhook themselves or break off.
If you want a no-hassle option, clips are the way to go.
Clips generally provide a bigger gap between the rainfly and the body of the tent, which minimizes condensation on the canopy.
Some tents have "continuous" pole sleeves; this means that you don't have to thread your poles through multiple sections of smaller sleeves.
Using continuous sleeves also makes setup a little less time-intensive than using segmented sleeves.

Sierra Trading Post Share Your Adventure Photo by Kristian Jackson
After you've purchased the tent to suit your lifestyle, there are some things that your tent manual just won't tell you. Here are some easy-to-follow suggestions for getting the most out of your tent.
Why You Should Seal Your Seams
Use a seam sealant to waterproof the thread seams of your tent. The seams of some new tents aren't sealed which may allow water to penetrate. Even if your tent features factory-taped seams, it does not mean that they are impervious to moisture.
You're probably thinking, "Hold on a second, buddy. I just paid how much for this tent, and now I have to do what?" Yes, sealing involves a little extra effort, and, yes, it can be messy. However, when you're sitting in the forest during a torrential downpour and your tent is cozy and leak-free, you will be grateful for your seam sealant.
Where your tent's fabric has been stitched together, the sewing process has generated tiny needle pricks all along the seam. In the places where your tent is exposed to moisture – the rainfly and the floor – water eventually starts to seep through these holes. (And, oh yes, despite your doubts that those teeny-tiny holes will let water in, just trust us. They most definitely will.)
To prevent such an unpleasant experience, you must seal the seams (essentially plug the holes) with what looks like liquid cement. While some understanding tent manufacturers are offering factory-sealed seams – where a strip of tape is stretched over the seams and heated up to bond with the fabric – you will still need to seal them because they are only water resistant and not fully waterproof.
Tip: We understand that the last thing you want to do to your brand new tent is glop gooey sealant all over it. You can remedy that for less than a dollar. At a hardware store, buy a small caulk applicator tip with threads that fit your tube of seam sealer. Cut a tiny opening in the tippet and seal away. Use a pin as a stopper when you're finished. Now give yourself a pat on the back.
If You Have a Stake in Your Investment, Put Some Stakes in the Ground
There are a few reasons why you should always stake down your tent. First, you want to keep the tent from blowing away in high winds, which may damage poles and create rips and tears. Second, you want to ensure that it repels water. While rainflys are designed to repel water when they're staked out, they do nothing if they're left whipping in the wind or plastered to your tent walls in a thunderstorm. But staking can be difficult, especially if the ground is sandy or frozen. Here are some troubleshooting tips.
If the size of your intended campsite gives you some leeway on where to place your tent, check the ground in various areas to see where you can easily stake it out. If you can't simply twist the stake into the ground, look around for a large rock. Find your inner caveperson and pound that sucker down with said large rock.
When you buy a tent, the package includes a shiny new set of stakes. But don't think that you have to use only those stakes when you take your tent out. If you know exactly where you'll be camping, only pack the stakes that work well for the ground conditions. Lighter stakes made of aluminum or plastic work well in sand or snow, while heavier stakes made of steel or titanium penetrate harder, rocky ground without bending or breaking. (Note: Your tent most likely comes with aluminum stakes so you will need to invest in a separate set if you'll be camping in varying environments.)
Sometimes the ground resists all of your stakes. This is a fact. But you do have options. Take your trekking poles (or dead tree branches the size of trekking poles), lay them on the ground and thread them through the stake loops of your tent. Next, arrange rocks on top of your pile of poles or branches. This keeps your tent from blowing away if the wind picks up.
What a Guy: Using Guy Lines and Guy Points
You use guy points, guy lines and guy stakes to ensure that your rainfly is taut during inclement weather. When the rainfly is taut, it most effectively sheds water and prevents the rainfly from compromising the not-so-waterproof canopy by touching it.
Attach guy lines to guy points. A rainfly usually includes at least two guy points.
Stretch the rainfly out and away from the main tent body and pull it taut. Be careful not to stretch the rainfly too tightly; it could weaken stitch points or distort the weave of the nylon.
Tie the guy lines to the tent stakes and drive the stakes into the ground, maintaining tension on the rainfly and the lines.
Crawl into your now-waterproof tent, get out the playing cards, and proceed to dominate your camping buddy at Euchre until the rain stops.
Marking Your Territory: Sharing Your Tent with Others
First, find the person with the smallest bladder and make them sleep by the door.
Put the smallest person in the middle of the taller people, facing in the opposite direction. This prevents the smaller person from getting elbowed in the face all night.
Place as much gear in the vestibule or outside the tent under the rainfly as conditions permit.
For gear that must be placed inside, either stow it away in the tent's pockets or allocate a specific storage space so your stuff will stay out of the way.
Sierra Trading Post Share Your Adventure Photo by Freya Rasmussen
On Solid Ground: Finding the Best Place to Pitch
Have you ever set up your tent, crawled in and laid down only to find a spine-breaking rock digging into your back? Before you set up camp, check the turf underfoot carefully. Spread out your footprint or ground cloth and lie on top of it before you set up to determine if there is an incline or any lumps and bumps. You may have to move your footprint a few times before you find the flattest, most comfortable spot to pitch your tent.
Care Instructions
Poles
When pitching your tent, never let the pole sections snap against each other.
Make sure that all pole sections are fully engaged before you bend them.
Keep them free of any debris like silt or sand.
Zippers
The key to giving your zippers the long life they deserve is to keep them free of debris.
When you pitch your tent, keep the zippers around the doors and windows out of the dirt and take care not to step on them.
After each use, clean your zippers with a garden hose and a pressure nozzle to squirt all the debris out of the nooks and crannies.
Tears
Don't let a tear in your tent end your camping trip early. Holes can be repaired in the field using a needle and thread or adhesive repair tape to get you by until you get home. Just remember to pack a small repair kit before you leave home.
UV Protection
Just like your skin, your tent needs to be protected from the harmful effects of the sun. UV light degrades almost every synthetic material causing it to fade or lose strength. The extent to which sun can damage your tent, though, is directly related to its exposure to the sun and the altitude at which your tent is used. If you leave your tent up during the day, high altitude sun exposure can rapidly damage it. The best way to protect your tent is to:
Pitch it in a shady spot when possible.
Take your tent down each morning.
Pitch the tent late in the day.
Storage
Store your tent in a cool, dry environment.
Pack the tent loosely, and, if possible, leave shock-corded poles assembled.
Never store your tent when it's dirty.
Never store your tent in a damp or humid environment because mildew, besides making your tent smell awful, damages the polyurethane coating.
Cleaning
Never wash your tent in the washing machine.
Never machine dry your tent.
To clean a localized area, use a sponge soaked in warm – not hot – water.
When cleaning the whole tent, wash it in a tub of cold water.
Never use hot water, bleach, dishwashing soap or stain removers.
Use only non-detergent cleaning agents.
Dry your tent by pitching it in the shade or drying it on a line.
Phew! We know this is a lot to consider, but purchasing a tent is a big investment. Remember, your tent is your home away from home; you want one that is comfortable to you for a long time to come. The bottom line is to buy a tent that you know you will use. Camping is one of life's greatest simple pleasures. Don't let your tent prevent you from enjoying those wide open spaces.