At Sierra Trading Post, we care about the environment. We understand that businesses have a special role and responsibility in keeping the planet healthy and green, and we take that responsibility seriously. For that reason, we're constantly looking for new ways to conserve and promote environmental stewardship.

Being a multichannel retailer that uses both print and digital media, we have an additional responsibility to the planet — and we are conscious of that responsibility.
Our catalogs are 100% recyclable, and are printed on paper that comes from well-managed forests in North America that are third-party certified to the standards of the Sustainable Forestry Initiative®, or SFI. The high standards of SFI certification are based on principles that promote sustainability, including measures to protect water quality, biodiversity, wildlife habitat, at-risk species and forests with exceptional conservation value, such as old-growth forests. All SFI-certified paper is of known, legal and sustainable origin, tracked using the SFI-certified chain-of-custody system.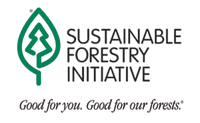 We were highly selective when we chose our printing company, and we are confident that our printer is one of the most environmentally responsible in the business. They are the first major commercial printer to achieve LEED certification from the U.S. Green Building Council. LEED is an internationally recognized green building certification system, providing third-party verification that a building or community was designed and built using strategies aimed at improving performance across all the metrics that matter most: energy savings, water efficiency, CO2 emissions reduction, improved indoor environmental quality, stewardship of resources and sensitivity to their impacts (from the LEED website).
Our printer takes an enlightened approach to environmentalism by reducing waste and limiting fuel consumption. They were the first printer to join the EPA's team of Climate Leaders. Their printing plants have been retrofitted with energy-saving fluorescent bulbs and every truck in their fleet has an anti-idling unit installed. In their pressrooms, dye solvents are captured and used to power dryers and pollution control units. Our printer also incorporates automatic shut-off technologies to save energy at their plants and headquarters. They also use Envirotech inks to print our catalogs. These inks contain 27% renewable resources (including vegetable oil and pine resin) for energy savings and a reduction in our impact on the environment.
In addition to judicious monitoring of paper and printing standards, we pay close attention to the waste inherent in duplicate mailings and undeliverable addresses by monitoring our mailing lists. We remove duplicate addresses from our mailing list and focus each mailing to ensure that everyone receiving a catalog is likely to use it.
If you'd like to reduce your catalog mailings, we will honor your request — always have and always will. We make it very easy for our customers to opt in or out of specific catalog mailings. All it takes is a phone call, an email, a letter, or a simple online notification to request or decline mailings of any or all Sierra Trading Post catalog titles. We give our customers complete control over their catalog preferences under their "MyAccount" link at SierraTradingPost.com, where customers can click on the Catalog Subscription Preference Center.
We encourage our customers to browse our selection of products and purchase from us online, should they choose to do so. In mid-2011, we launched an updated website with added features to help customers get the best shopping experience possible. Our new streamlined platform makes finding and comparing products easier and faster, which equates to time and energy savings.
At Sierra Trading Post, we know that the little things make a big difference in the struggle for sustainability. That's why we strive to provide a working environment and headquarters that encourage environmental stewardship and conservation.
Our outbound cartons are made of 43%+ post-consumer recycled material and are recyclable themselves.
Our catalog shipping envelopes, corporate stationery and box fillers are made entirely of recycled paper containing at least 40% post-consumer waste.
Our order forms are printed on paper made from 100% recycled fibers.
Our air pillows are made of 30% recycled material.
The air pillow void fill is recyclable, and we reuse the pillows that are returned.
We use a cold seal machine for smaller orders that uses less paper than boxes and does not require fill.
We bale and send inbound cartons from the vendors to a recycler, and we reuse our cartons internally, including those that are sent to our retail stores.
We send our pallets to an outfit that repairs and resells them.
When a package is returned with insert documents, we reuse those in our outbound shipments.
We recycle:
White and colored paper
Corrugate
Shrink wrap
Aluminum cans
Packaging materials
We use solar domes and automatic lighting shut-offs.
Strategic lighting layouts reduce the number of lights needed, and motion sensors on warehouse and restroom lights ensure the lights are on only when necessary.
Kal Wall translucent panels increase daylight inside and white walls and ceilings increase reflectivity.
Our fulfillment center and headquarters are well insulated and have a silver reflective coating on the roofs to reduce heat absorption.
We use energy-efficient fluorescent lighting throughout our buildings. In many of our restrooms, we use motion-detector plumbing fixtures to reduce water consumption.
We use rip rap stones to control erosion during heavy rainfall and have detention ponds for flood control.
We are committed to environmental stewardship and are constantly looking for new ways to conserve energy and reduce waste. Lessening the environmental impact of our business is of the utmost importance to everyone at Sierra Trading Post.