Mad River Reflection Recreational Canoe - Royalex®, 17'
Item #5044K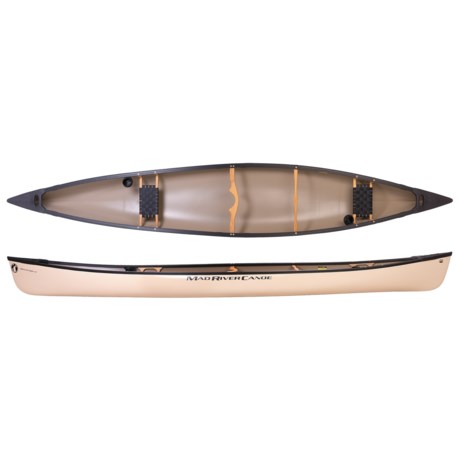 Overview
About Mad River Reflection Recreational Canoe - Royalex®, 17'
Closeouts. Perfect for family outings or solo wandering, Mad River's Reflection recreational 17' canoe is made from durable Royalex® vacuum-formed laminate and has a rockered design with a symmetrical, shallow-arch hull for predictable and efficient maneuverability.
Durable and moderately lightweight Royalex® vacuum-formed laminate construction
Symmetrical hull can be paddled in reverse for better trim with adult/child paddlers or a solo paddler
Shallow-arch hull is maneuverable and efficient in calm conditions
Slightly rockered design for enhanced tracking and speed
Webbing seats
Shaped ash portage yoke
Polyethylene decks with carry handles
Maximum capacity: 900 lb.
Made in United States of America
Delivery Charge: $50
Must ship truck within the 48 contiguous US only; not eligible for special shipping offers
Specs
Specs about Mad River Reflection Recreational Canoe - Royalex®, 17'
Style: Sit in
Boat style: Canoe
Occupancy: Tandem
Number of seats: 2
Weight: 69 lb.
Length: 17'4"
Width: 35-1/2"
Material: Vinyl layers enclosing multiple ABS layers
Boat usage: Recreation,Touring
Made in United States of America
May come with minor cosmetic surface imperfections due to shipping. Please remove all packaging material upon arrival and inspect for damage prior to signing acceptance form from carrier. Note any damage on carrier's document, and contact Sierra Trading Post with any problems.
Delivery Charge: $50
Must ship truck within the 48 contiguous US only; not eligible for special shipping offers
Reviews
Question & Answer
At Sierra we have a 100% satisfaction guarantee so if you are not happy with your purchase for any reason, please return it to us as soon as possible. Products purchased within 6 months of the order date will receive a refund by the original payment method. For returns on purchases over 6 months old, a gift card will be issued. If you feel we have made a mistake in filling your order, we will gladly refund your shipping charges as well.|For more about returns: Use this link to our returns & exchanges pages.|https://www.sierratradingpost.com/myaccount/returnexpress/
About Mad River
In 1971, Mad River canoe founder Jim Henry was so frustrated in his search for a canoe designed for the rigors of wilderness paddling that he decided to build his own. That same year, Jim won the Down River competition in the National Whitewater Canoe Championships and requests for Jim's design came flooding in. After setting up shop on his small Vermont property, Jim named his new company after the Mad River, which flowed near his home. Within a year, demand for Mad River canoes surpassed Jim's production capability and he upgraded to a full-scale manufacturing operation. Over the years, Mad River canoes have received multiple awards and the brand continues to be a leader in the industry today.