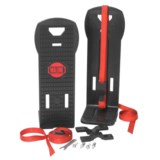 Closeouts. The Malone Stax kayak rack easily and securely transports a single kayak up to 70 lb. Universal mounting hardware fits most factory and aftermarket roof racks.
No tools required
Corrosion-proof polycarbon stackers
12' cam-style straps
For kayaks up to 30" wide
Capacity: 70 lb.
Dimensions (WxDxH): 6x7-½x20"
Total weight: 7 lb. 8 oz.
Material:
Frame: Corrosion-proof polycarbon
Padding: Ribbed synthetic rubber
Cam Buckle Straps: Nylon webbing with steel cam
Made in China.

Intended for composite kayaks only.
Average Rating based on
19
reviews
2.736842
0
5
Verified Buyer

Reviewed by stogieBill from Shingletown, CA on Saturday, July 9, 2011

I bought two sets of racks to haul 2 kayaks. My '05 4Runner has lots of room for this. Installation is a snap. Its the tying down that gets cumbersome. Once tied down, the kayaks ride secure and stable.

Best Uses: SUV's
Cons: Monkey motion tie downs
Describe Yourself: Intermediate
Pros: Durable, Easy To Install, Fairly stable, Lightweight, No wind buffeting
Was this a gift?: No

Verified Buyer

Reviewed by Hiker1217 from NJ on Tuesday, April 12, 2011

Not as easy to install as other Malone carriers I currently own. Took too long to install, and I was not happy with the stability and safety of my kayak after installation.

Cons: Hard To Install Or Use
Describe Yourself: Advanced
Was this a gift?: No

Verified Buyer

Reviewed by Faluche from Ozark foothills on Sunday, August 15, 2010

First use was successfull! Carried two Old Town kayaks throughout the ozark mountains. Encounters some severe weather along route without any problem. Drove two vehicles for shuttling and was able to observe performance while following. The dual kayak mount arrangement although not recommended by manufacturer supported both very well. Floated two rivers and loaded/unloaded boats multiple times with the help of my son. After carrier is installed the loading process took about ten minutes.
The carrier does not install as easily as advertised unless your a contortionist. The carrier is not as universal as advertised either, it works on our Pontiac Montana but not on our Explorer Sportrac.

Best Uses: Day Trips, Recreational Paddlers
Cons: Difficult To Attach
Describe Yourself: Advanced
Pros: Rugged

Verified Buyer

Reviewed by Webfoot51 from Oregon on Thursday, July 29, 2010

Great product. The instruction could use some work.

Cons: Instructions not clear, Photos too small
Describe Yourself: Casual/ Recreational
Pros: Easy To Attach, Rugged, Very sturdy

Verified Buyer

Reviewed by Fly-fishing Guy from Bethlehem Pa on Wednesday, July 21, 2010

[...]

Best Uses: Day Trips, Recreational Paddlers, Touring
Cons: Could be easier to attach
Describe Yourself: Advanced
Pros: Keep it on your suv, Rugged

Verified Buyer

Reviewed by Daytripper from Lexington, VA on Monday, July 12, 2010

I bought this kayak carrier to take a kayak down to the beach - about a five hour drive, including stretches of interstate. First problem was the stax attachment to the roofrack on a Hyundai Santa Fe. I had to go to a hardware store to get longer bolts. On the drive, the straps kept slipping and kayak slipped. I had to stop several times to adjust kayak and tighten straps. The solution was to purchase bungees to pull the two straps toward the center and maintain tension. Also, despite claims to the contrary, it is definitely better to have lines secured to front and back of vehicle.

Best Uses: Day Trips
Cons: Difficult To Attach, Not Functional
Describe Yourself: Casual/ Recreational
Pros: Relatively inexpensive

Verified Buyer

Reviewed by Dave from Minneapolis on Monday, June 28, 2010

Awkward to attach to the car (I have a Highlander) and awkward to attach the kayak to the carrier. The "bolt from the bottom" approach, even though a wrench is included, is also awakard and slow and does not promote "easy on/easy off" of the racks. Wing nuts would have been much easier. The design does not allow for the kayak to be affixed with confidence.

Cons: Difficult To Attach, Not Functional
Describe Yourself: Casual/ Recreational
Pros: Rugged

Verified Buyer

Reviewed by GranolaGirl from NewJersey on Saturday, April 10, 2010

First, I thought it was a stacker that would allow 2 kayaks to be attached. Then, I saw it was not metal and the weight limit was 70#. My mistake. Second, the bolts were definitely not long enough for an oval roof mount (HONDA CRV), but the manufacturer offers a kit for $5 with longer bolts. The bolts required a wrench to tighten, and I prefer to have a nice finger tightening grip already present (for ease of throwing it on). Hard to describe, but other manufacturers have finger tightening bolts that do not require tools.

I have to load up 3 kayaks readily (each weekend) and need ease of use, plus a stacker type of system which Malone makes, but I'd rather not deal with because of the wrench/bolt set up and the need to buy a kit or longer bolts at the hardware store.

Please, this was just a mis-fit for me! You might find the price inviting and not have the oval factory mount roof rack. And if you don't have to mount it to the rack much, the bolt/wrench set up would be fine.

Best Uses: Day Trips
Cons: Difficult To Attach, Polycarb seems flimsy
Describe Yourself: Beginner

Verified Buyer

Reviewed by Doodle from statesville nc on Thursday, March 25, 2010

i'm able to haul two kayaks on the vertical stackers, its quick and easy to load my playboat and creekrunner on one stacker, and the kayak doesn't seem to shift at all during transport, and i usuallly have to driver sereval hours each way.

Describe Yourself: Advanced
Pros: Easy To Attach

Reviewed by RB the Returner from NH on Monday, August 31, 2009

I am 6' and in good shape and I struggle to get my kayak in to this thing, even when it is in there, it isn't held tightly. I think the only person that would have a use for this is someone with a very light, very narrow kayak, that already has a ton of other stuff on their roof and no place for a decent set of J-Bars. Do yourself a favor, spend the extra money on something else, or buy a trailer.

Best Uses: Anchor
Cons: Doesn't hold kayak tight, Impossible to load, Not Functional
Describe Yourself: Recreational
Pros: Easy To Attach