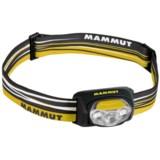 Closeouts. Mammut's T-Peak LED headlamp is ideal for a range of low-light activities, with flood, dual or spotlight settings and a bright 90-lumen output.
Average Rating based on
8
reviews
3.625000
0
5
Reviewed by On the lake from US/Can border on Wednesday, February 18, 2015

These are wonderful headlamps. Very bright and easy to use. The ones I received from STP arrived with the batteries already installed and the tabs holding the case lid broken. The tabs are pretty flimsy, so that wasn't a surprise. The alpine emergency feature worked. All other light settings and the battery check did not work- on either of the two lamps I received.

Both lamps had obviously been returned previously. Sadly, STP turned them around and sent them back out again. I contacted customer service where a very nice person was completely unhelpful and basically said yes, they are broken. Return them with a note that repeats everything you just wrote to me in the chat and if we confirm they are broken, we'll credit the shipping.

I've received several damaged/defective items to STP recently. This used to be my go-to online store, but the quality, selection and customer service aren't what they used to be.



Reviewed by VanMan from Vancouver, BC on Friday, March 7, 2014

The light is bright and there are a good number of brightness options. It is light and low profile. The biggest issue is that it is impossible to turn on in gloves (this is a big one if it's cold out). Even with gloves off, it is very difficult to click the membrane switch twice in a row fast enough to turn it on and I have to take it off my head in order to turn it on. When you cycle through all the brightness options, the next click turns it off, so then off the head it goes again, gloves off and trying to click twice within a second with frozen fingers....

Reviewed by azuresky from S, K on Friday, January 3, 2014

if under $20, very good.

Reviewed by Matt from Denver on Thursday, November 7, 2013

Its light is bright, and you have brightness options and a blinker, but use is not intuitive: It requires 2 clicks to turn on, then weird combinations of time and clicks to utilize all its features.

Maybe I'm just dense.

The thin plastic connector joining the battery door and the lamp broke right away.

The 2 click/on is annoying. Price was not.

Reviewed by jacky from korea on Tuesday, October 29, 2013

Very good product at an affordable price to purchase and happiness.
Recommendation

Reviewed by Yoga Newbie from New Jersey on Thursday, October 24, 2013

I used headlamps for walking and jogging in the dark. I have used three headlamps over the years. One is a Petz and the other two are Mammut's. The Petz is very reliable but not bright enough for running. The first Mammut died when it got wet (my fault). The T-Peak model is wonderfully bright and has a number of different modes (narrow, wide, bright, flashing, rescue). The elastic band is rather large although on the small setting it fits very well. If you must have one of these on your head then you have to get used to the feeling - not great - but better than not going out in the dark.

Reviewed by JHS from Ma on Tuesday, October 1, 2013

Very bright, but a bit tricky to turn on (you have to hit the switch repetitively to turn it on).

Reviewed by kyriverman from ky on Monday, September 23, 2013

This is good headlamp for the money.You will not be disatisfied.