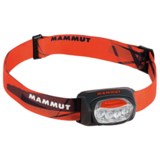 Closeouts. Any nighttime activity is easily illuminated by Mammut's T-Trail LED headlamp, with a wide 45° floodlight and 60-lumen output.
Average Rating based on
15
reviews
3.200000
0
5
Verified Buyer

Reviewed by Alabama from Alabama on Wednesday, July 2, 2014

I've purchased 3 thus far and all have functioned properly. You have to read the instructions to know how to turn them on. Yeah, I hate to read instructions, but these are good lights.

Reviewed by Troutfly22 from Jackson, WY on Friday, March 14, 2014

This headlamp doesn't work. My puppy got to package before I could return it. At least it will not be resold to someone else.

Reviewed by Justin from New York on Thursday, March 6, 2014

This headlamp is very nice, easy to use, and very bright at it's highest setting. I recommend it.

Reviewed by Adk rider from Newcomb, NY on Thursday, February 27, 2014

This headlamp is bright and light weight. The on/off switch is a bit small though. May not be good for someone with big hands.

Reviewed by Powhound from colorado on Friday, February 21, 2014

one drawback is males must read the instructions. its a headlamp right? how difficult can it be? on....off. Read the instructions to figure out the the function on this one, once you understand its really easy. took my caveman brain at least 10 minutes till i decided to read the instructions. double click to turn on! great headlamp once you dial it in

Reviewed by Scoutmaster from Tennessee on Wednesday, January 22, 2014

The headband is comfortable and the light is bright. The switch is a little tricky since it requires a double tap to turn on the first of 3 levels. But this should keep it from turning on in your pack, draining the batteries.

Reviewed by nvhiker from NV on Monday, January 6, 2014

You can disregard all of the 1 star reviews below this one. It is more likely that the 1 star reviewers didn't read the instructions and didn't know how to turn the light on, and not a problem with the product. I am a big fan of the "double click on" feature (this is what stumped the 1 star people), and the light quality is very good.

Reviewed by bernar26 from Dauphin island Alabama on Friday, December 27, 2013

Purchased this for my boyfriend for Xmas and he just used it deer hunting. He loves it. Don't be fooled by the other reviews that the lamp doesn't work-- it's a double click to turn on so it won't accidentally turn on in your bag. Very bright and useful and now his hunting buddy wants one too

Reviewed by dbjung from Louisiana on Saturday, November 30, 2013

Read the other reviews, so I was aware of the problem turning it on, but still was tempted by the brightness of the light and the wide band. But to no avail. Would no turn on, tried it with two different sets of batteries. Shame really it looked and felt great, but no light, no good.


Reviewed by Sajenn from St. Louis, MO on Tuesday, November 19, 2013

The switch didn't work. I had to return it.

Reviewed by Little a from Fort Mill, SC on Wednesday, November 6, 2013

For the price it can't be beat. 3 settings and an adjustable angle make it great for groups (no bright lights to the eyes). Lights up the night pretty well.

Reviewed by runner from Colorado on Monday, October 28, 2013

I bought the light and it did not turn on at all. I changed the batteries and the light still did not work. I wouldn't waste my time or money on this product.

Reviewed by Joanne from Flagstaff on Wednesday, October 23, 2013

I was really excited to purchase the item.
However, the first one didn't work. Then I exchange the other one.
The second one still didn't work.
Very disappointed!

Reviewed by Nick from Virginia on Tuesday, October 15, 2013

That's about all I really need in a head lamp. I had a Princeton Tec (I don't remember the model, I just know it cost more than this Mammut...I'm sure Princeton Tec has better models) that would always turn itself on in my pack and the battery compartment was a pain to get into. Eventually, the clasp for the batteries broke and I decided to replace rather that tape up. This Mammut has a double-click on feature so it wont turn itself on and I like that the first mode of light that comes on is the dimmest one. That way, I can decide if I want it brighter or if the dim mode is all I need (going through a pack, etc). I feel that this saves a lot of battery life in the end and reduces the user's waste of defaulting to the brightest mode. Basic and reliable.

Reviewed by Nomad Dave from Ma on Tuesday, October 8, 2013

Outstanding brightness, but, although I can appreciate the way the light turns on, 2 quick presses within 1 second, which eliminates accidentally turning it on in your pack, this feature makes it quite difficult to turn on, and takes some getting used to. It is also next to impossible to change brightness or turn off while on your head.