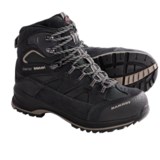 Closeouts. The Vibram® outsole of Mammut's Teton hiking boots features sharp-edged, angled lugs that bite into loose terrain, and the Climbing Zone at the toe helps you grab onto those narrow ledges and rocky outcrops, sure-footed as a goat. To finish out the features, the Gore-Tex® membrane is waterproof breathable; it keeps moisture out and lets perspiration vapor escape so your feet stay drier in all conditions.
Average Rating based on
9
reviews
4.444444
0
5
Reviewed by Long haul Saul from Milky way on Saturday, March 1, 2014

I ordered this in conjunction with the Mammut Siluette. Here's what my initial impressions were of each:

Great sole on both, though the Siluette was much more aggressive, offering deeper treads. To my untrained but intuitive eye, the construction of the sole on the Siluette seemed the more durable of the two. I could be wrong. But it was very reassuring to me that certain sections of the sole attached to different places on the shoe rather simply being attached in one long, even strip. After suffering delamination with my last pair of Lowa's, I am little wary that the tread on the Teton's is simply one long panel that looks like it could easily peel off in one piece. Here's hoping that doesn't happen.

I tested the Gore-Tex feature out in the bathtub after reading of other reviewers who had done the same (and hey, better in my bathtub than miles from shelter). There were no obvious flaws.

Overall, the Siluette seems to be made of more durable materials and the construction appeared more sound. There are some places on the Teton that look to me that they will wear out sooner.Sadly, the Siluette's were listed as running a half size large, and I found them still to be just a little too big even after ordering down a half-size.

Both of these styles seem to be great shoes. Memory foam linings in the collar and shaft, and they both felt roomy in the toe, which my feet found refreshing. I would actually say that if you have a higher volume foot, consider ordering the Siluette. My feet were just too small to really fill it out.

I love the built in ortho-lite in the sole of the Teton. Feels great! And ultimately, these boots will probably suit my needs just fine. I wore them for 9 hours on concrete floors yesterday and other than slight stiffness in the collar (which is to be expected), my feet felt amazing. That's the first time in over a year I've been able to be up and moving that long with no complaints, so I'm thrilled. I'm really splitting hairs among the best of the best here.

Here's hoping Mammut proves as durable as they are attractive and comfortable. So far, I'd highly recommend this brand to anyone.

Reviewed by Little Red Hiking Hood from New York on Monday, December 30, 2013

This boot is great. I wear a 7 and ordered a 7. The heal and ankle are VERY well supported in a comfortable and sturdy design. The toe box is very spacious. This is great in two conditions: cold weather, to allow extra socks, and on a decline, so that you don't jam your toes even under pack weight.

So far I have worn them only for a cold weather camping weekend (20-35 C). My feet were perfectly warm in only one pair of wool socks.

The sole is designed so that your foot rolls forward with each step. I haven't done more than a few miles to date, but I suspect it will be a nice feature on longer hikes. Also, the toe is extremely stiff, supporting the rest of the foot bed. Thus, if you needed to scramble up a rocky incline, etc, the toe helps to support your entire weight on a small foot hold.

Really great boots, and attractive too. I'd buy them again in a heart beat.

Reviewed by kirk from Whistler BC on Saturday, November 2, 2013

great outdoor boot…… nothing extreme but warm comfy and waterproof. light and easy to wear with decent tread and nice laces and great support
boot may be a bit wider than expected but fits my foot well

Reviewed by Jett10 from South Windsor, CT on Friday, November 1, 2013

These are awesome hikers, they are very well-made and heavy duty. Don't know about warmth yet (although I believe they will be great) and I'll be wearing them right through the winter months. Love them and they are true to size with a little extra room for thicker socks, perfect!!! Thanks Sierra!

Reviewed by NoGMO from Atlanta on Thursday, October 10, 2013

These boots mean business. They have weight to them, and my regular size 8, which is what I ordered, came with a "roomy" feel. Enough room for a good thick pair of Hiking socks. I have not worn them on the trail yet, so I can't rate the comfort.

Reviewed by park min jun from korea on Wednesday, September 4, 2013

Gore-Tex shoes lice live on the remote is being able to believe
Just the thing bottom sit the balance a bit disappointing

Reviewed by knitordie from PA on Tuesday, September 3, 2013

I haven't done any real hiking in them yet, since I'm still working on breaking them in. These are very stiff boots. They feel very sturdy but definitely take time to adjust to. These seem true to size. I ordered an 8.5 and I have high arches and a wide toe box and they fit well.

Reviewed by Judy from New Mexico on Thursday, August 8, 2013

The sizing in this brand seems inconsistent. I normally wear an 8/8.5 in US sizing and a 39/40 European sizing. I bought a pair of the heavier Kootenay Mammut leather boots using the UK sizing (which was correct) and did the same for this boot, which, unfortunately corresponded to US sizing (Euro 38) and was too small. I have reordered in the size 8 and hope it will fit. The proportions of this boot promising - I am wide in the toe box and have a couple of bunions and usually have to go longer to accommodate my width. In the correct size, these will probably be a winner.

Normally I wouldn't write a review until I had tested the product more thoroughly. But I thought that the sizing information would be helpful to others and to STP with respect to minimizing returns.

Reviewed by TMS from NoVa on Wednesday, July 10, 2013

I have what another reviewer described as "duck feet"--flat, with broad toes and a narrow heel (literally, the ball is 5-5.25 inches wide and the heel is 2.5 inches at widest; normally, I wear a size 10 or 10 W, if I can get it.) Men's Nike running shoes generally fit me well, and I have a pair of lightweight Columbia dayhikers that also fit well.

With that in mind, these boots are sturdy and have a fair amount of volume in the foot. The toes were just a wee bit tight for me while wearing midweight Smartwool socks, but the heel fit fine and the overall length was just a tiny bit longer than normal. However, there was no arch support to speak of and my flat feet ached just trying them on. But, the boots could easily accept an insole and were relatively light, with a good stiff sole and reinforced toecap.

Overall, good boot, but not for my feet.