Mason's

Sizes

Style

Sleeves

Gender

Colors

Prices

Popular Mason's Products

Search Within
Mason's clothing expresses a lifestyle, and a brand that stands for quality in a variety of styles. Mason's pants, shirts and casual clothing are made with fabrics that provide comfort, style and wear-ability. Mason's jackets, shirts and trousers are a mix of comfort and functionality, elegance and simplicity. Mason's style comes from a past reinterpreted and re-imagined through a contemporary perspective. Unlike many trendy fashion lines, Mason's is dedicated to research and innovation. In addition to the original Libertador fabric, Mason's also uses canvas, cannete, Ottoman, and tricottina f
... Learn more about Mason's
abrics that can't be found in any other major fashion line. Mason's of Italy unique treatments and special washes are always at the forefront of innovation. Layers of time live again in Mason's jeans, shirts, pants and jackets; add a layer of living to your look with Mason's fashions. ... Less
About the Mason's Brand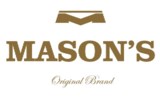 Compare at $225.00
Closeouts
Reviewed by Beth from Portland on Saturday, March 5, 2016

My college son, who usually wears a S or M, can just barely wear this in a M. The purple color is really awesome and the fabric is soft and comfortable. He says he gets more hugs from friends when he wears this shirt. Before settling on the M, we also tried the L, but it was much too big. Let's hope he's past the freshman 15 and doesn't outgrow this great shirt.

Verified Buyer

Reviewed by Tom from Alaska on Monday, February 15, 2016

This a nice looking shirt.

Verified Buyer

Reviewed by Ju from Utah on Monday, January 18, 2016

great fit and really nice pants.
Receive email updates for new Mason's items