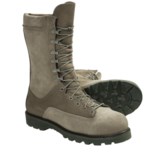 Closeouts. Made in the USA of premium quality suede, Matterhorn field boots offer top-tier protection for cold and wet environments, with Gore-Tex® waterproof breathable protection, 400g Thinsulate® Ultra insulation and a Vibram® 1321 Omnitrac lugged rubber outsole.
Average Rating based on
11
reviews
4.000000
0
5
Reviewed by Beserka from Arkansas on Saturday, August 1, 2015

I'm an 8D, so I rolled the dice on 7W. Which width should be the same as an 8D. This was not the case. These would be a Sz 8 in length and a 7D in width at best. I figured through a wee bit of [...] I could if nothing else have something to move about the place when it snows. I pulled the thick insole replacing it w/thin Han wag sz 8. Fit w/o buckling though the sz 42 Han Wag insole I had was too long.

I laced straight up the sides until going through the first hook before crossing over to the other side. I then went up the side two hooks before crossing, then up the final three hooks before crossing into the last round eyelet. I wore these around the house wearing the thinnest dress socks allowing ease of on/off. This is possible thanks to the integrity of the safety toe, gusseted tongue sewn on both sides of 12 eyelets/12 hooks also serving as leather fasteners and gore-tex bootee sewn inside. I don't have any issue w/ amble toebox due to the structure of the composite safety toe anchoring the suede.

Now that I've swapped insole & lacing I can use a middleweight wool sock. The sole is flexible w/spring & absorption you would expect in rubber. I plan to wear these, 1.5 mi, up and down a little mnt then change into some of me other hiking boots a few times before extending the distance. Granted I'm splitting hairs, but the laces are cheesy round ones that I know will untie w/little prodding. However, whilst breaking the leather in the slick shoelaces combined w/lacing pattern will make for quick n easy tightening/loosening. Down the road I will buy a pair of quality laces.

I believe the craftsmanship combined w/flexible suede will allow me to be able to hike extended distances in short time. The composite toe/shank have these claimed 400 gm thinsulate, 200 each I'm sure, 10" coming in at 5lbs. Weighed on physician style beam scale. Sure, it would be nice if these were properly sized, yet for the price paid I consider them worth the extra attention.

Also, I would not be able to pull this off if these weren't well made quality boots. Perhaps in time I'll be able to use more crossing patterns w/laces. The quality of material and craftsmanship should have these poised at 4-4.5 stars. .

Verified Buyer

Reviewed by Ed from Il on Tuesday, July 14, 2015

Laces are no heavy duty for the kind of boot hard to keep them tide , not truth size it comes wide.

Verified Buyer

Reviewed by always grumpy from Ohio on Tuesday, December 23, 2014

The best boots ever! They run true to size and wear like iron. I have had two other pairs that have lasted for years of military infantry abuse. It is nice that there are a few things left in life that have this good of build quality.

Verified Buyer

Reviewed by Hiking fanatic from texad on Saturday, November 8, 2014

Built well but small. I have thin feet and the medium was very tight while the heel was very big.

Verified Buyer

Reviewed by Ben from Knoxville, TN on Thursday, June 19, 2014

This is my fourth pair of Matterhorns. I am tough on them, and they last several years in daily use on concrete floors, exposed to the heat and grit of a blacksmithing shop. The only part of the boot that has ever failed is the lace, melting in half on the vamp when a big piece of scale fell on it. One pair had Kevlar fabric panels that came open at a seam to expose the Gore Tex and insulation, but if you get the all leather styles they last forever. This pair is sage green flesh out leather; it is not suede or split leather, as the description says. It is full grain leather with the grain side on the inside of the boot. They fit well, Matterhorns run a bit large, order a half size smaller than you wear in shoes or get measured for the best fit. I wear 11.5 Matterhorns, 12 in Merrells and Adidas, 13 in Nikes, if that helps.

Verified Buyer

Reviewed by rthoosier from Indiana on Thursday, April 17, 2014

Very rugged construction with a lot of support. Bought for disaster ministry and will work great.

Reviewed by museonlife from Florida on Wednesday, February 19, 2014

They fit well - after returning them for a smaller size. They are well insulated. Not sure how well the non-steel toe is going to work. What was most disappointing is that the boots are clearly two colors in the photo and arrived one solid color. If we wanted one solid color we could have gone with the less expensive boot.

Reviewed by Maggie from Ohio on Tuesday, December 24, 2013

Very solid, nice boots. They were way too big for me though. I got a "men's 7 / women's 8" but they were definitely more like a women's 8.5 or 9. Ladies be warned!

Reviewed by Farmingsidney from Vancouver Island BC Canada on Thursday, November 14, 2013

Great boots! They are super comfortable and true to size, as well as far easier to lace up than any other boots i've owned. I spend all day in them on my farm. Though it says they have 400 g insulation, the ones i got were 600G which i have no qualms with. Stitching could stand to be a bit beefier in my opinion but i am yet to see how they wear over time. So far they're wonderful and i would deffinatly recomend these.

Reviewed by Ninohashi from Australia on Tuesday, September 3, 2013

Great boot, but very, very narrow. Maybe without the insulation and waterproof liner they would be a Medium width. If you regularly wear Medium width I'd go 2W in these for a comfortable fit.