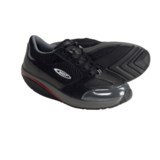 Discontinued styles. Getting your fitness mojo back is easy with MBT Moja fitness shoes, which utilize research-proven Masai Barefoot Technology to tone muscles, ease muscle pain and improve posture.
Curved sole creates natural rolling action that's proven to ease knee and back problems, relieves tense neck muscles, and over time will tone buttocks and thighs
Masai Sensor directly beneath the heel simulates walking and standing on uneven ground, creating a natural instability that activates and exercises the body's entire musculoskeletal system
Suede, mesh and synthetic leather upper
Breathable 3D mesh lining wicks moisture
Soft, moisture-wicking microfiber sockliner and split-leather insole provide breathability
Removable foam-cushioned insole
Polyurethane midsole absorbs shock and offers support
Secure rubber outsole offers lightweight support and durability
Heel: 2"
Weight: 1 lb. 12 oz. pr.
Medium width
Made in India

Runs small, order ½ size larger.

U.S. shipments only.
Average Rating based on
13
reviews
4.461538
0
5
Verified Buyer

Reviewed by granny too from Ceritos, Ca on Friday, February 10, 2012

i was using Shape Ups the last pair I bought was very unconfortable so I decided to try MBT and found them to be much better when it comes keeping my posture

Arch Type: Average Arch
Best Uses: Pavement, Walking, With Orthotics/Inserts
Cons: none
Describe Yourself: Casual/ Recreational
Pros: Absorbs Shock, Attractive Design, Good Arch Support, Pronation Control
Sizing: Feels half size too small
Was this a gift?: No
Width: Feels true to width

Verified Buyer

Reviewed by dkj from Steamboat Springs CO on Thursday, July 21, 2011

Sizing was a problem for me. A 39 2/3 was too short and a 40 1/3 was too long. I sent both sizes back and ordered another style of which the 39 2/3 fit just right.

Best Uses: Walking
Describe Yourself: Avid Athlete
Was this a gift?: No

Verified Buyer

Reviewed by Ilcor from San Francisco on Wednesday, June 8, 2011

These shoes are soooo comfortable for walking on pavement. I thought they might be hard to get used to but they were not at all. There is so much cushion that my very tender feet do not feel the pavement. Also they are much better looking (IMHO) than many walking shoes.

Arch Type: Average Arch
Best Uses: Pavement, Walking
Describe Yourself: Casual/ Recreational
Pros: Absorbs Shock, Attractive Design, Comfortable, Durable, Good Arch Support
Sizing: Feels true to size
Was this a gift?: No
Width: Feels true to width

Verified Buyer

Reviewed by weekend walker from NJ on Friday, June 3, 2011

Definitely runs a half size smaller. This is the third pair that I tried. The first two were my normal size in two different styles. I then ordered a half size up and they fit perfectly. Felt very tight at first but the shoe length was good so I kept them. I am glad that I did because they loosened up and feel very good. They are so comfortable right away. Takes a little getting used to on the stairs but very stable otherwise. I would recommend these for everyday use.

Arch Type: Average Arch
Best Uses: Pavement, Walking
Describe Yourself: Casual/ Recreational
Pros: Absorbs Shock, Comfortable, Durable, Good Arch Support, Lightweight
Sizing: Feels half size too small
Was this a gift?: No
Width: Feels true to width

Verified Buyer

Reviewed by Burgh Girl from Pittsburgh, PA on Monday, May 30, 2011

These are very comfortable MBTS. I have a pair of the MBT Walk style and these look more like realy tennies than a 'shaper' type shoe.

Arch Type: Average Arch
Best Uses: Walking, Work shoe
Describe Yourself: Casual/ Recreational
Pros: Comfortable, Good Arch Support, Lightweight
Sizing: Feels true to size
Was this a gift?: No
Width: Feels true to width

Verified Buyer

Reviewed by Devidoc from Solana Beach, CA on Friday, May 27, 2011

This shoe will be the summer weather replacement for my heavier, warmer Barbara sneaker. Lightweight and not bad looking for a sneak. Also a terrific bargain at STP. What a deal! Love my MBT's.

Arch Type: Average Arch
Best Uses: Dog Walking the Canyon, Walking
Describe Yourself: Gym Rat
Pros: Absorbs Shock, Attractive Design, Breathable Mesh, Comfortable, Durable, Good Arch Support, Lightweight
Sizing: Feels true to size
Was this a gift?: No
Width: Feels true to width

Verified Buyer

Reviewed by Spud from Montrose, co on Thursday, May 26, 2011

I have five pairs of mbt shoes and they are the best shoes ever. However, this pair was a total disappointment in comfort and fit.

Arch Type: Average Arch
Best Uses: With Orthotics/Inserts
Cons: Narrow / Tight, Uncomfortable
Describe Yourself: Casual/ Recreational
Pros: Attractive Design
Sizing: Feels half size too small
Was this a gift?: No
Width: Feels too narrow

Verified Buyer

Reviewed by btg from st petersburg fla on Monday, May 23, 2011

This product helps maintain posture and exercises calves and thighs

Arch Type: High Arch
Best Uses: Pavement, Walking
Describe Yourself: Casual/ Recreational
Pros: Absorbs Shock, Comfortable, Good Arch Support, Lightweight
Sizing: Feels full size too small
Was this a gift?: No
Width: Feels true to width

Verified Buyer

Reviewed by Ella from Marlborough, NH on Thursday, May 19, 2011

These are genuine MBTs...I've been fooled on-line thinking I would save money with "on sale" MBTs. These STP-ordered shoes keep the body aligned instead of pitched forward and feel great on the foot. I've ordered the MBT boots STP offers as well. MBTs are the best for feeling relaxed after a day of standing and walking on a sales floor, too.

Arch Type: Average Arch
Best Uses: Endurance Training, Gym, Pavement, Running, Trail Running, Walking
Describe Yourself: Casual/ Recreational
Pros: Absorbs Shock, Attractive Design, Comfortable, Durable, Good Arch Support, Lightweight, Pronation Control
Sizing: Feels true to size
Was this a gift?: No
Width: Feels true to width

Verified Buyer

Reviewed by Sue from Michigan on Monday, May 9, 2011

I have sacroiliac and low back issues and pain and someone told me to try Skechers Shape Ups. I have Sketchers and these MTB shoes. MTB are a little more comfortable and much, much more durable and stable. These are worth them money.

Arch Type: Average Arch
Best Uses: Walking
Describe Yourself: Casual/ Recreational
Pros: Absorbs Shock, Attractive Design, Comfortable, Durable, Good Arch Support
Sizing: Feels true to size
Was this a gift?: No
Width: Feels true to width