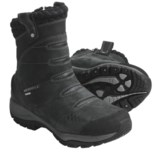 Closeouts. Proof that cold-weather footwear can be both stylish and high performing, Merrell's Arctic Fox snow boots have a sleek design joined by zoned insulation for warmth and a waterproof breathable membrane to keep feet dry.
Average Rating based on
53
reviews
3.924528
0
5
Reviewed by arctic fox from PA on Tuesday, February 18, 2014

Boots are great. A little stiff when you first put them on but they do keep your feet warm. The one boot at the top of the zipper did rub the calf a little but if you have extra long socks on there is no problem. Very happy.

Reviewed by Mainer from Maine on Monday, January 27, 2014

Great boot. Only 2 complaints are that the loops, to help pull the boot on, are placed in a strange place. This makes them kind of useless. And they squeak-a lot! But they are comfortable, sturdy without being too stiff. And they are warm!

Reviewed by Needed warm boots from CT. on Thursday, January 16, 2014

I love these boots, and want them to work for me. Initially it was very hard to get them on with a woolen sock, which is what I wear during the cold months here in New England. I put on a lighter sock and things went much easier. I put them on every day to see if they will stretch a little and I think they are Are begining to. Still, I am wanting them to give more, and will decide in a few more days if they are keepers.

Reviewed by Deb D Digger from Syracuse on Sunday, January 12, 2014

Something about the fit wasn't quite right. Maybe they would have been better with a zipper down the front instead of the side. The boot needs to be a little taller or shorter -- this height was just uncomfortable.

Reviewed by C2J from Lansing, MI on Tuesday, January 7, 2014

Purchased as my first snow boots since returning to the cold tundra after living in the south for a few years. I like these a lot and am overall happy with the purchase.

I have a very weak ankle, so these appealed to me for the additional support they offer. I ordered a half size larger and wish a full size larger had been available when I ordered, but they were sold out. The boot FITS, but there is no room to spare. I can wear thin liner type socks and cannot wear thick warmer socks with them. The boots were stiff upon arrival, but I have worn them regularly for over a week, and they are doing really well at breaking in. I even drive my stick shift care and they are flexible enough for the additional peddle pushing without discomfort. They are extremely supportive for ankles, very warm and very sturdy. My boots do have the squeak that others have reported, but I can deal with it. They have excellent traction in snow but are not as good on ice. I do have slightly chunky lower legs, but these seem to work just fine - they zip up tight but are not uncomfortable. No snow getting in, but my legs are not suffocating.

I do suggest if you have wider feet to really order larger. My left foot is a little fat and the boot is a little tight on that food, but the right side is fine.

Pro: nice quality, sturdy, warm, nice traction, comfortable.

Cons: Sizing, stiff until broken in

Reviewed by Maggie the Red from Colorado on Tuesday, December 31, 2013

This boot fits perfectly like all Merrell, true to size. It is very warm and very grippy on slippery surfaces. I am very pleased. They became my go to boot and I live in the Rocky Mountains where it's always snowy and cold...at least for 6 months of the year.

Reviewed by Hope from NY on Tuesday, December 24, 2013

I was really looking forward to getting these boots but when they arrived they were too tight to put my calf through the opening with sox on my feet. I ordered a whole size larger than I would ordinarily wear. I have always been a walker and I guess they are made for someone with skinny legs!! If you fall into that category, then they are the best!! BUT if you are like me, you are out of luck. So sorry, but must return them.

Reviewed by shoediva from idaho on Saturday, December 21, 2013

These are well made boots. They are pull ons with an inside zip. I thought they were true to size, except... once I got them on... I could get one boot off with some effort and the heal kick provided... The other boot??/ Muahahahaha... you should have seen me trying to get out of that boot. I tried to kick it off with my sock covered foot and there was no way. So began a 10 minute struggle. At one point I think I had my foot over my head and I definitely broke out into a sweat. (Thank GOD I wasn't in some store somewhere. LOL)

The insole isn't as thick as I previously suggested, either. While thicker than a standard insole it wasn't the very thick/stiff insole that my Taigas have.

Bottom line I recommend buying these ONLY IF you have a BOOT JACK ~or~ don't mind the workout you get while putting them on and taking them off.

STP I suggest you bundle these with a boot jack. ;)

Reviewed by B the baker from Washington on Wednesday, December 18, 2013

It must be my feet. I ordered a 1/2 size larger and they were still too tight. They are a gorgeous pair of shoes but I feel run a bit small

Reviewed by shoediva from Idaho on Monday, December 9, 2013

I purchased these and haven't even received them yet. But I wanted to let folks know something that may help them choose this boot. I have a pair of size 8.5 Merrell Tiaga boots that had the same issue.

Merrell puts in a VERY thick removable insole in these winter boots that is about 1.25" thick at the heal/arch area and goes down to about 3/8" at the toes. To top that off the insole has a stiff plastic arch stiffener. I removed the foot bed/insole and had no issues getting my foot in them they were even sloppy loose! I briefly contemplated buying different insoles direct from Merrell but the DIY Diva in me and my frugal nature got the better of me. So I fixed the offending insole. How? The bottom of the insole is this dense rubber like material... so I fired up my bench grinder (yes a woman with her own bench grinder) and sanded and sanded, until I had a thickness that would work for me. I ended up taking about 5/8" off the heal and arch area of the insole... slightly past the stiff plastic stiffener piece. I measured to make sure they were the same size and slipped them back in the boots. Now they are comfy warm boats that I got a good price on.them!

If you are afraid to take the DIY leap, just go to the Merrell site and get different insoles. $12 or so additional will fix your problem and let you keep these awesome boots!