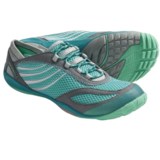 Closeouts. Runner's World Magazine's "Best Debut" pick for 2011, Merrell' Pace Glove trail running shoes feature a gender-specific minimalist design with a secure Omni-Fit lacing System and Vibram® Trail Glove outsole to promote a more natural running experience.
Average Rating based on
59
reviews
4.440677
0
5
Reviewed by Sara from Boulder CO on Sunday, January 12, 2014

good for bouldering and keeping traction on slippery rock. I think they look cute too.

Reviewed by Hiker from Oregon on Monday, July 15, 2013

I use these shoes for trail walking. They are extremely comfortable and give good footing on uneven surfaces. I love the light weight and thin soles, but it also means that you can feel rocks underfoot.

Reviewed by The Traveler from Central Oregon on Wednesday, June 19, 2013

These shoes have great support and traction. I am traveling through central Europe so weight is an important factor. The pair of these shoes weigh less than one of my other trail shoes. I love them.

Reviewed by HavingFun from Illinois on Wednesday, June 19, 2013

Great shoe - this is my second pair! They are very comfortable in hot weather. The fit is perfect with a roomy box toe; there is no need to size up.

Reviewed by Emily from MN on Friday, June 7, 2013

I ordered a size up, based on other reviews, but they were way too big! I would say the sizes are accurate. I thought I would try out the barefoot style, since these were a good price, but since they are big I have to return them, so therefore can't really give a review on what they are like. They seemed uncomfortable for the little time that I tried them out, but I think that is normal at first when getting used to the barefoot style (?)

Reviewed by Ramona, mountain gal from Washington, D.C. on Saturday, May 18, 2013

Comfortable and so cute. Great deal!

Reviewed by Clara from Colorado on Wednesday, May 8, 2013

I love the shoes. I am not a runner but wear them all the time. The first pair had a problem with the sole leaving the shoe so I returned
them to STP. The exchange was painless and prompt. Love that service.

Reviewed by Another old lady from Phoenix AZ on Tuesday, May 7, 2013

I would have loved to keep these shoes for the roomy toe box and light weight and cool mesh sides, but they made my feet numb in a few minutes. If you look at the tongue, the bands under the laces are not elastic. No stretch in the sides, either. The tongue does not come loose, it's all sewn together and the laces are not really functional. I didn't feel like cutting the tongue loose and relying on the laces to adjust tension, although it might have been a solution if I was desperate for a shoe. People whose insteps are not so high might feel it is supportive. Or, they might feel their shoes are beating up their feet.

Reviewed by Amy from Georgia on Tuesday, May 7, 2013

Definitely a great shoe for those looking for a minimalist experience. I have had problems getting the shoelaces to stay tied without being double knotted, but the shoe itself has been wonderful for trail running.

Reviewed by Kambear from Virginia on Monday, May 6, 2013

I have had hip and knee problems all my adult running life, and after reading a published article about how standard running shoes (and heel-striking) can sometimes be the culprit, I decided to heed the author's advice and try a minimalist shoe (and midstrike). I also just read Eat and Run, by Scott Jurek, an Ultrathon runner who does a lot of running in this type of shoe. He recommended breaking in the shoes by running on grass and/or sand for 10 minutes at a time until the body adjusts. So I have been doing just that. I also have walked on gravel trails in our local park. The shoes fit extremely well. I usually wear an 8, and I ordered a 8.5 and that size is perfect. I also use my heel inserts because I have had troubles with plantar fasciitis in the past and didn't want to reinjure my foot. The results so far: for a walking shoe, I couldn't ask for something more comfortable, breathable, and functional. My only concern is that I can feel the gravel underfoot and sometimes it can be uncomfortable after walking several miles. For a running shoe, I'm not sure if this baby is going to do the job. I am an over-pronator, and I'm not sure there is enough arch support for me. However, since I have yet to run any great distance in them, the jury's still out on that. I am definitely going to take my time breaking these in as my mainstay runners. But I have confidence that I can eventually use these on dirt/mulch trails for long runs, and use my more cushioned shoes for the gravel trails. As for running on asphalt, I hope to be able to run 5ks in these babies. I'll let you know how it all pans out. But I have to say, so far, so good. Really glad I purchased these, Sierra...THANKS!