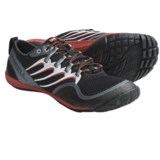 Closeouts. Runner's World Magazine's pick for "Best Debut" for 2011, Merrell's Barefoot Trail Glove trail running shoes offer exceptional flexibility and support from the glove-like fit of an ultralight upper. These also latch to dynamic trail surfaces with a responsive Vibram® Trail Glove TC-1 rubber compound outsole.
Average Rating based on
98
reviews
4.530612
0
5
Reviewed by NYC Hiker from New York on Tuesday, March 26, 2013

Very comfortable, but not suitable for very long walks on pavement for a big man.

Reviewed by Jeff the cross fitter from Houston on Tuesday, March 26, 2013

I was eager to get these shoes for Cross Fit training, with short runs and weightlifting. In general, I like the style and would like the shoes a lot if they fit. The problem is very strange-they fit perfectly, and snugly, in the heels and arch, were slightly long in the medial foot by my big toes, but my little toes actually hit the front slightly. What is bizarre is that there appears to be a large amount of fabric on top of the front part of the shoe, stretching from the lateral aspect of the mid foot to the medial aspect of the forefoot, which bunches into a ridge when the shoe is tightened. I am a 13 mens, and typically have not problem with a medium width. I realize that these shoes are supposed to have a big toe box, but this was ridiculous with the ridge making them look like clown shoes. I am returning these shoes. I went to a Merrell outlet store and tried on multiple versions of these shoes in various sizes and all size 13 had this problem and all 12 were too small. The clerk said that the Trail glove has this problem for people with narrower, but not completely narrow, feet. I ended up choosing a different pair of Merrell barefoot shoes, the Road Glove. These shoes does not have this problem and I love them.

Reviewed by Rick from New York on Wednesday, March 20, 2013

Very nice shoe. Ultra light and comfortable but runs a little small.

Reviewed by Miro from PA from Pennsylvania on Tuesday, March 19, 2013

This is my 6th pair of Merrells, but first "Barefoot" style. I wear them with socks (sorry barefoot people) and they feel great. Size perfect as usual! They are very light! You can feel the contact with the ground very well, but the stability is good! The grip is amazing, can't wait to test them on a trail! I hope the Vibram sole will last for at least 3 years!!! I got black/red colors and they are very stylish! Got complimented on them right away!

Reviewed by HikerBiker from Colorado on Sunday, March 17, 2013

The first pair I had seemed to shrink after getting wet. The other two pair havent had that problem but have stayed drier. I'm not a big runner, but I've used them for streets, trails, and a tough mudder without a single blister. I love the wide toe box and the ventilation. Sand and dirt will get in easily but so with a breeze.

Reviewed by Picky Pam from Ohio on Tuesday, March 5, 2013

This is my second pair of these shoes. I switched to barefoot shoes 1 1/2 years ago and I love them. I had been on the verge of having to get orthotics (had an appointment already set) but decided to give minimalist shoes a try first. Good decision! I no longer have pain from a neuroma I had dealt with for years (used to have to wear a metatarsal pad) and the Taylor's bunions that were starting up are all but gone (no pain and hardly a bump anymore). My first pair has lots of wear left but when I saw these at a good price, and a different color, I had to get them.

Verified Buyer

Reviewed by Doc Bones from Davis CA on Tuesday, February 26, 2013

nice looking and like a slipper for all terrain. I am not sure if the barefoot design is the best approach for feet, but this seems to be really good for the type of shoe it is.

Verified Buyer

Reviewed by jayebee from Penn Valley, California on Thursday, February 21, 2013

When the shoes arrived I was certain that they were too small. However, they fit when I tried them on. They are incredibly lightweight and "minimalist" is an appropriate term for their function - they have absolutely no padding or cushioning. My wife and I walk, daily (we both received a pair) and wore them for a four-mile walk. We were impressed with their lightness but felt as though they needed more padding in the footbed. I must add that our walk included some dirt trail and some asphalt. The shoes definitely felt more comfortable on the dirt trail. We have since returned to wearing our padded running shoes for our daily walks.
In retrospect, some minimalist padding would probably help. As of this writing I have not tried it but I am concerned, because the shoes fit so snuggly that sufficient padding may make them too tight. I will provide an update soon. Overall, with some padding I think that these shoes will work well as a light-duty trail shoe and as an "every day" shoe, as an alternative to sandals. We aren't trail runners but they may work well for that use.

Verified Buyer

Reviewed by JC from Austin, TX on Saturday, February 16, 2013

I bought this shoe and a similar Merrill shoe within two week period. The Merrill Bare Access 2 (J41579) was a delight. This shoe is ok but I would not buy again. I have worn it for about 25 miles, half on the trails and it is not uncomfortable but I much prefer the other Merrill or a Salomon I have. Trail stones are noticeable at times. To lace or unlace shoe is difficult. Eyelets do not seem to want the laces to move.

Verified Buyer

Reviewed by rrr from Bismarck, ND on Wednesday, February 13, 2013

The best minimalist shoes around. Great comfort, great style, great quality. I have quite a few pairs of this style and love them all. Ventilates well and goes on easy. Love them.