Merrell

Sizes

Special sizes (Big)

Style

Features

Gender

Sleeves

Sock weight

Sock height

Length

Colors

Reviews

Events

Prices

Made in USA

Popular Merrell Products

Search Within

The story of Merrell boots all started with a guy named Randy Merrell, who began handcrafting leather hiking boots back in 1981, shortly after graduating from industrial shoemaking school. By the mid-80s, Randy's boots had already gained critical acclaim before being named "best boots in the world" by Backpacker Magazine. The next decade saw the arrival of new footwear, including the ever-popular Jungle Moc, which helped launch the after-sport category. Today, Merrell hiking boots, running shoes and sneakers are still among the best on the market, always combining the newest technology, innova
... Learn more about Merrell
tive designs and outstanding comfort. Whether you hike, run, walk or just appreciate high-quality shoes and boots, we're confident that you'll love Merrell shoes. ... Less
About the Merrell Brand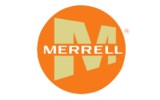 Verified Buyer

Reviewed by Spruce Hill Bob from Berkeley on Tuesday, July 26, 2016

On my trail walks in my Mephistos, I'd been coming home with a sore second toe. This is no good, I thought. So I sprang for the best available STP offering. Problem solved. Not only that the stylish bright orange color has been complimented. And a fellow who ID'd himself as having run for 20 years for Nike complimented how well I was walking and asked for the brand. (Not as great a discount as I usually jump for, but the plusses outweigh this minus.)

This review is based on three wearings.

Verified Buyer

Reviewed by Hiking with dogs from Colorado on Tuesday, July 26, 2016

I just wore these on a short mountain hike at Elk Meadow dog park over the weekend. I felt very steady on any terrain. They were quite comfortable for brand new hiking shoes. I do think I might look at some gel inserts for more cushion, but otherwise great shoes for the discounted price.

Verified Buyer

Reviewed by Dan T. from Adirondac on Monday, July 25, 2016

I have just recently purchased these shoes therefore I have not used them extensively. ~ 2 hr hike up a mountain.
My review of the features are as followes.

These hiking shoes are a good weight for their features. The Gor-Tex was in my mind, not needed as it only compromised the shoes breathability and dry time, while I expect it will only delay my foot getting wet from external sources. The leather toe seems to be a good feature since the toe is a major abrasion point, though it seem unnecessary on the heal. The grip on the soul is excellent.

Overall the shoe has a good weight (Under a pound per shoe), has a good fit, and has exceptional grip.
Receive email updates for new Merrell items