What puts the "miracle" in Miraclebody shirts, pants and jeans? What does it take for Miraclebody to live up to their promise that you'll look 10 lb. lighter in 10 seconds? Let's start with Miraclebody's jeans, where the magic begins with a handcrafted control panel that smoothes and flattens tummy trouble zones. The Miraclebody magic continues with a contoured waistband that's cut higher in back, plus embroidered and embellished back jean pockets that draw the eye inward, and ample stretch fabric that lifts your rear and slims your thighs. What's the magic ingredient in Miraclebody's shirts?
... Learn more about Miraclebody
It's the hidden, static-free and no-roll liner, designed to conceal, control and visually slim your figure. Whether you choose a pair of Miraclebody jeans or dress in a Miraclebody shirt, one thing's for certain—you'll fall in love (in 10 seconds!) with your sleeker, slimmer-looking figure! ... Less
About the Miraclebody Brand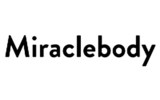 Verified Buyer

Reviewed by mb from ny on Friday, August 26, 2016

Lovely color rinse. Fit well. Not too stretchy but enough.

Verified Buyer

Reviewed by mb from ny on Friday, August 26, 2016

Not too stretchy. I purchased these for my mother who is petite. The ankle pants fit like regular pants on her.

Verified Buyer

Reviewed by yellow from new york on Thursday, August 18, 2016

These are not like thin leggings but fit like tight pants. They are very comfortable since they have an elastic waist. I am 5'7" and the length is right down to my foot. They are a good buy for the money.

Reviewed by TaraR from Seward, AK on Friday, August 12, 2016

I really tried to like these. I ordered two sizes to make sure one fit. I tried them on with lots of tops or all different styles. It came down to the fact that a crop pant made out of thick denim doesn't make sense to me. They are comfortable and seem easy to wear. I really wouldn't wear them as "office dressy" as the description states.

Verified Buyer

Reviewed by chocstraw from High Desert, CA on Tuesday, August 9, 2016

I really like these pants except for the length. I will have to have someone hem them for me because they are too long, and I don't sew. I really like the fit though. This is the first time I've ever purchased from this maker. I'd do so again but would be careful to check the length of pants first. They are flattering.

Verified Buyer

Reviewed by Hurrymom from Germany on Friday, August 5, 2016

These are great for everyday wear. They are a bit higher waisted and the back pockets are larger than I like, but nice overall. The stretch in them makes them very comfortable.

Verified Buyer

Reviewed by Average shopper from Wisconsin on Thursday, August 4, 2016

These were a great price and arrived super fast. As others have noted, though, they are ridiculously LONG. I will have to pay to have them altered - not such a good deal after all. They should make inseam to match size - I wear a size 14 and I am not short, my height is 5'7". I would have to wear stilettos with these jeans then they would still drag on the ground. The fit is as good as promised, so I will watch inseam sizes when I order another pair by this manufacturer.

Verified Buyer

Reviewed by owlgrabber from Oregon on Thursday, July 28, 2016

Very long legs on these -- I am 5'7" and I'll have to have about 4" taken off the bottom, so you taller gals could score here. Nice fabric, lighter than standard denim, good stretch and quite comfy to wear. They sit below the waist though and I'm starting to
think they may stretch and sag a bit, but I've only washed them once.

Verified Buyer

Reviewed by Jy from Virginia on Tuesday, June 14, 2016

The waistband rolls down, so that it does not cover and hold in what it is meant to do. In addition, the fabric stretches after 1 wearing. Where's the miracle??

Reviewed by Leslie from Michigan on Thursday, May 19, 2016

Many pants are too big in the waist for me. These fit just right. I bought a size 4 - my usual size - and they fit perfect. I have ... well, not skinny legs. These fit me just right.Some of the skinny ankle pants are too tight on my calves. These are just right. Plus with the 3% spandex, are really comfortable. The material is a nice weight.