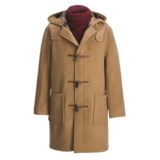 Closeouts. Nothing even comes close to the quality of a genuine English duffle coat, and this Montgomery by John Partridge Classic duffle coat embodies all the traditional hallmarks -- from the wool-rich fabric, to the horn-toggle front, to the regal plaid lining.
Average Rating based on
10
reviews
4.600000
0
5
Verified Buyer

Reviewed by we track in everything... from WNC on Tuesday, March 17, 2015

Only reason we did not give this five(5) stars is because husband has not worn the coat yet! Grew up with these style coats in Yankee Land and glad to see them back available to us in the 21st century at such a good price. Wife wears old one from high school(60's) for working in the yard; and that is why husband was envious and had to find one for himself. Thank you, Sierra!

Verified Buyer

Reviewed by MMHESQ from Baltimmore, MS on Thursday, March 12, 2015

Originally ordered the Navy in 44, thinking that it would give me a bit of room for my size 42 suit/sport coats/heavy sweaters. The 44 was HUGE, and my kids actually fit inside it with me. Was able to exchange, effortlessly, as always for the last camel coloured duffle coat in a size 40. Fits perfectly, not too long, not too short. The quality is super and the value is outstanding, so together you have a win-win. More pockets, perhaps, but then it takes away from the "old school" traditional look and feel of the duffle I wore as a kid too many decades ago to state here. the two outside pockets are roomy and well sewn. I recall reading reviews about the leather fasteners tearing. A word to the wise, when you get into your vehicle, bus, plane, or whatever mode of transportation, unbutton the bottom horn and you have alleviated the issue of ripping the leather. The hood is substantial, though a little Red Riding Hood for me. The storm flap is a nice touch and the 30% blend of nylon etc. adds to the resiliency of the wool and a bit of rain/snow repellant. I found it warm for blustery Baltimore and equally at home in Washington, DC where I received numerous comments on the coat and the colour. It brought smiles to the faces of the "Old Washingtonians" who said things like, reminds me of the coat I wore at Andover and such. I really love the coat for all the reasons above and it true quality and yes, I do relish in the nostalgic feel of wearing one after all these years. My 25 year old green waxed Barbour is finally getting a break this season!

Verified Buyer

Reviewed by Jon from Mass on Wednesday, February 4, 2015

This is my first duffle coat and it's a great one. I typically wear 38R and usually need to shorten the sleeves. With this coat, the sleeves were just perfect. There is plenty of room inside for a thicker sweater underneath. Recently, we had 10 degree weathers in New England, with below zero wind chill factor. This coat with the hood over my head kept me warm. The only thing that I would ask for is to relocate the inside pocket. Currently, it's in the lower left side. If it's at chest level it would have been great for a cell phone.

Verified Buyer

Reviewed by Chris from Portland, OR on Tuesday, October 21, 2014

There are two listings for this same jacket. One has the option for short or regular lengths, the otherlisting doesn't specify length. If you order without having to specify length, you will receive a tall size. At 5'6", the tall size definitely didn't work for me, but the exchange process was easy. I also ended up getting one size smaller than my chest measures. My chest is 40", but a 38" is perfectly roomy.

The jacket is soft, warm, thick, heavy. I've enjoyed wearing it so far.

Reviewed by DC from Pennsylvania on Tuesday, February 25, 2014

Just got this coat a couple days ago and it is amazing. Everything about it feels and looks high quality. No problems with the toggles or leather straps at all. The camel color I got was a shade darker than it seems on the photo, but it looks great. Especially love the plaid lining. I got a 42 and it fits me perfectly -- 5'11'' 180lbs and I normally wear a 40R. Very happy with this purchase.



Reviewed by ABL from NYC on Tuesday, January 21, 2014

Product is true to size. I have long arms so I took the LONG version and it fits perfectly.

Reviewed by ann from md. on Monday, January 20, 2014

Fantastic Traditionally Styled; Double-Faced Wool, Patch Pockets, Leather & Horn Toggles, Adjustable Hood, Neck Strap and Ribbon Finished Seams, Along With True Sizing, Makes This Item A true Buyers Dream!

Reviewed by Mountain Top Fop from Flagstaff on Monday, January 20, 2014

... like John Lennon, just off the train in Liverpool. Warm, soft, comfortable. Great fit with room for a sport coat underneath.


Reviewed by The Elephantworks Studio painter from Fort Gratiot, Michigan on Monday, January 20, 2014

The structure of the coat is awesome! Hearty, well sewn, nice. However, I have to agree with other viewers that mention the leather straps for the "buttons'--cheaply done. The straps are way to thin! I had the coat on, fully buttoned and dropped my keys, I bent over to get them and "pop" ripped off the leather strap.

For a company that has been in business this long--I must say 1)they have an awful design department and 2) they need to listen to the customer more and make changes to the product, namely a thicker, more durable loop to latch the front of the coat.

The warmth of the coat is wonderful. I am walking about in 20 degrees F and doing fine. But now I will have to wait until all the latches tear, find new leather, take the coat to a tailor and have them all sewn on-- as my machine does not sew leather. If I had paid full price, this coat would have been returned in a heartbeat! I lived in England and have some nostalgia, so I will keep it.

If you plan to buy this coat and remain standing--YOU WILL LOVE IT! If you need to drive a car, bend over, squat, or do anything other than stand--this may not be the coat for you. If you are creative and innovative enough to make the repairs when the strapped rip-buy it! Happy shopping!

Reviewed by DB from Arkansas/New York on Saturday, December 28, 2013

Great fit and quality! I bought this coat 2 years ago for myself, I liked it so much purchased one for my husband this year for Christmas!!