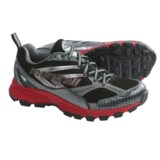 Closeouts. Lightweight and versatile, Montrail's Badrock OutDry® trail running shoes provide exceptional stability and support in varied terrain. FluidPost stability technology and a Terra-Hex midsole combine to control pronation and cushion the foot, and an OutDry® waterproof breathable membrane keeps the foot dry.
Average Rating based on
74
reviews
4.418918
0
5
Verified Buyer

Reviewed by msdouglass from Illinois on Sunday, March 8, 2015

I've had these shoes for almost a year and have worn them on pavement, trail, and around town (I'd say bi-weekly). I wear a 11.5 and that's what I ordered; they're true to size and cradle my feet well without squeezing them. The stitching and glue (aka. construction) of the shoe has held up really well and still has lot of life left. The waterproofing is also been excellent, although, the breath-ability isn't the best (OutDry seems to be equivalent to Gore-tex in those regards). The traction of the soles is also very good; I've held traction in places I expected them to slip and only lost it on extremely slick surfaces. The shoes were manageable out-of-the box, but once I added a Polysorb insole, they became quite comfortable. 4 stars for fit, construction & performance, and docked 1 star for unbreathability and needing a different insole.

Verified Buyer

Reviewed by trekker from Washington state on Saturday, January 17, 2015

Very good quality with waterproofing, comfortable stability and arch support.

Verified Buyer

Reviewed by Chris from La Veta, Colorado on Friday, January 16, 2015

I've been wearing Montrails for about a dozen years now and have never been disappointed. I always know that if I order a size 10 that it will fit every time. And even after I've run in them to the point that they need replacement, I wear them as every day shoes because they are so comfortable.

Verified Buyer

Reviewed by Rick the Runner from North Carolina on Tuesday, January 13, 2015

I've been running trails for nearly 30 years and I haven't found a shoe that I like better than Montrails. I have been wearing the Mountain Masochist's so I thought I would try the Badrock's. I still love the Mountain Masochist's but I like the Badrock's equally as well. They keep your feet dry in the worst conditions and they give me the stability that I need. I just ordered 3 more pairs of Montrails. They feel right, keep me dry, and allow me to run injury free. It's hard to put a price on success.

Verified Buyer

Reviewed by Ironbrewer from Northwest Washington on Friday, January 9, 2015

I live in Northwest Washington. These our perfect for us. They have proven to be waterproof, fit great, and have great traction.

Verified Buyer

Reviewed by Dazzani from Idaho on Friday, January 2, 2015

Great fit, true to size. I've had montrail's in the past, and so far this does not disappoint.

Verified Buyer

Reviewed by Reg guy from Chicago on Tuesday, December 16, 2014

They were true to size and comfortable and sturdy

Verified Buyer

Reviewed by J.Riley from Flagstaff,AZ on Wednesday, December 3, 2014

Seemed stiff on initial run but the shoe really shined when I started into the rocky parts of the trail. Badrock name sake really fits the bill. I fit true to size as I have with previous montrail shoes size 9 ordered size 9. I have a very narrow foot so I did have to tighten the laces a bit. For reference I fit La sportiva proton running shoes 1 size over the normal (43 instead of 42) and they have a narrower fit vs Montrail Badrock. Ordered a second pair since the STP price was excellent.

Verified Buyer

Reviewed by Islander from Washington State on Tuesday, December 2, 2014

I walk 10 miles three days a week and live in the Northwest. We can have rain anytime of the year so a shoe that is waterproof is essential. These Montrail shoes are really quite good at keeping my feet dry. My walking is on a combination of paved streets and hiking trails on the prairie not far from our home. The shoes seem to last about 8 months before the tread is worn beyond a level for safe walking, about a 1000 miles, and are then replaced.
I usually have problems finding a shoe that fits me comfortably so I stock up. I think that I now have enough for about three years.
They seem to be "true to size" and I always order my walking and running shoes 1/2 size larger to avoid "black toe"

Verified Buyer

Reviewed by HikerBiker from Kalamazoo on Wednesday, November 26, 2014

I am becoming a big fan of Montrail shoes. I already have the Rockridge model and love how they fit and perform. I bought the Badrock model for colder, wetter weather because they have waterproofing. Both models have similar sole patterns and are very grippy. I'm not a hard core trail runner, but prefer trails over asphalt as I find the surface easier on my joints. After taking the Badrock out a few days ago on a wet trail with lots of leaves and puddles, I had no problems at all with the shoes. Shoes felt light yet well supporting.

Regarding sizing, I wear a 9 in shoes and 91/2 -10 in boots. My regular Asics running shoes are a size 9. Both of my Montrails are a size 9 and they are a perfect fit...the toe box is larger than my Asics but I find the extra room helps on descents. Unless you wear really thick socks, I wouldn't size up.