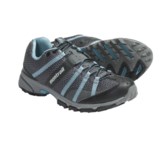 Closeouts. If endurance trail running means going until long after the competition has thrown in the towel, Montrail's Mountain Masochist trail running shoes are the pair for you. Highly breathable and lightweight, this responsive pair features a full-length Trail Shield to fortify the underfoot and a grippy Gryptonite® outsole for unyielding traction, even over loose terrain.
Average Rating based on
109
reviews
4.614678
0
5
Reviewed by TrailRunner from Moscow on Monday, August 19, 2013

I'm a trail runner and an activer person and these shoe are comfortable and have great traction. I wish I bought 3 pair while they had them in stock!

Reviewed by Michelle from Rhody on Tuesday, August 13, 2013

First mud run. First trail shoes. EXCELLENT value for money. Never came off in the mud. Great ankle support (I turned my ankle on EVERY SINGLE PRACTICE train run I went on - injury free!).

Reviewed by TalkingSue from Wyoming on Sunday, August 11, 2013

Great fit and comfort. Wore these shoes on a six mile trail hike right out of the box and they were perfect.

Great product at a great price.

Reviewed by Colorado Girl from Colorado on Saturday, August 10, 2013

I trail run almost every day and the first time I wore these they were comfortable! These are my favs so far! I love them.

Reviewed by Angela from Cave Creek Arizona on Tuesday, August 6, 2013

After trying on many, many many pairs of shoes I finally found the perfect pair. They fit great out of the box and I just hiked/climbed 5 miles two days in a row and not a single blister or hot spot. I needed shoes that were a bit more narrow and had great arch support (plantar fasciitis). These are perfect. I agree that the arch seems oddly close to the heel at first but within an hour that sensation went away completely. In fact, I always take out the inserts to put in better ones and I decided to try these because they seemed great and I wasn't disappointed. They are very light weight and have fantastic grip on the bottom. I ran down steep grades and picked my way through lots of loose rock on top of larger rock and there was no slipping. The sizing was true to size for me and I am in love. If you have average width feet these will still work for you but if you need wider shoes these will not work for you.

Reviewed by Ra from Utah on Tuesday, August 6, 2013

I got these shoes primarily for trail running but also for occasional day-hikes, and so far I'm very happy with them. I normally wear a w8.5 and have a very narrow and low-volume foot; the 8.5 in these fits perfectly. The arch support goes a bit farther back than most shoes but I prefer this type of support. The purple color looks great too. The soles have amazing traction on steep loose trails and the stiff insert prevents rocks from poking the bottom of my feet, but they are still nimble enough for some road running. So far I've used these for a 4-mile road run and a 10-mile combo road/rocky trail run, and there has been almost no break-in period - great shoes!

Reviewed by dogmama from Colorado on Thursday, August 1, 2013

I am an 8 to 8.5, so I ordered an 8.5. I was nervous because my big toe was touching but I wore them around the house a few days and they stretched nicely. I've worn them hiking as well as standing at the massage table, both are very comfortable. I purchased these for our trip to Ireland next month and they are going to be perfect. I highly suggest them.

Reviewed by Kathy from Port Townsend, Wa on Monday, July 29, 2013

I did like others and bought a second pair after wearing these! so comfy, i like to go sockless in summer and the inside is nice and soft. Good support if you have foot pain from PF.
Size is accurate for me.

Reviewed by Heather from Telluride, CO on Thursday, July 25, 2013

This is my go-to shoe for training and racing. Wish that Montrail was still making the Hardrock. This is the next best shoe. More stiff and supportive than other trail shoes and fits my narrower foot very well.

Reviewed by In The Woods from Linden, VA on Thursday, July 25, 2013

I just received my second pair of these shoes. The first pair I wore into the ground, putting more than 500 miles on them. They take no break-in period and provide excellent support. After a while, I used a pair of Superfeet in them, which lengthened their life. The shoes are comfortable, stylish, and handle heat, rain, and mud well.