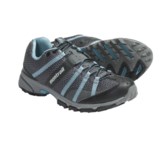 Closeouts. If endurance trail running means going until long after the competition has thrown in the towel, Montrail's Mountain Masochist trail running shoes are the pair for you. Highly breathable and lightweight, this responsive pair features a full-length Trail Shield to fortify the underfoot and a grippy Gryptonite® outsole for unyielding traction, even over loose terrain.
Average Rating based on
109
reviews
4.614678
0
5
Verified Buyer

Reviewed by melissa J from Washington on Saturday, April 5, 2014

This is the second pair I have owned. I wear them trail running, walking, and hiking several times a week. Really comfortable and light, but rugged enough for the trail.

Reviewed by Fur Princess from The Island Without The Prison on Thursday, November 21, 2013

I have narrow feet with high arches and long toes. These fit great right out of the box, but do need thick socks in order to not slip on my heels. However, that is a small price to pay considering most athletic shoes are wide enough for my feet to swim!

Reviewed by KathiB from Virginia on Wednesday, November 20, 2013

This is the second time this year that I've bought a pair of Montrail Mountain Masochist Trail Running Shoes from Sierra Trading Post. I logged over 300 miles on my first pair, including my first half marathon and a Tough Mudder. These shoes are light, have good traction, and are very comfortable.

Reviewed by wildlife watcher from colorado on Monday, November 4, 2013

Nice color and comfortable shoes, they will be good on rocky and uneven streets and trails

Reviewed by Joanna from TN on Friday, September 27, 2013

I have some major foot problems, between a very high arch, arthritis, and wide front, and this shoe can take care of them all. The cushions conform to your feet and make the shoes a perfect fit. I seriously would not say one thing is wrong with these shoes and I wear them almost EVERY day. LOVE THEM!

Reviewed by I want to hike from North Carolina on Wednesday, September 25, 2013

Great grip. Haven't slipped anywhere...

Reviewed by Sunny day walker from Iowa on Monday, September 16, 2013

Love the Montrail brand of shoe..fits great, true to size, made well. My husband loved his two pair, so I thought I would try them and glad I did..!! Love, Love, Love.....

Reviewed by Beryl from Pollock Pines on Sunday, September 15, 2013

I bought these shoes for my girlfriend, and they are a great shoe for trail running or hiking. She says they are very comfortable.

Reviewed by Midwesterner from Wisconsin on Thursday, September 5, 2013

I want to be clear that I am NOT a trail runner. I am a hiker. And for a light hike, this shoe is perfect. Not heavy, feminine looking, and comfortable. If you are looking for a great shoe to walk through a few miles of trails, this is the one.

Reviewed by lh from TN on Tuesday, August 20, 2013

This shoe is great for the trails!!! It is great for mud, creek crossings, and distances. It could have better grip on wet roots and rocks. I have not found a trail shoe that is better.

Reviewed by TrailRunner from Moscow on Monday, August 19, 2013

I'm a trail runner and an activer person and these shoe are comfortable and have great traction. I wish I bought 3 pair while they had them in stock!

Reviewed by Michelle from Rhody on Tuesday, August 13, 2013

First mud run. First trail shoes. EXCELLENT value for money. Never came off in the mud. Great ankle support (I turned my ankle on EVERY SINGLE PRACTICE train run I went on - injury free!).

Reviewed by TalkingSue from Wyoming on Sunday, August 11, 2013

Great fit and comfort. Wore these shoes on a six mile trail hike right out of the box and they were perfect.

Great product at a great price.

Reviewed by Colorado Girl from Colorado on Saturday, August 10, 2013

I trail run almost every day and the first time I wore these they were comfortable! These are my favs so far! I love them.

Reviewed by Angela from Cave Creek Arizona on Tuesday, August 6, 2013

After trying on many, many many pairs of shoes I finally found the perfect pair. They fit great out of the box and I just hiked/climbed 5 miles two days in a row and not a single blister or hot spot. I needed shoes that were a bit more narrow and had great arch support (plantar fasciitis). These are perfect. I agree that the arch seems oddly close to the heel at first but within an hour that sensation went away completely. In fact, I always take out the inserts to put in better ones and I decided to try these because they seemed great and I wasn't disappointed. They are very light weight and have fantastic grip on the bottom. I ran down steep grades and picked my way through lots of loose rock on top of larger rock and there was no slipping. The sizing was true to size for me and I am in love. If you have average width feet these will still work for you but if you need wider shoes these will not work for you.

Reviewed by Ra from Utah on Tuesday, August 6, 2013

I got these shoes primarily for trail running but also for occasional day-hikes, and so far I'm very happy with them. I normally wear a w8.5 and have a very narrow and low-volume foot; the 8.5 in these fits perfectly. The arch support goes a bit farther back than most shoes but I prefer this type of support. The purple color looks great too. The soles have amazing traction on steep loose trails and the stiff insert prevents rocks from poking the bottom of my feet, but they are still nimble enough for some road running. So far I've used these for a 4-mile road run and a 10-mile combo road/rocky trail run, and there has been almost no break-in period - great shoes!

Reviewed by dogmama from Colorado on Thursday, August 1, 2013

I am an 8 to 8.5, so I ordered an 8.5. I was nervous because my big toe was touching but I wore them around the house a few days and they stretched nicely. I've worn them hiking as well as standing at the massage table, both are very comfortable. I purchased these for our trip to Ireland next month and they are going to be perfect. I highly suggest them.

Reviewed by Kathy from Port Townsend, Wa on Monday, July 29, 2013

I did like others and bought a second pair after wearing these! so comfy, i like to go sockless in summer and the inside is nice and soft. Good support if you have foot pain from PF.
Size is accurate for me.

Reviewed by Heather from Telluride, CO on Thursday, July 25, 2013

This is my go-to shoe for training and racing. Wish that Montrail was still making the Hardrock. This is the next best shoe. More stiff and supportive than other trail shoes and fits my narrower foot very well.

Reviewed by In The Woods from Linden, VA on Thursday, July 25, 2013

I just received my second pair of these shoes. The first pair I wore into the ground, putting more than 500 miles on them. They take no break-in period and provide excellent support. After a while, I used a pair of Superfeet in them, which lengthened their life. The shoes are comfortable, stylish, and handle heat, rain, and mud well.

Reviewed by Green Sangha from St. Louis on Wednesday, July 24, 2013

This is a comfortable shoe but does not run wide enough for a wide foot. A medium to narrow may fare better. There does seem to be a lateral roll but the strangeness dissipated as I wore the shoe around the house. They seem like they'd be a nice trail runner, not too heavy. I have to return them, unfortunately.

Reviewed by Gabby from Ohio on Tuesday, July 23, 2013

Just what I wanted! Looks great as a casual shoe but is wonderful for walking or hiking

Reviewed by Green Sangha from St. Louis on Saturday, July 20, 2013

I wanted to like this shoe but within a few minutes of wearing it, it was clear that it is just too narrow. Another strange aspect is that there is a lateral roll as if the middle of the shoe is higher than the sides. I could have gotten used to it if it weren't for the width problem. It is a cute shoe, though.

Reviewed by Running grandma from Oregon on Saturday, July 13, 2013

I bought these as well as another model of Montrail because this brand usually works for me. I liked the looks of these but had to send them right back because they were way too short. No where close to being long enough for the size that I usually buy and that usually fits me. Darn it.

Reviewed by Bee1 from California on Tuesday, July 9, 2013

I loved this shoe so much that I just purchased another one for my sister. I have never tried this brand before, but I am glad I gave it a try. The pair exceeded me expectations! It has great arch support and cushioning. I ordered a half size larger at first, but found that it was too large. I ended up getting my usual size.

Reviewed by Old Mama from Washinton on Wednesday, July 3, 2013

These shoes fit very well with ample width in the toes for comfort. They are light weight and have excellent tread design.

Reviewed by Annie from Utah on Monday, July 1, 2013

These are great trail shoes. They have a nice cushion and firm sole and are great on the rocky trails in the Wasatch Mts.

Reviewed by Rose from San Francisco on Monday, July 1, 2013

I bought these shoes specifically for hiking on different surfaces. I am very pleased. So far I wore these shoes on an 8-mile hike in the hills and they were very comfortable. Great tracking on the sole.

As usually recommended, I got my shoes half size larger and they fit very well. They are also very pretty and feminine - I got the blue-lavender color. Very light-weight.

Highly recommend.

Reviewed by Linda D from Charlottesville, VA on Sunday, June 30, 2013

I have been having so much trouble with my feet. My high arches and so many birthdays have suddenly become an issue for me. On some days, I could hardly let my foot touch the floor without excruciating pain.The podiatrist gave me lots of advice and recommended different shoe inserts for support. They are a little thicker than the ones I've been using and they made my Asics much too tight.

I went to our local Blue Ridge Mountain Sports and tried on every pair of hiking shoes they had. Some made the pronation even worse. These shoes were the last ones I tried. I thought, wow, I couldn't pronate in these things if I wanted to. I've been wearing them now for a couple of weeks. My feet still hurt somewhat from time to time, but they are getting so much better. There are long stretches of time where I don't even notice my feet. That's a good sign that they aren't hurting me at all. To add a little more icing on the cake, they have a nice toe box and good support.

I love these shoes so much that I have purchased 3 more pair from Sierra Trading Post. I can't recommend them highly enough. If you have high arches and pronate, give these a shot.



Reviewed by Jo J. from South Carolina on Thursday, June 27, 2013

Needed a stable, comfortable shoe to wear for an art workshop at a beautiful old mill site. No running but on my feet all day. This shoe fit the purpose and fit my small foot (5.5m).