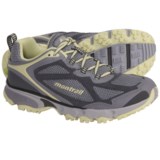 Closeouts. Go from blacktop to backcountry in Montrail's Sabino trail running shoes. These lightweight warriors handle tough terrain with a rugged synthetic leather upper that's reinforced with a thermoplastic forefoot Trail Shield for outstanding bruise protection and torsional rigidity.
Average Rating based on
61
reviews
4.245901
0
5
Verified Buyer

Reviewed by mimi from SC on Wednesday, June 17, 2015

Shoes are 1/2 size too large--no problem, though, I like a roomier fit. But there's a faint waft of the stables coming from the shoes. Hope it leaves b/c the shoes are great.

Reviewed by V from USA on Tuesday, February 17, 2015

I've had these shoes for sometime including taking them on vacation where we walked miles a day. They are very comfortable with good support, room for the toes - even with thick socks on. I bought a second pair to make sure I'd have a backup.

Verified Buyer

Reviewed by Katydid from Pennsylvania on Monday, October 6, 2014

The toe box is roomy and does not squeeze like every other shoe out there. For worn-out feet that have backpacked the entire Appalachian Trail one and 1/2 times, not to mention the hundreds of extra training miles, this feature is essential. Also, the arch support is perfect. I have not needed my orthodics! Since they fit so well, I tried to order another pair the next day, but they are sold out! Oh no....

Verified Buyer

Reviewed by JuliaR from Indiana on Tuesday, July 1, 2014

This is my second pair of Montrails, but a different style - and they lasted about 10 months, which is pretty great, considering I truly use them for trail running and I run several times/week, all year round. I do agree that they run about half a size too large, but I bought my normal size anyway (9.5) because I use thick socks in winter, and have wide feet, and use orthotics. Very roomy.

Verified Buyer

Reviewed by cmk1230 from TN on Tuesday, June 17, 2014

It was time for another pair of walking shoes. Sierra Trading Post has such great prices. I ordered just as recommended a half size down. It fits perfectly. I have enjoyed wearing these shoes right out of the box. I have a foot that is damaged from a fall. The shoes meets approval of my podiatrist. It bends like it should. Prior to this purchase I purchased a pair of New Balance, but quickly returned them as those bend in half. This is my first pair of Montrail shoes. I will surely keep in mind for future purchases. Out of the box there was a "new shoe" smell that was strong. But it seemed like that disappeared after a few days. They are light weight and comfortable. The colors are great and not too bright. I'm happy with my purchase.

Verified Buyer

Reviewed by Deb from Colorado on Tuesday, May 6, 2014

Bought my first pair last Summer. Was apprehensive about trying something not a Keen. Pleasantly surprised. Fit great and wear well. They do run a size larger,ie.,I wear a 10 and order 91/2'. Enjoy!

Reviewed by Skooterboo200iq from WA/CA on Thursday, April 24, 2014

After going through a ton of different manufacturers I settled with Montrails as being the best fit for me with Keen coming in second. But some of the Montrails did not fit as well as the others I've been finding. I have an old worn out pair that are my favorites and I just couldn't bring myself to toss them out because nothing is as comfortable. I just found these again on STP and I was thrilled to find the new ones are as comfortable as the old worn in ones! Wish this exact one came in Gortex, but will be ordering a few anyway.

Reviewed by jtintn from Tennessee on Monday, March 10, 2014

I followed the advice in the reviews and bought 1/2 European size smaller, but they were too small. I bought my regular European size (39 -- 7.5 US) and they were perfect. I pronate heavily so I noticed the support right away. They are comfortable out of the box and I'm thinking about getting another pair for when these wear out. The lugs are large and shed mud/dirt well. They are also pretty grippy. So far, very happy with this purchase.

Reviewed by Beth from Arizona on Thursday, March 6, 2014

I didn't notice if the shoes arrived this way or were damaged after just two weeks of use but one of the tabs that holds the laces in has already pulled from the side of the shoe. I've now learned not to buy shoes online as the cost of sending them back adds to the original price I paid

Reviewed by ew983ji from Rohnert Park, CA on Thursday, February 20, 2014

I read all the reviews before purchasing so I was surprised that I was unhappy with these shoes. They seem to have very little support and cushion for a trail running shoe. As I expected, the toe box was roomy, but more roomy that I needed! The construction seems great, perhaps a great shoe for every day walking or wear, but with so little padding they are not a trail shoe in my opinion. Sending them back.

Reviewed by Theresa from Madison, wi on Friday, February 7, 2014

Great grip sole. Ideal for me, for use in group exercise at the gym and walking/hiking. Ordered two pairs, one in each color. Recommendation to order 1/2 size smaller is accurate, but I do not advise going a full size smaller. I have narrow feet.

Reviewed by Tracy from Maine on Wednesday, January 29, 2014

These are comfy and great looking, and the price was right. Be forwarned, these run very big. I usually wear a 9.5 in running shoes. I ordered a 9 because I read the reviews. I now think I might need an 8.5.

The thing is, the tag reads US 9.0, Euro 41.5! My Brooks 9.5 are Euro 41. Nike 9.0 is Euro 40.5. So these are a full Euro size larger than other shoes.

Reviewed by Galina from San Francisco Bay Area, CA on Friday, January 24, 2014

Super stoked to have found these in Derailed! My previous pair of the Sabino Trails had to be retired after over 1,000 miles on them of thru hiking, scrambling and the like. I pretty much use these as everything but their intended purpose (I run in barefoot shoes): backpacking, approach shoes, hiking, even around town before they get so grody that is no longer an option. They perform super well. A lot of professional athletes at Backroads guiding also have these as their first choice.

They run a bit on the bigger side which is great for long backpacking trips but be aware if you're looking for a trail running shoe. I'm an 7.5/8 usually, got an 8 in these and they are pretty spacious.

Derailed is grand - sweet prices, speedy delivery, great customer service. I will surely be back!

P.S. Seems Montrail may be no longer making this shoe so I think I might buy one now for when this pair is worn out -they are that good!

Reviewed by MountainWizzbess from California on Wednesday, January 22, 2014

My all-time favorite trail shoe. I'm a hiker and backpacker and like to have a trailrunner for training purposes. I also have a lot of problems with toe pain and narrow feet, so finding shoes that fit correctly but still allow my toes to have space is difficult. This shoe has a roomy toe box and a snug heel cup, so it is perfect. It also breaths nicely, nice grip on rocks, colors fare well over time. Highly recommend.

Reviewed by Sunny day walker from Iowa on Wednesday, October 9, 2013

This shoe is light weight..support comfortable...runs on the wide side. The color is great...!!!

Reviewed by Walk,work, walk. from Portland, maine on Friday, September 20, 2013

I found these to be very comfortable & sturdy. I'm on my feet all day & evening & need something with stability without the weight. I love em!

Reviewed by frankie from Nevada on Wednesday, September 11, 2013

I bought these as a very light hiker and not for trail running. As a light hiker and walking shoe, they're amazing. The heel fit is phenomenal. I've already put nearly 10 miles on them and they are superb. Arch support is amazing and the toe is very wide. The sole is also very grippy. It doesn't hurt that they're also nice looking. My only quibble is they could use a little more support for the forefoot. As others have said, they're very venty, so expect water and dust to filter into the shoe. These definitely run large. I normally wear an 8 and had to go down to a 7.5 and could probably wear a 7. I'm thinking of buying a second pair.

Reviewed by rcatesby from Tucson, AZ on Monday, August 12, 2013

I needed a pair of light runners I could use on the treadmill when I wasn't able to get up into the mountains to hike. This pair is very light, mostly mesh, not particularly supportive, and is a pleasant light blue color with stretchy tannish laces. It's sized very large, glad I read other reviews and description, I ordinarily wear an 8 1/2 and the 8 was even a little large. There's not a lot of advanced design here or innovative construction, just a very decent and simple shoe. It's listed as a trail runner but if you're on dusty trails, as I usually am, expect the dust to filter through the mesh and settle on your socks. For the same reason it's anything but waterproof. I'd say it's a very decent hot weather shoe for someone who doesn't need a lot of support or motion control.

Reviewed by SAR Hiker from Tennessee on Saturday, July 27, 2013

Very light and comfortable! Work well on trail and off. Don't like the color, however, wearability/comfort is more important. As always, way to go, Montrail. I will, however, always lean more towards Vasque as my go to.


Reviewed by Greta the gardner from West Virginia on Monday, July 15, 2013

This pair of shoes have more toe room than any pair I've had in years. They are very comfortable. I love them!

Reviewed by AA from California on Monday, June 3, 2013

Had good luck with Montrail before, but this model made the foot roll

Reviewed by Wetdog from Vashon Island, WA on Monday, June 3, 2013

What a disappointment! I have had three previous pairs of Montrail Trail runner type shoes - these are terrible! I first noticed that my feet got soaked in just wet grass, then I went hiking in the SW - the reason for a new pair, and the sand and fine dirt came right into the shoes, filling the toe area every hour or so, requiring I stop, take the shoes off and dump out the sand and dirt! Purchased my husband another pair of Men's Montrail trail shoes - his were just fine - avoid this model!

Reviewed by Rock-Kicker from Arizona on Wednesday, May 15, 2013

I have been using the women's Sabinos for PCT section hiking and general day-hiking for many years. I was unhappy when they discontinued the model, was thrilled when another PCT hiker told me I could get them as closeouts from STP. Some, but not all, of the women's that I got seemed to have a narrower toebox, so I got several pairs of men's. It seems like the turquoise ones are narrower than the gray ones. The men's and women's both work really well for me. My only complaint about these shoes in both men's and women's models is that I wish they had a grippier sole. But since they fit well and hold up well for me, and I hate shopping, I bought multiple pairs of both models to last for at least a few years. I do use custom orthotics in them, have never worn them with the insoles they come with. I just made an appointment with a podiatrist because of weird toe pain (in the bones) on one foot when hiking. Then I realized the pain started after I started using a new pair of the women's Sabinos. I hiked yesterday wearing a pair of the men's, and had no pain. I cancelled the doctor appointment, will be experimenting to see if I have the pain with other shoes when I carry a heavier backpack. If not, I'll be trying to learn what to do about a single defective shoe.

Reviewed by Dancer from Tennessee on Tuesday, May 14, 2013

So comfortable! No break in period. Grat lateral stability. Montrails are the best trail running shoes out their, and I've tried them all.

Reviewed by Mimi from Massachusetts on Tuesday, May 7, 2013

I am really happy with these shoes. I was misled by a review saying to order a size smaller and that was not the case for me. I had to return the original ones and get my usual size but am now completely happy. They are comfortable and offer a lot of support. I will be wearing them on many hikes with my dog.

Reviewed by Vest review from Idaho on Sunday, April 21, 2013

Like the wide toe box and stiffer sole on these shoes. These shoes do run a half size bigger.

Reviewed by LindaGottaGo from Ohio on Thursday, April 18, 2013

These are light and yet they provide good support. Plenty of toe box room and of course am excellent buy. They do run large. I wear a 10.5 but I ordered a size 10 which fit perfectly. Also, I have a leg length discrepancy and I did not have a problem fitting my orthotic in the shoe.



Reviewed by paul from idaho on Monday, April 8, 2013

good fit. very comfortable

Reviewed by Rio Brewster from Austin, TX on Monday, March 4, 2013

I have wide feet and usually wear a 9W. After reading the reviews, I went ahead and ordered the 9M and they fit really well.
I have a high arch and these feel just right.

I have the blue/gray ones and I really like how they look.

The sole is kind of stiff, but my podiatrist told me that was a good thing.

They are not cushiony like Sauconys, but they are confortable.



Verified Buyer

Reviewed by being fit rocks from Oregon on Wednesday, February 13, 2013

I use these primarily on trails and logging roads. I like the traction. I'll probably get wet feet with this non-waterproof model, but we're used to that here in Oregon.