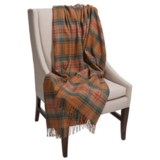 Closeouts. If its cozy-looking pattern isn't already enticing enough, the warmth of Moon's plaid throw blanket will be.
Average Rating based on
25
reviews
4.480000
0
5
Reviewed by nm from phila on Monday, February 10, 2014

we like the pattern, we like the size, we like the weight. i like its coarseness because it tells me it comes from nature. every once in a while i pick a little piece of grass, burr, or twig out of the weave, but i like knowing the sheep who made this were out wandering the hillside. its a great blanket to wrap up in on a cool night for a movie or sitting out on the porch in a rocking chair.

Reviewed by Sharon from boise on Thursday, January 16, 2014

These throws are perfect! Gorgeous colors and weave, plus nice and warm for lounging on the sofa. Highly recommended.

Reviewed by The Skipper from North-Western Connecticut on Saturday, January 4, 2014

I've used these blankets at home, as well as on the trail. Really transforms a bed-roll into bed. Once used one of 'em as an anti-shock blanket during an
equine emergency. Moon blankets are the best that money can buy!

Reviewed by mermaid27 from Cape Cod on Tuesday, December 31, 2013

Finding some of the other throws somewhat small at 50 x 60, I ordered this one. Plaid is browner than I had expected from the picture, but generously sized and a soft non-itchy weave. Pure wool, so no acrylic slippery shine. It now lives over the back of the sofa awaiting the impulse to doze.

Reviewed by adam from NYC on Monday, December 30, 2013

It said soft...but its kinda scratchy. So its a little much on skin contact

Reviewed by globalNP from Washington on Tuesday, December 24, 2013

Warm, nice pattern, a little itchy. Great product for the price though!

Reviewed by Nicole from Seattle on Thursday, December 19, 2013

I bought these for my mother and brother, and they both seem to like them quite a bit. Only complaint I've heard is that it's a little itchy, but nothing a little use can't fix.

Reviewed by cskend from nm on Wednesday, December 18, 2013

I am sorry these blanket s sold out. It is a good gift to give for the holidays. I bought the grey throw and the color is rather boring. Great for someone who does not want a lot of flashy colors in their life. I would buy another colorful blanket if they were in stock.


Reviewed by Karaganda from Brooklyn,NY on Tuesday, December 10, 2013

It's good size blanket to cover yourself while watching TV on your sofa. It's a little bit itchy-but you should expect that from 100% woll blanket. It need some time to air to ge rid of smell ( they probably sprinkle it with something to protect from moths).
As for thickness- the blanket is thin. We have couple of wool blankets in our house, this one is the thinest one. But it's still a good deal for the price I paid (comparing to same size poliester throw )

Reviewed by Susan from Colorado on Saturday, December 7, 2013

This is a lovely, warm, large blanket that is perfect for taking the chill off during winter evenings. Some throws are too short to cover the entire body, but this one does so when you want the entire length of you covered.