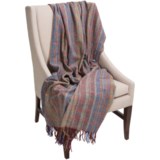 Closeouts. It's through the pattern that this Moon wool blanket shows off its colorful side -- a joyful meeting of hues from all over the spectrum, showing off a subtle rainbow of personality.
Average Rating based on
12
reviews
4.166666
0
5
Reviewed by Northern Lady from NorthernMN on Monday, March 3, 2014

A beautiful blanket. A little scratchy for my little kids, but I like it. The muted stripes are lovely. A great price too!

Reviewed by emw from Chicago on Thursday, November 21, 2013

This is an excellent blanket! It's warm, attractive, and seems well-made. I bought it on sale, so I feel like I got an amazing deal! It is a tiny bit itchy, as all wool products usually are, but we don't mind at all. Great blanket!

Reviewed by Red Pentacle B from Arizona on Wednesday, November 6, 2013

I was looking for a blanket that was larger than the standard fleece throw and this met the requirements. As previously commented, the blanket had a chemical smell when first opened. I hung it outside for a week and the sun and wind took care of that. Now it has a slightly gamey smell. It is a bit scratchy, mostly because there are very, very small sticks, twigs, and associated plant matter in the wool. If I had to guess, I would say the wool was never really cleaned prior to being spun into fibers, hence the gamey smell, the twigs, and three star rating. If I had paid the full retail price for this blanket I would have returned it because if these issues, but with ST's great pricing and the email discount code, I'm quite satisfied. On cold nights, I keep my tweezers handy and I pull out the twigs while watching TV. I figure in a year or two, this will be super soft.

Reviewed by Vaca Mac from San Francisco on Wednesday, November 6, 2013

I throw this over the foot of my bed for extra foot warmth without a whole blanket. Works fine, very convenient.

Reviewed by weekend warrior from california on Tuesday, November 5, 2013

not as soft as I thought it would be

Reviewed by Kate, backpacker from Ithaca, NY on Monday, November 4, 2013

I wish I had bought ten of these! The colors blend so beautifully, and wool is think and warm.! I wish they came in a larger size!

Reviewed by LuNi from Oklahoma on Monday, October 28, 2013

warm, cozy, excellent color!!! Love it!!!

Reviewed by Bommom from Pennsylvania on Friday, October 18, 2013

As always, the Moon Wool Throw Blanket is just the thing for a toasty nap in a chilly room. The throw is beautiful and the price can't be beat. Order it as a gift for a loved one, but I bet you'll end up keeping it for yourself.

Reviewed by Claudia from Kalamazoo on Sunday, October 6, 2013

Just like another buyer mentioned it is a thicker wool blanket, so it's a little scratchier that the more expensive softer and thinner varieties. However, those, that love wool, and don't mind a little scratchiness will appreciate the nice warmness and thickness of this product. It looks lovely. I use it in my cold basement. Nice large size and can't beat the price.

Reviewed by EinPhoenix from Arizona on Sunday, August 18, 2013

This blanket is stiff and very scratchy. I cannot imagine trying to relax on a sofa with this thing -it would be extremely uncomfortable.
I will stick to the original shetland rug brand-the wool is very soft.