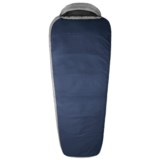 Closeouts. With a lightweight, semi-rectangular cut and toasty Thermic Micro synthetic fill, Mountain Hardwear's 20°F ExtraLamina sleeping bag ensures comfy nights under the stars.
Average Rating based on
10
reviews
3.900000
0
5
Reviewed by Bustedgristle from San Francisco on Sunday, February 9, 2014

Great bag. Light enough, packs small enough, good quality. I think that 30 degrees is a workable temp not 20. At 6' 0" the regular is tight but works. would have preferred a long but, was not available. Love the roominess.

Reviewed by desert Alison from Tucson, AZ on Tuesday, February 4, 2014

I have rated this with 4 stars because I haven't actually tested it yet. I did get inside it when it arrived to make sure it had the roominess I was looking for. I am not a fan of form-fitting mummy bags and like to have the room to curl up inside my bag. This seems to fit the bill for me. I was amazed at how light-weight it is - only time will tell if it as warm as it is said to be.

Reviewed by Emac from Central Florida on Monday, January 20, 2014

I live in Central Florida so I don't know how low of a temperature this bag will protect you to comfortably. I'm going to use it for camping on the trail with my horses. However, in trying it out in the house, it will NOT fit a person six feet (6') tall. I am five-feet-seven (5'7") and it fits me perfectly. It will probably fit up to a five-feet-nine (5'9") person but no taller than that height -- if you still want to use the head cover and have the body material cover your chest. If you have issues with sleeping in a mummy bag, this bag is excellent because it allows you extra room so you don't feel like you're tied down. And, if you're small or thin or just flexible enough, you should be able to sleep on your sides and even sleep with one leg bent up (jack-knife position). It doesn't have a lot of padding to lay on but the material will heat you up pretty quick. It also weighs as advertised: 3 lbs 3 oz and packs small with the bag included (not the extra mesh clothes bag it may come in). As for the left hand zip, it just means it's on the left side of the bag. It is a two-way zipper that runs the length except at the feet. There is another short zipper you can open across the feet only. If you're like me and like to sleep with your feet out -- or just to regulate your sleeping bag's temperature -- this is a nice feature. I hope this information helps... ;o> Eva

Reviewed by Seagal from Seattle on Thursday, September 5, 2013

It's roomy enough for what I'm looking for! My mummy bag doesn't allow me to draw my legs up, which I like to do, but this bag has the space. I can't speak (yet) to the temp/ rating though in a couple of weeks I'll be able to!

I will say that the bag is long enough for me (I'm 5'4") and would be fine for probably up to 5'8", maybe 5'9". It is certainly too short for a 6' person...had to send back the bag I bought for my 6' hubby cuz it was too short.


Reviewed by Outdoorgal79 from California on Wednesday, August 28, 2013

My husband and I were looking for lightweight mummy bags that could be zipped together to create one bag. We had considered the two person bags, but realized that we would prefer to have bags that could be separated as well. These bags are surprisingly lightweight and compact when stored. It is slightly awkward that when you zip both bags together the head portion of one bag is on the top, which covers the person's face on the right side of the bag. Of course, this can be folded over or can provide extra warmth. When zipping the bags together, the dual zippers on the bag can be quite tricky, but we figured it out easily enough. We camped in Tahoe this last weekend with the temp around 30 degrees at night, and we were very warm. Overall I am very pleased with this purchase.

Reviewed by Seagal from Washington (State!) on Saturday, August 24, 2013

Ordered 2 of these, one for me (5'4") and one for hubby (6'). For starters, if you're 6' tall this bag will be too short! It's perfect for me and I'd say maybe someone up to 5'9" at the tallest. So, stars deducted for description saying "up to 6'. After I get back from our elk hunting trip in the fall I'll rate again for comfort/ warmth etc. I WILL say that it certainly gives me more room in the middle so I can draw my legs up if I want. My mummy bag is too tight for that, so I'm excited to try this one out!


Reviewed by Mike from Ventura, CA on Tuesday, July 9, 2013

I ordered this bag because I liked the wider cut in the footbed area. However, in trying them out (in the living room) I found the two drawstrings for the hood / collar difficult to manipulate, and could not easily loosen / tighten them to a comfortable adjustment. I think they would be really difficult to use with cold hands. My previous sleeping bag had only one hood drawstring with a velcro attachment in the collar area, and I liked that better. Although the sleeping bags seem very good, I returned them due to the hood/collar issues, and received excellent customer service from STP, as usual.

Reviewed by Jackrabbit from Montana on Tuesday, June 18, 2013

This is a comfortable, well-designed and sturdy bag, in keeping with Mountain Hardware's reputation. I gave it as a much appreciated Father's Day gift.

Verified Buyer

Reviewed by Bob from Davis on Thursday, February 21, 2013

I like that it has a storage sack. I like the smooth inside so its easy to roll around. There are some strange seams in the bag which I assume are baffles to hold insulation in place. I don't think they will be annoying when using it but I haven't slept in it yet.

Verified Buyer

Reviewed by AKgirl from Anchorage, AK on Monday, February 11, 2013

I gave this 4 stars because I have not actually used it yet. I purchased it for a backpacking trip I am taking this summer. It is roomy and lightweight, yet appears to be warm for those potentially cold Alaskan summers - just what I was looking for!