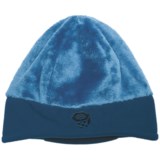 Closeouts. Keep your head warm wherever you roam with Mountain Hardwear's Dome Meritage beanie hat. It features an AirShield fleece lining and Double Shot Velboa fleece headband for extra warmth.
Average Rating based on
22
reviews
4.272727
0
5
Verified Buyer

Reviewed by Buffaloafer from Buffalo on Wednesday, March 18, 2015

I have been searching for a hat that is somewhere in between fashion knit and arctic expedition to keep my ears warm through late fall-spring. This hat is perfect and fits the bill-unlike standard knit hats, the ear flaps actually curve down, covering my ears. I have a sort of big head for a lady, and this in a size regular perfectly fits (maybe a tiny bit of space at the top), and keeps me cozy. It's a really nice hat, especially if you get cold easily. I have been wearing it super regularly and love it!

Verified Buyer

Reviewed by Sally from CT on Monday, March 2, 2015

The hat fits well for my smaller size head. Most hats are too large which result in drafts around the ears. This hat is very soft and cozy inside. It fits very nicely down around the ears and you don't have to keep tugging at it to keep it in place.

It keeps me warm, and so far I love it!

Verified Buyer

Reviewed by Thorsten from Iowa on Sunday, March 1, 2015

Bought this for may daugter who has a MH sweater of the same color. Very warm and wind resistant. Looks cute.

Verified Buyer

Reviewed by warm water diver from Pasadena on Tuesday, February 3, 2015

otherwise, OK

Verified Buyer

Reviewed by Too Hot Hat Fan from Maine on Monday, January 26, 2015

This is the third one of these I have purchased. I both lose them and give them as gifts.
I call it my "too hot hat". It is warm and cozy and can easily be too much. But let the temperature go down, and it is the only hat that can keep your head warm. Nothing does a better job.

Verified Buyer

Reviewed by Chipwap from North Florida on Sunday, January 25, 2015

This hat fits me perfectly and I have a small head. The band fits comfortably around my forehead and the upper part of the hat is roomy for lots of hair. I'm in Florida, but travel to colder areas.

Reviewed by Rosalie McFall from Midwest on Monday, December 1, 2014

If I were rating this hat on warmth alone, I'd easily give it 5 stars. The fleece lining around the edges covers my ears perfectly and really keeps the heat in. Based on other reviews, I ordered a large (I have a TON of very curly hair and need the space) however, the large was too big. The overall effect was boxy and too fluffy for my liking.

Verified Buyer

Reviewed by Sandy from Iowa on Sunday, November 23, 2014

i wanted a warm and roomy hat if my hair was put up in a bun, and that's what I got with this hat. I ordered a large and in black, looks really sharp!

Verified Buyer

Reviewed by jrb from hanover on Wednesday, October 22, 2014

I dont have a huge head or anything :) but hat was just a bit too small; its being returned.
GREAT technical features if you are a fall/winter runner; bummer it would have been nice to use something like this!

Verified Buyer

Reviewed by happy feet from cleveland ohio on Thursday, October 2, 2014

Cute hat, fit my head. Returned it because I really look awful in hats and I was hoping this one would look awesome...which sadly, it did not.

Reviewed by adobe goddess from NM on Thursday, August 21, 2014

I have a big head and wear a woman's large in hats. If not available I use a men's large. The one size hats just don't fit me. I love the way this hat easily covers my ears. I like the luxurious fleece type it is made with. Really happy that this is not just a beanie. I got the black and the mountain hardware symbol is more subtle. I really love this hat.

Reviewed by Winter runner from Duluth, mn on Thursday, February 20, 2014

Great for running at low temperatures

Reviewed by BEK from TN from TN on Friday, February 7, 2014

This is my second hat, gave the first one to my husband. He also loves the fact it's windproof. Wouldn't wear anything else riding the 4-wheeler in 25 degree temps.

Reviewed by TheHangingJudge from New England on Tuesday, February 4, 2014

Bought this to replace 1 of 2 older models of the same hat (same model with the black band) because we needed a larger size as my daughter has gotten bigger. The old hat was great quality and fit. This new model fits horrible and the material is just cheaper. Mountain hardwear ruined one of the best winter hats on the market with this update.

Reviewed by Annie from New Hampshire on Saturday, February 1, 2014

Soft, comfy and warm, without being too heavy. I wear this for running in the winter and it is the perfect weight; the windproof material and ear flaps make it perfect for any weather. Bought it for my husband but the top is 'monkey fur' fleece, which he doesn't care for, but I am happy to now call it mine. Runs a bit small.

Reviewed by KG60502 from Aurora, IL on Friday, January 10, 2014

Does a nice job covering your ears and sits low on the back of your neck. The only downside is that the front tends to also slide down and get in your eyes from time to time.

Reviewed by T-Rex from Kansas on Wednesday, January 1, 2014

Bought this for my wife and she loves it. Like someone else said, the logo on front is a little detracting. I wish Brands would stop blatantly making us advertise for them but it is warm and fits her smaller head well.

Reviewed by elizabeth from golden, co on Tuesday, December 24, 2013

warm and cover your ears, you can order in sizes so it is not the one size fits all.

Reviewed by Flyfishing Gal from Florida on Wednesday, July 17, 2013

This hat is cute, warm without being hot, covers the ears snuggly but not super tight. Perfect! My hubbie wants one too!

Reviewed by Active senior from Iowa on Saturday, March 30, 2013

I love this warm, snugly hat for outdoor activities during cold, windy weather. It fits tightly around the head but not uncomfortably. That feature and the heavy soft fleece are perfect for keeping out the cold wind.

Reviewed by mountain mama from Four Corners on Sunday, March 10, 2013

I like this hat. I don't love it, though. The orange-red color is fantastic, the cut around the ears is nice. I don't like the "shaggy" fleece so much, and I wish Mountain Hardwear would not put its logo right smack in the front middle of the knit brim. The fit is good on an average- to smaller-sized head. A little too much room in the top of the hat. With STP prices, it's worth trying. Three stars...after I've worn it, maybe it would go to four?

Reviewed by NMBuckaroo from Mountains of Northern NM on Friday, February 1, 2013

My husband has owned a Mountain Hardware hat for a couple of years now, I'm always jealous when he wears it & it's windy cold! The wind cuts right through my old hat, but now I have a cute one with wind block!! It fits true to size around, but it's a bit tall, which is actually kinda of nice, I can fit my ponytail up inside or a braid down my back either way.
I love the color, really bright & super soft! It snugs up around my ears so no cold breezes coming in underneath I love it!