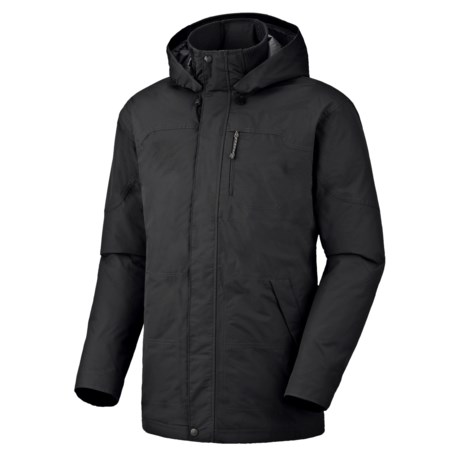 Warm and elegant coat, a few flaws
Verified Buyer
Reviewed by Avada Kedavra from Ithaca, NY on Monday, December 31, 2012
I bought this coat to replace my ten year old London Fog down jacket that was starting to show signs of wear, so it's inevitable that I'm going to compare the Mountain Hardware coat to the Pacific Trail one. Overall, it's a warm and stylish coat, although I've only used it for two weeks now, so it remains to be seen if it will last a decade under the sort of heavy use (backpacking, winter camping, skiing, wearing to work in freezing rain, using as pillow in tent) my earlier jacket saw. In terms of looks and feel, it looks good and feels warm. In terms of functionality, a few things could be better:

- My biggest complaint is that the skirting is too tight. For pretty much everything, to sit down or even to walk comfortably, I need to open the front zipper from the bottom. Most other jackets have a slightly flared out bottom, for good reason. Since the MH coat has a drawstring at the waist for keeping out cold air from below, I see no reason why the skirting should be so tight. Was MH trying to save on material?

- The system for tightening the hood around your head is fidgety at best. It's not the usual spring-loaded cylinder; instead, it depends on a piece of cord catching in a groove, which is impossible to manage with gloves on, and difficult with gloves off. It neither catches nor releases easily, so I ended up keeping it tight all the time (and in the process, managed to knock my glasses off once while donning it).

- In my old jacket, I had four hip pockets; one pair opened at the top, one pair at the sides, and I always used the top-opening ones to keep my stuff and the side-opening ones to shove my hands in. I wish this jacket had the same system. Instead, it has two smallish hip pockets with really small openings, which are good for preventing stuff from falling out but bad for shoving hands in.

On the positive side, I love the breast pocket on the outside, and wish there were two of those instead of one.

So in summary I would recommend this jacket as a good one, but I would also encourage a potential buyer to look for alternatives.
Most helpful negative reviews
Similar items and more information in the following areas: