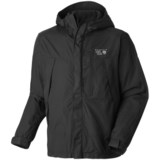 Closeouts. A little bit of extra length goes a long way in Mountain Hardwear's Exposure Dry.Q® Elite parka. This rugged, fully featured shell is made of abrasion-resistant nylon dobby, boasting the unmatched waterproofing power of Dry.Q Elite technology.
Average Rating based on
35
reviews
4.628571
0
5
Verified Buyer

Reviewed by Reid S. from Western New York State on Wednesday, December 31, 2014

Been looking for months to find a durable winter shell with convenient pockets and length that will hold up for cross-country skiing. Outside chest goggle pocket holds larger smartphone or CD player, maybe both. Front lower pockets are high, but fine. Hood is big, but adjustable. XXL makes it easy to layer under for a bigger guy. Darker color was sold out, but glad I opted for red - it's a sharp and stylish jacket and very comfortable. Have not tested it skiing yet, but am expecting same high standards as other MH gear. Good buy and a good price. May have to get a second one for other outdoor activities.

Verified Buyer

Reviewed by cazdresser from S.W. Ontario Canada on Tuesday, November 18, 2014

I bought the black one. Good quality, room for layering, good waterproofing ( been in only one rain) ,high waterproofing and breathability numbers. Pocket placements, sizes etc all personal preference.Not too short.
As per articles on such jackets, one must be sure they purchase for their use; ie: some technologies require more moisture buildup to push out through the membrane, better for colder applications, while others like this Dry Q Elite are " air permeable" thus stand alone may be cool for winter activities. The advantage from my perspective is, these newer membranes are better over all, they can be utilized across a broader spectrum with proper layering, thus you have better rain/snow protection, and better breathabilty.

Reviewed by Ranger Joshua from California on Tuesday, May 20, 2014

I bought this jacket to use more for a wind breaker and its waterproof abilities in cooler days. For those that own one, I tend to wear my Mountain Hardwear Monkey Man jacket until 55 F and then need something else till the upper 60's. This is where I thought this jacket would work. I am 6'2" and 190 lbs. and ordered this jacket in a Large. I was concerned about the sleeve length as long sleeves tend to be short when I extend out my hands. Thankfully this jacket accommodates that issue. The jacket is very comfortable and breathable. I decided to test it while in "warmer" weather and on a brisk walk with the family. It was windy, so that would be a good test too. The temps were in the low 70's. I was pleasantly surprised on how well it breathed. I didn't feel hot, warm, clammy, or sweaty at all. The wind never pierced through the jacket either. As some other reviewers pointed out, it is on the larger side. However, that was fine for me as I could easily wear the Mountain Hardwear Monkey Man jacket underneath on colder days and make a nice layering system. Where does it feel "larger" you may ask? For me it tends to be around my upper torso. It does not look "poofy" or too "baggy" on me according to me wife. Just keep in mind this would make a great outer layer and I plan to use it that way as I discussed earlier. I would highly recommend it especially if you can get a great coupon code for this jacket. I am sure I will get many years out of this jacket.

Verified Buyer

Reviewed by Leo from Hong Kong on Wednesday, April 30, 2014

Comfortable.

Verified Buyer

Reviewed by Quantumntorpedo from Kilauea, HI on Wednesday, April 23, 2014

I live in Hawai'i, on the north shore of Kaua'i. The parka is wonderful protection for the 5 to 20 minute downpours that we receive weekly if not daily during winter and spring. The pit zips provide great ventilation in our climate, there are many pockets inside and out that protect your items. The parka is well constructed, the seams well sealed and if you do not go rock or mountain climbing daily, you will get many years of use. Follow the cleaning instructions(tip, use a powered detergent, sparingly, and after a few years Nixwax repellent).

Reviewed by Tomt from stickney on Tuesday, April 22, 2014

First off, I love the feel of the fabric and the non-restrictive fit...The is the most comfortable Parka I have ever worn and I have had many. I tried this on with all my fleeces and never did I feel restricted or binding anywear. I tried it on with poly fill vest and polyfill MH compresor jacket and hunker down vest and still felt confortable. I have not had a chance to try this in any cold weather but I did get a chance to wear it in a 80 degree rain strom and I was in awe as to this fabrics beathability. It shed water very well and with the pits zips open I wasnt overheated even in 80 degree weather. I olny fear this parka may be too cold in winter unless active. I will post another review once I use this parka in the field.

I wanted to add a note as to this parkas performance. This weekend I went camping and it was a horrible 98 degrees with 90% humidity I knew there was a chance of rain and decided to take my my exposure parka instead of my epic jacket just in case it rained and so i could once again test its performance...It turned out better than I imagined we were hit with a severe thunder storm that trashed our tent we had 100 mile an hour wind gust and heavy torrential rain and pea sized hail. We had to evac the tent and get out from under the trees because of lighting. I was amazed at how well this parka performed it never leaked and not once did i get over heated or clammy while running around the camp site stowing gear and equipment so the storm would not carry it away. we sat in a depression just bellow a clearing for over 3 hours waiting for the lightning to stop in what we later found out over the weather radio were 100 mile an hour wind gusts and hail we never saw a tornado but figured the best protection would be this depression. I could feel the sting of the hail on my back and my wife wore her epic jacket and actualy had to put on her back pack to stop the hurting from the hail after the storm passed and we made it back to our campsite we found our tent torn up from big branches that had gotten tangled in the rain fly and due to wind just tore holes every where. Thanks mountain hardwear for the great products like DryQ elite it was flawless I could not ask for a better product. The only other time I have felt rain like this was in a Florida Huricane and I had was a Poncho

Verified Buyer

Reviewed by Alan from Pittsburgh on Sunday, April 13, 2014

Ask expected prefect and quality. Very good jacket, especially for the price.

Reviewed by M from Michigan on Friday, April 4, 2014

Good quality, will use as a shell for winter activities. Mid weight fabric will be fine in fall, spring. Probably too warm for summer but that's not its intended use. Fabric is pretty quiet which I appreciate. not too many bells and whistles which is fine by me. Good length - I'm 5'11" and a Large extends 3-4" below my waist line.

Reviewed by Penguinboy from Boston on Saturday, February 22, 2014

I was looking for a new truly waterproof coat after a long day of snowplowing and shoveling in a snow storm that turned to rain and soaked me good because I was jut wearing a ski and boarding jacket that was insulated but not waterproof. I have tons of mid and heavy layers so I just wanted a shell. Had good luck with other MH stuff and had a great discount so I figured I check out the Exposure. After I ordered I read online about how good the Dri-Q Elite was so I was excited to try it out. It arrived, the wife liked the looked, it fit well, long in the back, nice lining, not too heavy- very nice. 3 days later we got another snow storm that turned to rain. I wore this for 4 hrs straight and when I came back in my heavy layer was bones dry! My wp Spyder gloves were soaked, my REI rain pants were soaked on the inside from my own sweat, but the Exposure parka was just a tad damp on the inside lining from my sweat making it's way out- like it designed to do. I love this parka and they had it in another color in my size I'd buy it today! This was my first STP purchase and I've been like a crack addict since! I get coupons and deal emails everyday and I can't stop scooping up the deals! Why did it take me so long to shop here?!?! Highly recommend this coat!

Reviewed by Utahski from UT on Tuesday, February 11, 2014

Good weight to this shell, really performs well in heavy snow. I use as a shell for cold and snowy winter skiing. This has room to layer under. I bought to augment my gore tex pro shell jacket that is too small for heavy layering. This allows for a fleece jacket to fit under. Warm even by itself with a good helmet compatible hood, good pockets and solid feel. Only issue was that I got a small snag from a slight tear in my ski topsheet. My Marmot jacket did not do this as it was slicker than this. This is a bit more coarse. It did not tear through and just showed a small superficial line.