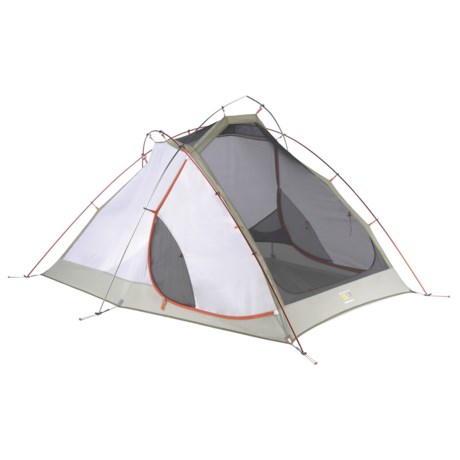 Almost Perfect
Reviewed by pickles from Longmont, CO on Saturday, January 14, 2012
---SUMMARY---

This is an incredibly well-designed tent, erring on the side of excessive. Most important to me was the symmetry of the tent (same on both sides), doors for each person, large vestibules, and the very vertical head wall. This tent fixes problems that have bugged me for years about my other very similar tents (North Face Talus 23 and Sierra Designs Omega 2S), which will now be sold due to this tent combining all that I like most about those tents. The guy lines are all set for you, the fly has adjustable stake points built in, making this tent ready go go right out of the bag, even for harsh, windy, wet conditions (advanced users may not like this). This particular tent style tends to have the problem of pooling water on the fly on the top between the triangle of the 3-pole intersections, a problem that this tent has completely overcome with its tall peak. My biggest overall critique of this tent is that it's extra features, which make it seem more like a light- 4-season tent, add unnecessary weight and complexity that could have been better used to lighten it up or add internal storage along the head and sides of the interior (adding pockets). As an advanced user, I find that some of the items cause the tent to fall short of what could have been my favorite design ever.

Despite my critiques, I regard this tent as one of the best of the 3-pole, 3-season tents I have encountered, and am extremely glad to have it. It fixes major problems with similarly designed tents, only introducing some strange, minor annoyances. Unless MtnHdwr releases an identical tent with some of these extraneous details fixed, it'll be the last 3-season tent I buy for many, many years.

---SPECIFIC CRITIQUES---

1) Overly complex stake/fly attach points:

Between the plastic doodad that holds the pole, stake loop, and the cinch to tension the poles, this does more than it needs to, thereby adding complexity where none was needed. This point needs to be reliable, fixed, and simple. I would have preferred a tab with grommet, rather than the plastic toggle and the adjustable cinch here. Since these tents are coming with clips for the poles rather than sleeves, this feature introduces unnecessary complexity and possibly weight.

2) Head Guy-Line Points Misplaced:

The guy-line tabs at the head of the tent are placed at an irrelevant point that will pull more against the zipper than it will at the natural peak that occurs where the poles cross. This should have been placed where the poles cross, so that tight guy-lines don't interfere with zipping up the vestibule.

3) Removable Internal Panel/Fully Zipping Screen Areas:

This feature blew me away, especially since I couldn't see it any of the pictures. It's a full panel the size of the entire screen portion of the head of the tent that zips in and out of the tent body. This is especially interesting, because it makes the body more like a 4-season/3-season crossover, though the tent is not marketed as such. As a 3-season, it adds unnecessary weight, not only in the material, but the zipper. The rest of the screen areas can be entirely sealed by zipping them up, also adding weight and a feature of questionable importance for a 3-season tent.

4) Clear Window in Fly

If I'm in a tent, unless it's an expedition tent, I don't need a clear window in the fly. I view this feature as a point of potential failure in the future, and it's also a peep-hole into what's in your tent. I don't like the idea of people being able to casually peer into a tent to see if there's anything good in it. It may be paranoid to consider that, so I'll go with the possibility of failure as my primary complaint about this feature. A solid fly would have been far better for casual security (if somebody wants in a tent, there's no stopping them), and making the flysheet solid would have made for better long-term reliability.

5) Gated Carabiner-style Clips at Pole Intersections

There are 4 carabiner-style clips at the pole intersections, with metal gates. This is a common feature on MtnHdwr tents, identical to those on my Trango 2. For a 3-season, these didn't need to be metal-gated clips. The metal gates always rub against the poles, which always damage the anodizing of the poles. Not a huge problem, but my critique is that the overkill is actually a pitfall rather than a great extra detail.

6) Pre-tied Guy Lines and Fly Cinch Points

After a lifetime of staying in tents on trips of all seasons, I have become fairly picky about how these lines are set up. I've never bought a tent that had all this done already, but this one does -- it's ready to go out of the bag. Regrettably, I don't like how they set these up, so I'll have to undo their work and do it my way. The fly-stake/cinch points are also fixed with a plastic toggle. Where tents normally have loops for adding your own cinches, this tent has it ready to go, but even at the longest extension of these points, there will be slack in the fly and the drip line will be closer to the body. If this sort of thing bothers you, know that some custom work is in order.
Best Uses: 3-season camping, Backpacking, Bad weather, Light 4-Season Use
Cons: Features Excessive, Minor Design Flaws, Weight
Pros: Extraordinary Details, Good height, Good Water Drainage, Large Vestibules, Unique Feature Set, Well Made
Most helpful positive reviews
Most helpful negative reviews
Similar items and more information in the following areas: