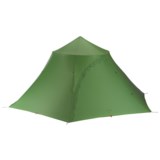 Closeouts. Mountain Hardwear's Hoopla 4 shelter features a floorless design, revolutionary Ring Pole construction and reinforced stretchless seams to confidently protect four minimalist backcountry adventurers without the weight or bulk of a traditional tent.
Average Rating based on
6
reviews
3.666666
0
5
Verified Buyer

Reviewed by OutsideAllDay from Virginia on Monday, January 19, 2015

I have really enjoyed the MH Hoopla 4, primarily as my cold weather tent. It is super light, even less than my 2p and 3p summer tents. It sets up quickly and easily and is a solid wind protective shelter. Using dirt, leaves, or snow, you can build a barrier along the bottom edge to completely block from wind. I don't mind a floorless tent either.

The only reason for a 4/5 star review, is the fact that this tent is NOT a 4 person tent as described. Even the tag on the tent says it "seats" 4 people, but even that is cramped. It comfortably sleeps 2 adults with room for gear. It may sleep 3 adults, but the layout would be inconvenient access to door (imagine a triangle of people).

I've used it in rain, snow, and bitter wind - it performs well each time. Also note, as well its most tents, you'll need to get additional tent stakes for the guy wires. You only get 12 stakes, all used for the bottom. And remember, you need to provide the center pole or trekking pole.

Highly recommended!

Reviewed by Randaid from Vancouver WA on Tuesday, September 16, 2014

I've used this now for over a year, and in all four seasons. I've made one significant alteration that now justifies the five stars. I (my wife) retrofitted a mesh door panel so it still provides near complete bug protection, but allows the tarp's fabric door panel to be rolled up for quite good ventilation (see pic). One additional feature that nobody's mentioned yet is that the adjacent body panel to the door can be rolled up in addition to the door to provide awesome star gazing (see other pic). This is the third tarp I've used over the past 15 years, and I find this superior for several reasons: it's impressively stable in wind, all stake points are at the hem rather than at the end of guy lines (no tripping over lines in the dark), the truss ring provides for impressive head room, and it pitches taught with very little fabric sag. In the first big rain I discovered, as others have mentioned, it leaks around the truss seam. Fortunately the water ran down the walls and dripped on the ground. I used the supplied Seam-Grip with marginal success (it doesn't stick consistently). Use Sil-Net instead. The fabric isn't sil-nylon but for whatever reason Seam-Grip misses the mark. If you approach this as a two person shelter, you'll be wowed with the room, minimal weight, and functionality of it. If you could suspend it from a tree limb and skip the hiking pole, three adults would fit nicely. With four adults, you and three others will be fairly unhappy.

Reviewed by muleman from Utah on Monday, June 23, 2014

The Hoopla 4 is a great option for a floorless shelter. Has more headroom and usable floor space than a GoLite Shangri-La 3. Make sure to seal the seam from the outside and not the inside.

Reviewed by TAO from Montana on Wednesday, June 5, 2013

This tent isn't perfect out of the box. That said, after ~15 nights of use, I am really digging it.

Before you get any further, know this is a floor-less shelter. Fantastic if you have dirty or wet feet and especially with dogs. I use a polycro sheet with mine and it is great, but this isn't a fully "sealed" tent. Again, there is no bug netting, so you are on your own whether you like head nets or insect repellent. Additionally, it is single-walled, so condensation management is important.

That said, if you are used to cowboy camping or tarp tenting, this thing is Cadillac comfy. It is also light, light, light! The hoop gives plenty of headroom over other small pyramid tents. This increased headroom makes stability fair in high wind, so pitch where you have a bit of shelter. The tent is fully enclosed, which is a big psychological plus in bear country.

As for out of the box, it leaked like crazy on our first outing. The included seam sealer didn't work for me. I ended up using thinned McNett Sil-Net to seam seal from the outside and have been good to go. It looks ugly, but works; YMMV. Also, it needs a trekking pole to support the tent. If you don't use poles, well, they sell them here. Finally, it isn't a realistic 4 person tent; we can fit two adults, two kids, and one dog, however.

Yeah, it has some quirks, and has received some bad reviews on the net. Read them carefully; If your tent leaks at the seams, that is a valid, and fixable, gripe, but if you don't like floor-less tents, or can't figure out how to pitch the thing properly, that is a whole other story. Additionally, mountain hardware/ montrail customer service for STP customers is frustrating at best- however, STP will bend over backward to take care of you! Overall, at a reduced price (there isn't anywhere near $350 to this tent), it is a fun, ultralight shelter that is a bit outside the norm. I'm really enjoying mine!

Reviewed by Outside from Carbondale, Colorado on Thursday, April 18, 2013

Even though this was factory seam sealed, it leaked in the rain. Drips would form on the outer perimeter of the fabric that holds the trussring. I called Mountain Hardware and the agent said I needed to get some seam sealer for silnylon and apply it to the outside seam of the tent around the trussring. He didn't even offer to send it to me to repair the faulty tent. The seam sealer that ships with the tent is not the right product for sealing the silnylon.

The tent isn't particularly stable in the wind, and only as secure as the stakes. So be sure the stakes are well anchored or weighted.

It is reasonably spacious for two plus gear or possibly two plus one or two children. It would be uncomfortably crowded for four adults.

I haven't gotten wet in a tent in over 30 years. I'm returning this to STP.

Reviewed by Miniaussie from Olympic Peninsula, WA on Thursday, April 11, 2013

Haven't used this yet. I think STP solicits reviews too soon. I did sit it up. Tried to figure out how to sleep four adults, which is why I bought it. I think you can, but its going to be rub-a-dub-dub, four-men-in-a-tub, but no room for gear. Two adults and two children will do fine. Sierra Designs says it will seat four adults (I read that after I got it home and sat up). It weighs 2 lb. 9 oz. with the 12 stakes, 6 tie-outs and stuff sack. It has a vent in the canopy and the two-way zipper allows venting at the top of the door. The dimensions given are a little optimistic, as are all tents I have owned. The hoop design allows reasonable use of the edges without sticking up in the wind like most A frames. As stated in the description, you will need an adjustable trekking/tent pole, or you can sit up under a tree and use the loop at the top to suspend from a limb.

This tent is well worth the money STP charged. I am certainly keeping it and plan to use it frequently, but probably only when three or less are going.

Happy trails!