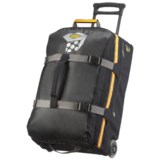 Closeouts. Mountain Hardwear's Juggernaut 85 rolling suitcase crushes any and all travel obstacles with a super-durable, yet lightweight welded alloy frame, large skate wheels and 1000 denier HT nylon construction with a weather-resistant HardWear Tarp top panel.
Average Rating based on
11
reviews
4.363636
0
5
Reviewed by Midwest rambler from MISSOURI on Tuesday, October 27, 2015

I have had this bag for 2 years now. I havE used it hauling gear/clothes across the u.s. and abroad and it has held up extremely well. My items stay mostly dry in the bag when hauled in the back of a truck and it has made it through countless luggage checks without any ripped straps or busted buckles. The 85 is a good size for a few weeks travel and the weight is low so you can haul more without being over the limit at the airport.

Verified Buyer

Reviewed by CK GEO from Texas on Tuesday, August 5, 2014

I am a field geologist and travel internationally frequently. This rugged roller is perfect for intermediate length trips when I know I can't get all my stuff into a carry-on. Should withstand quite a bit of tough handling with heavy loads (as much as a medium-to-large suitcase).

But don't buy this if you are looking for a carry-on.

Reviewed by Flyersdiehard from VA on Tuesday, April 1, 2014

I am rarely if ever disappointed with MHW. The Juggernaut 65 is outstanding. Compartmentalization is great and the lash down straps are awesome.

Reviewed by Banshee from Juneau,ak on Tuesday, February 25, 2014

So this is just my initial impression. I just got this bag yesterday. As usual shipping was fast and service was excellent! Bought this bag with a 35% coupon which made the deal even better! The bag is really solid, zippers are very sturdy, material is heavy duty, wheels roll smoothly, the handle is very ridged and does not feel cheap or flimsy. The main handle and the external zipper pulls have andozied aluminium tubing around the to help them last longer in general. Once you open the bag there is internal compression straps that help hold your stuff in place and compress it down( not that you need the room this bag is MASSIVE!). On the lid side are two compartments to store other small stuff and to my surprise a removable ditty bag or small bag to sort stuff in. There is also a place to clip your keys to on the inside of the bag. Overall very impressed with the quality of the bag.I have a long trip coming up in april I will report back after that to let ya know how it held up, but my suspicion is it will handle it with no problem. And yes I would buy this bag again!

Reviewed by W from Atlanta on Wednesday, November 27, 2013

We took this bag and a Samsonite bag of similar size on a trip to Bryce canyon 2 weeks ago.
With 49 pounds of stuff in it this bag glided over gravel, sand , snow and pavement thanks to the large wheels. The Samsonite bag although a quality bag was a struggle on smaller wheels with no solid axle.
Already ordered the Juggernaut 115 bag for extended trips.
It is TOO BIG to use as a carry on bag though.


Reviewed by Upstate Gal from NY State on Tuesday, November 5, 2013

I did not keep this bag because it was bigger than I had expected. The inside was one large space. I thought the zipper was along the yellow line which would have meant the space was divided. A photo of the open bag would have helped. This suitcase is really a duffle. It does not hold it's shape when there is nothing in it. The top cannot hold clothes which means that all your gear is put into this large cavernous bag. The fabric is nice and it is light for it's size. If you want a duffle this might be the bag for you.

Reviewed by George Lee from NJ on Thursday, July 25, 2013

I am impressed with the quality of this luggage. Even though it may not seem big, I am able to pack a lot more things in here due to the compression straps. One time I had to catch a ferry and the only transportation to the terminal was a scooter so I tied this to the back of the scooter and rode for couple miles on not-so-prestine pavement. The nylon exterior is very solid. The rigid compartment inside is perfect for plugs, cords, and anything else you don't want to get squashed. I cut a piece of plastic corrugated board in the pull-out compartment so it's rigid on all sides except the one facing inward.

Even with the frequent coupons from STP, this luggage was still the most expensive one I bought. I like Mountain Hardwear for their quality, and this ended up being a good purchase for the money.

Reviewed by Mtn Adventurer from Western PA mountains on Monday, May 13, 2013

I haven't used this case yet, but it does deserve a size comment. I used an old American Tourister case for 15-20 years; hard to believe, but it was one tough one that traveled around the globe. When jammed full, it would weigh 50 pounds, the limit before added fees.

There was a review about the Juggernaut being too small. I disagree. It has a smaller footprint than my old trusty case, but it's not only thicker, but has the capability to bulge a bit, if necessary. It's also lighter in overall weight. Consequently, I think that it will weigh in at a max of 50 lbs just like my old case. And if you need more than 50lbs, you're not traveling, you're moving:-)

Lastly, I agree with all of the other good comments about the bag: Quality throughout, compression straps, a bit hard to load as a soft-bag, but the advantage is that is will compress if not fully loaded, etc.

I'm anxious to use it.

Reviewed by joe from New York on Wednesday, March 27, 2013

Excellent product excellent service. Typical.

Reviewed by A Traveler from Rhode Island on Monday, March 18, 2013

I was very disappointed when this product was delivered. Given the price, I had imagined a much larger suitcase. This seemed like more of an overnight bag. I returned my purchase.