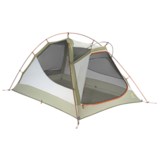 Closeouts. Made with durable, ultralight materials and fully taped and welded for extreme weather protection, Mountain Hardwear's LightWedge 3 tent is a lightweight backcountry tent that can become an ultralight shelter by using just the fly and included footprint for a bare-bones set up.
Average Rating based on
9
reviews
4.333333
0
5
Reviewed by Ricky from Ohio on Thursday, March 13, 2014

I was searching for a good light weight tent for backpacking that would last a LONG time, this fit the bill perfectly. 3 person (2 person+gear), good brand, good price. My brother and I were so excited to use this on our 30 mile trip. We went the 2nd week of Oct so the nights were what some would consider "chilly" So it was perfect conditions for condensation. Knowing this, I cracked the vestibule on the bottom expecting all the mesh to help the tent breath. Well with two mouth breathers we woke up to a rain forest in our tent, the next night I opened the top of the vestibule which did help but still a good amount of condensation. So after the trip I knew this was now a 1-2 season tent for me, or so I thought. I just got back from a trip down to Florida 70s in the day high 50s at night guess who still had condensation issues even with the upper portion of the vestibule open and only one mouth breather. So now I pretty much have a tent that I never want to use again, and am in the market again which I never thought I would say this soon.
The overall quality of the tent is very high and the setup is fairly simple, so if you dont typically have issues with condensation this is the tent for you!

Reviewed by Matt B. from Texas on Tuesday, January 14, 2014

I've only set this up in the house so I can only speak to the size, features and ease of setup. I had originally ordered a Mountain Hardwear Skyledge 3 which proved to be too short. I'm 6'-4" and my toes and forehead brushed against the fabric at the ends of the Skyledge 3. My search for something longer brought me to the LightWedge 3 and I'm much happier. Not only do I fit, but the LightWedge has some great features. The "shelves" over the door are great, as are the storage pockets by the feet. It's very easy to setup. I haven't tried the fly, but if it's anything like the Skyledge, it's a piece of cake. Like the Skyledge 3, I wouldn't consider the LightWedge 3 to be a 3 person tent. Plenty of room for 2 though. It is heavier than expected. I knew there was a pitch light option that came in at 4lb 7oz (fly, poles & footprint) and I kept seeing reference to a packed weight of 6lbs 5oz. I was surprised when my tent arrived and weighed in at 7lbs 2oz. It turns out many of the specs I was reading were for the tent WITHOUT footprint. So, if you plan on using the Mountain Hardwear footprint, plan for an extra 11.8 oz. Not a big deal if you can split up the load when hiking in a group. I'm just happy I found something relatively light that I fit in.

Reviewed by ECT from Pennsylvania on Monday, August 19, 2013

Great tent, Im very hard on my stuff and this has held up well so far. Cant wait to use it in cold weather.

Reviewed by Red-sectora from Utah on Saturday, July 27, 2013

Great tent! My wife and I got this tent and it has been great! I had a 2 man tent that worked well, but this 3 man has so much more room and packs down to the same size as my 3 man. It isn't much heaver either. The construction has held up well and out favorite feature is the tension shelf right above the door. Items are accessible from standing out side the door as well as inside, and there is plenty of room. Second favorite is the pack bag. It is over sized ( about twice as big as the tent rolled up) so the tent always goes in well with no trouble at all. I do wish it had compression straps so the bag didn't let the tent expand to fill the bag, but some home made straps did the trick.

Reviewed by JohnB from VT on Wednesday, July 24, 2013

Nice lightweight 3 person 3 season tent, just like it says. It goes up quick and if split between two people it's more than reasonable for backpacking. It seems well made, the stitching is sound, as are the seams. It poured for two nights straight and thanks to the vestibule, the inside was dry as a bone. And the vestibule helped with that, wet gear need not come inside, at least not all the way.

I am befuddled by the fly only set up though. The cross/support for the vestibule is supposed to attach to this nylon strap in lieu of the tent/mesh. The ends of the curved rod are ball bearings, and they are a great fit in the tent retainer clips. The nylon strap, however, has retainers that are too small to accommodate the ball bearing ends on the curved rod. You can see it in the photo as it curves over the door flap.

I haven't seen anything that addresses this, so I am starting to think it's me. The bugs are usually out when I'm walking so I would most likely not need it, but you might.



Reviewed by Joe Blow from San Fran Bay Area on Tuesday, July 23, 2013

I haven't had it out in the elements yet, but I do trust Mountain Hardwear's products in general. And based on the other reviews here I have every confidence this tent will more than meet my needs. My biggest complaint about this tent are the near useless "instructions". They consist of illustrations (no words) that don't really illustrate the product all that accurately. There were also two sets of "instructions" - one for assembling the tent and another for assembling the rain-fly over the footprint & frame for an ultra-light shelter. Not realizing there were 2 sets of instructions, I spent a good 20-30 minutes trying to assemble the tent following the rain-fly shelter instructions. I ultimately gave up on the instructions and used my best guesses to assemble everything. I eventually found the other set of instructions for the tent and they more or less confirmed my best guesses, but again the illustrations do not accurately match the product, so my best-guesses were the ultimate guide. All that said - I was able to assemble the tent by myself, and now that I know how to do it, I'm pretty sure it can be done in under 5 minutes. My only other criticism would be that I wouldn't call it a 3-person tent, it's more of a roomy 2-person tent. I'm pretty sure 3 average sized adults would be crowded in there and if this tent were all 3 people had for more than an overnight, their trip would be diminished by that fact. Aside from that, the tent is a very nice, well designed package. The rainfly, (when staked down) provides a roomy vestibule. and the "eyebrow" over the door provides gear-stowage space in addition to stowage pockets at the bottom of the back wall. The seams appear very well sealed - I don't have it in from of me right now so can't confirm if they're welded or taped, but I do remember being impressed with them at first glance. The tent material is very light-weight, which gave me some concern, but again, given Mountain Hardwear's reputation, I have confidence it will hold up for a long time. Overall, the tent meets all my needs for a spacious 2-person tent, that is lightweight & back-packable and I have great confidence it will hold up well against heavy winds and rain.

Reviewed by JMW from Wyo. on Wednesday, June 5, 2013

I purchased this tent because my nine year old daughter, three year old terrier and I were cramped like sardines in our previous 2 person pack tent. We received this tent in the mail and set it up for a overnighter in the front yard that same evening. I like the compact design and ease of erection along with the room and vestibule.



Reviewed by Steve the MotoCamper from Kentucky on Tuesday, June 4, 2013

This is a great tent. Mine is the older version which is simply a different color (blue). I purchased it in 2009, and it has been on a couple of trips to Canada, and one trip to Alaska being strapped to the back of a motorcycle. It is my go to tent for motorcycle trips! It has been in frog strangling rains, and very strong winds and never leaked a drop. It's easy to set up even in the dark. I did have one of the poles split at one of the joints, but that was probably my fault. I "had" a bad habit of picking the tent up by the poles and shaking any dirt or debris out the door. I contacted Mountain Hardware, sent them the broken pole and had a new one returned to me within days. It's hard to beat the lifetime warranty!

Reviewed by Sisterbeans from Iowa on Tuesday, April 23, 2013

Even though I will use this tent with 2 or 3 people, I also like to go camping by myself so this is a great little tent with lots of room and entirely portable for one person. Very pretty as well.