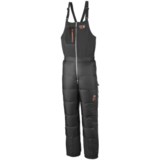 Closeouts. Mountain Hardwear's Nilas down bib pants infuse pinnacle performance into your cold-weather mountaineering. AirShield Elite ripstop puts a stop to harsh winds, and the baffle leg design maintains excellent warmth in the lowest of temperatures.
Average Rating based on
14
reviews
4.428571
0
5
Verified Buyer

Reviewed by Tom from Denver on Thursday, December 18, 2014

Perfect fit!

Verified Buyer

Reviewed by Jimin.Kim from BUSAN, South Korea on Monday, September 15, 2014

Thank you for good goose pants and good price.


Reviewed by Ephblum from Amherst, NY on Monday, March 3, 2014

Great bibs, made for pretty extreme cold weather. I haven't worn them aside from a snowblowing of the driveway yet to test fit but I can tell they will be really warm. The down is very lofty, and really packed in there. The box they came in was actually a lot bigger than I expected for a clothing piece because of how much loft these pants have. I like the trim fit-not sure if this is a trimmer fit than other MHW pants/bibs since these are my first, but these bibs are tighter in the chest than several MHW jackets (alchemy, zonal down, etc.) I have and more like their running gear (effusion power jacket). I got L and usually wear an L in most outdoor clothing (6'2" 185 lbs normally 36W, 46chest). The sides and rear have a large back-baffled waterproof horseshoe zipper and I count 6 total zips which gives a lot of venting options (2 zip to the cuff and then you have 2 on each side which allows venting wherever you want-top of leg, mid thigh, knees, rear, etc.). The bottom foot or so of the leg is un-insulated for a trim fit over your mountaineering boots which is an interesting feature that adds to the overall sleek design. Top of the bibs is a softshell/low pile fleece-like material that is very soft and comfortable. There is also one chest pocket (no other pockets though). Wish I could have added the matching jacket to these bibs, but they are all sold out in L so I purchased a Rab Infinity Endurance jacket from another site to go with these.

Reviewed by Mike from San Diego on Wednesday, February 26, 2014

Bought the large because I don.t like constrictive clothing, (5'11" 150#). Pants fit OK. I have other MTN HDWR gear that is very durable. Expected a more durable outside shell; was somewhat surprised. Not as PUFFY as I expected. BUT very light-weight. So there is the compromise. Overall Great pant for the $$$. You will never beat an STP sale price. HATED paying too much for shipping especially when the Presidents Day sale came a week latter with FREE shipping.

Reviewed by Dr Jack Photo from PA on Saturday, January 18, 2014

Just the bib I was looking for. Very warm for use in winter photography. Fabric a bit noisy when walking, but fits well and does the job. Great price!!!!!

Reviewed by Montana Momma from Montana on Saturday, January 11, 2014

These pants appeared to be of high quality, but the fit was ridiculous. Huge baggy pants, but chest portion fit fine. I am 5'11", 160 lbs, usually wear a Medium in MH brand. Sent 'em back reluctantly, because they looked really warm

Reviewed by Paul Hill from Miramichi NB on Saturday, January 4, 2014

wore these in Baxter St park in Jan, minus 27-30 cel they worked great , easy on and off over my large plastic boots

Reviewed by Dave from New Jersey on Wednesday, December 25, 2013


What I really wanted was a VERY warm layer I could carry with me and put on at the end of the hike.
They fluff up to about 3" thick (single layer), come with a 7"diam x 14" stuff sack, and weigh about 1.75 pounds (XL), so that was encouraging. (The windproof shell, full length zippers and reinforced boot fabric add quite a bit of bulk/weight so those numbers are all bigger than the insulation alone would imply)

But they won't work for me. I didn't take them out for the day, just tried them in the house and stood in the yard before I decided to return them. My biggest problem is just that they won't fit as an outer layer over the medium weight gear I want to wear while in motion. The next larger size isn't available, but I don't think it would work anyway.

The sizing is true, if you're wearing them with just a silk under layer. And you might be very comfortable if you stay out of deep powder with just those two layers as there is a serious amount of loft/warmth. But to wear them like that, I would want built-in powder skirts or a set of gaiters.
For the XL, I measured the inseam at 32", the top 22" of which is box baffled. The bottom 10" is made with a reinforced fabric and almost no insulation. This allows for some clearance around the boots, and may be OK for someone with that size inseam. (Since I have longer legs it instead makes for chilly shins.)
The insulation stops at the waist, and above that is a stretchy bib top which won't allow for a bulky sweater.
There is only a single pocket on the right breast, which will fit an iPhone4, but not one in an Otterbox case. The "rainbow rear" zipper (does an upside down U up one leg, across your backside, and down the other leg) is water/windproofed, but its location prevents accessing a typical pant pocket the way you can with side-zips.


Reviewed by Yotee from Syracuse, NY on Monday, December 16, 2013

Getting cold when on stand, hunting, 2-3 hours (without moving) in 0 degree windy weather. My EMS Primaloft snow pants I wore under my gore tex camo shell just wasn't doing it any more. So I ordered these. First time out I was in a hurry and I forgot to take my 1000 gram insulated boots and just wore the leather hiking boots I had on. 8 degrees and 30 mph winds when I left the car and I had to slow down a few times on the way to my spot as I was getting to warm walking. Sitting for 2 and a half hours was like being on a beach in the sun. I couldn't believe how warm my feet were in those old hiking shoes. Used them 4 times now with less clothes on each time and not cold yet! Base layer and these are all you need on your legs when sitting around in the teens. Not even a shell, just my Tyvek suit as winter camo. Lost probably 5 lbs of clothes wearing these. Dropped a layer on top to they are so warm with the bib and all. And the 2 way zipper on the bottom of the bib zipper - taking care of business has never been easier.

About the bibs - great product. One slight draw back, thou not worth a star to me, is that the bib material is a bit tight (even thou it's very stretchy) when worn over much more than your base layer. Some of my mid-layers have zippers so no big deal but when I want to wear a sweater I have to choose to be slightly tight around the chest or take off the sweater to get on and off the bibs. I've been wearing them over my mid-layer and just get used to the hug. I'm 5'10 &190 lbs athletic build (larger shoulders ) and bought a large. I considered swapping to an XL but I keep wearing less and less with these on and figure it'll work out OK. If I was on a mountain in serious sub zero weather with these I might feel different about this.

They are very light. Best money I've spent in years on cold weather gear. Now to start trolling for a matching Nilas jacket at a great price to .


Verified Buyer

Reviewed by Jersey from The North East Kingdom VT on Thursday, February 7, 2013

Mountain Hard Wear is on top of their game, and this item shows that.
This was designed for Ueli Steck. Look him up, I'm 6'1 190 lbs,
I got the Large, nice fit. I intend to use it for Very cold weather,
and I will stay warm, no question, Buy It....You will be impressed.