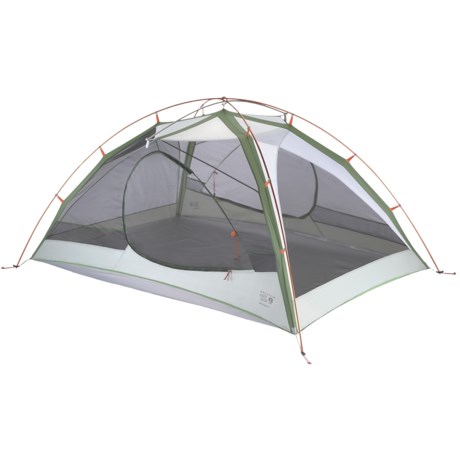 Solid tent, but might not be long enough.
Reviewed by Matt B. from Texas on Sunday, December 29, 2013
I haven't taken this tent out backpacking yet but have checked ease of setup and confirmed dimensions. While very easy to setup, I will say the stated dimensions are a little off, or maybe misinterpreted on my part. The specs state that the floor of the tent measures 88"L x 58"W. With the tent laying flat on the floor and before clipping it to the poles, the floor on my tent measured 86"L x 57"W. Once I clipped the tent to the poles and the bathtub-style floor takes shape, I was left with a useable floor area of about 82"L x 52"W. Not bad, except all 4 members of my family are tall and have long sleeping bags between 82" and 86" in length. I'm 6'4" tall and when laying on top of my sleeping bag, my forehead and toes just barely touch the sidewalls at each end of the tent. I'm a little worried that once I'm actually in the bag, the head and foot ends of the bags will get wet due to condensation.

Even going off the manufacturer's generous dimensions, I knew this wasn't a 3-person tent as advertised, but you can clearly see that once the tent is up and you're left with a 52" useable width, there is no way you are going to fit (3) 20" wide sleeping pads in this tent, let alone the 25" wide pads that I prefer. This tent is sized like most other 2-person tents and should be labeled as such.

Because of our height, we were also looking for a tent that offered sufficient headroom. The specs for this tent call for a "45" peak height". I mistakenly took this to mean head clearance inside the tent, but I'm pretty sure it's the measurement to the exterior peak. I can still sit up in the center of the tent just fine with an extra 4-5" to spare, but the head clearance inside the tent is actually 43". Just thought I'd clarify that since the interior clearance seems more important than the outside dimension.

I haven't been able to confirm the weights of the various components, but I'm hoping those specs are a little more accurate than the others. Overall, I'm happy with the tent but might need to return it due to the length.
Most helpful positive reviews
Most helpful negative reviews
Similar items and more information in the following areas: