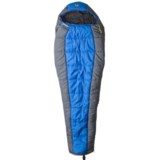 Closeouts. From Mountainsmith's Performance Series, the Redcloud 20°F sleeping bag features MountainLoft hollow fiber synthetic insulation for an unbeatable warmth-to-weight ratio.
Average Rating based on
52
reviews
4.134615
0
5
Verified Buyer

Reviewed by Hiking family from Ohio on Monday, July 4, 2016

The bag is a great value--warm, great colored, quality cinch sack. When cinched down, was a little bigger than I was wanting for summer backpacking, but very doablable and would provide warmth for fall/spring backpacking. Pleased with the value!

Verified Buyer

Reviewed by Thomas from Washington on Monday, June 6, 2016

Sleeping bag is very warm but lightweight. Rolls up into a compact bundle that fits nicely on a backpack.

Reviewed by Creams from East Coast on Tuesday, December 22, 2015

I used this bag for the first three or so years I got into backpacking. Sleeping bags are historically one of the most expensive pieces of gear, so I chose to upgrade to a lighter option as a last priority, focusing on saving weight with other gear first. As a result I took this guy on a lot of different trips and used it to the lower limits. Close to freezing temps definitely push the limit, but with some good base layers on this girl really can handle close to 20 degrees - especially with a bag liner. When it's not cold out this is just a really solid bag - I would say you aren't going to find something that is objectively better in all aspects for under a $230 or so. The mummy design is always an acquired taste, but really necessary to keep warm without a hat and doubles as a good place to shove some extra clothes for a makeshift pillow. Overall I'm really pleased with this bag - yes it is hefty for backpacking but the extra shaved two pounds and couple degrees of warmth that come with a $450 bag aren't needed if you're getting started and just doing weekend trips. Highly recommend

Verified Buyer

Reviewed by Chris from Sacramento on Sunday, June 28, 2015

Since the bag is synthetic, it is given that it does not roll up to a compact size similar to a down bag. It does come with a compression sack, but it only compresses it down an inch or so, not making a big difference. I was a bit disappointed when the package did not come with a cloth sack like it said it would. If I had received that sack, I would have rated this 4 stars instead.

Verified Buyer

Reviewed by Austin from Virginia on Tuesday, February 24, 2015

Haven't had the chance to get out and use it, but it is very comfortable and fits me (5'10") perfectly.

Reviewed by Joe from Missouri on Monday, November 3, 2014

I purchased 3 of these for use by the kids for car camping. Their el-cheapo bags that they use for sleepovers, etc were not warm enough when the temps dropped into the 40s. With the discounts, these were a great buy. We've used them several times now from temps in the 50s down to freezing and have been warm each time. When it dropped to freezing, I did find that I had to keep it zipped up to really stay warm. The bag is cut fairly big, so the when the kids used them our youngest (age 7) had to kind of fold over the end so that there was less dead space but that worked out decently well. The cut of the bag is pretty big. I'm 6 foot, 200 pounds and I was able to wear a jacket inside the bag with no issue at all. If you want a more snug fit, this bag is not for you. I do think it would be even warmer if it was a bit less baggy. This bag is not really for backpacking. I did pack them in on our last short trip, but the bag is both bulky (even using a stuff sack) and heavy. But for camping they work just fine. the zippers work fine, although there is no zipper guard so you can still catch it on the bag. The fabric seems tough enough and would hold up well over time. The stuff sack that comes with the bag is only ok. I'm guessing the stuff sack will not be able to stand up to years of use. But I bet the bag will be ok. We have a couple of older Cats meow bags that are comparable to this bag, actually, and this bad is 1/3 the cost of a cats meow. It's big and heavy, but I found it to be a comfortable bag that is a great value.

Verified Buyer

Reviewed by Alex from NC on Friday, October 10, 2014

It's been quite a long while since I've purchased a new sleeping bag, and am I ever so glad I did! It's beyond words amazing. I've only had the opportunity to use it once since purchasing it a month ago, but I am totally hooked on this bag. It happened to get slightly wet and still kept me warm! I would recommend 100%

Verified Buyer

Reviewed by Tall Backpacker from California on Friday, October 3, 2014

This bag is much less expensive than others which popped up on the website alongside it. I have now had a chance to test it in cold conditions, and it kept me toasty warm. I was somewhat concerned about dimensions (length, since I am 6' 4" tall and the website gave no specs that I could see re length), but it is just fine for a person my height. It is less bulky than my previous bag, and reducing bulk on backpack expeditions was my primary motivation to get a new bag.

Reviewed by SB from Spartanburg, SC on Tuesday, February 25, 2014

I spent my first night out in this bag over the weekend. Temps fell to in the 28-32 range. In base layer, and merino wool socks, this bag performed very well on top of a 3/4 length ridge rest. The chest baffle sets this bag apart as it traps the air your body has heated inside the heating compartment and blocks new unheated air from entering. Many 20 deg bags at this price point lack this feature. My experience was that the minimal amount of recirculating air caused the same air to be warmed by my body heat all night, which resulted in me being warmer in the morning, when air temps were cooler, than I was when I first crawled in. I expect this bag would be comfortable at or below its state 20 degrees given proper layering, but I can imagine being miserable in it later this spring.

Great loft, good zippers (top zipper smooth, bottom zipper locks well then zips smoothly). Stuff sack is REALLY small, but compresses well and stitching/buckles seem to be high quality. It lives in the included cotton sack when not in use. I am rating this bag based on my needs--a spring/fall bag that will typically be packed for 1-2 night trips less than 5 times/year.

Reviewed by topsailscout from NC on Monday, February 3, 2014

I am 5'11' 190. It is a little snug around the shoulders and hips for me, but when I got in it, I was nice and warm. I gave it to my son to use on a camping trip and the temps got down to 10 degrees. With a fleece blanket over top, he was warm and toasty all night. No complaints.

It is a bit hard to get back into the compression sack, but fits back in the cloth sack that comes with it no problem. It would be a bit bulky/heavy for back-packing, but perfect for car camping.

Very impressed, never used Mountainsmith before. Would definitely recommend.