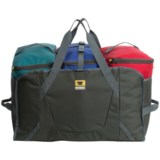 2nds, slight cosmetic blemishes on fabric. With Mountainsmith's Modular Hauler 3, you'll never waste time looking through your unorganized gear again.
Average Rating based on
342
reviews
4.497076
0
5
Verified Buyer

Reviewed by Clint from Erie Pa on Monday, February 13, 2017

Using for trunk organization. Will probably get another.

Verified Buyer

Reviewed by Old broken feet from Jonesborough on Thursday, February 9, 2017

Perfect for carrying a lot. If it's a second, sure can't tell you why. Perfect for storage in our van.

Reviewed by Jason F from Dallas on Tuesday, January 3, 2017

Not sure why these are listed as "2nds" as they do not seem to have any cosmetic imperfections (at least with the two that I got). However note that this is not the most current version of the product as Mountainsmith has removed the single top handle and gone to two side straps in their latest iteration of the cubes. Also of note is that the most current version of the Modular Hauler and Cubes (at least on my Hauler 4) has a new hard plastic yellow piping "U" on each side that adds some vertical support on the sides to help keep it upright (not perfect... but better than not).

I know that some have suggested using cardboard... but if you want better vertical support inside the cubes, my recommendation is to cut three pieces (for bottom and the two narrow sides) of white corrugated plastic sheet that you can pickup at any home improvement store (or recycle those political signs) and simply duct tape them together in a "U" configuration - so that they can still fold down when not in use but adds a significant amount of rigidity to the cube so they can stand up on their own (just be sure to keep the ribs vertical on the sides and long ways across the bottom to give you the most support. If you get a larger corrugated plastic sheet... you can also cut a piece for the bottom of the hauler that helps keep it straighter when adding/removing bags).

In summary... this version of the Mountainsmith Modular Hauler 3 is a great value on Sierra Trading Post and a great way to organize your outdoor gear (the only significant advantage of the new version is the side straps that take the weight off the top and also allow you to move the bags easier while open. Having a four Cube and a couple of three Cube Haulers... I would agree with others that the three cube version is more manageable and easier to carry around for my outdoor activities (especially if your gear is somewhat heavy).

Verified Buyer

Reviewed by didee99 from Colorado on Monday, November 14, 2016

I didn't see any purpose to these when I have seen my friends with them but after my husband used one in our kitchen box on a multi-day rafting trip he recommended we buy a set. The zip top prevents things falling out and the carry bag helps to keep them bags upright although I found them more difficult to insert when the bags were sparsely filled. I took these on a camping trip and was happy enough with the organisational capability of these to keep the gear inside the car more tidy and easy to find.

Verified Buyer

Reviewed by ye olde woodsman from State of Jefferson on Monday, September 12, 2016

The cubes are well made and quite big. Easy to use and applicable to many usage areas. Emergency clothing and footwear are now easy to store in my vehicles.
Camping clothing, fishing gear and other camp items now have a secure place to go and suddenly become easier to pack and load into the vehicles.
I just ordered 5 more cubes. I am still discovering ways to use this outstanding product.

Verified Buyer

Reviewed by Forge808 from Oahu on Wednesday, July 13, 2016

Lucky to have found this bag at an outstanding price here on STC. I use these bags individually and together and to haul or pick up things from one place to the next and back again. It's modularity is its highlight and the whole package provides ample room for all my needs. I even use the tote by itself to transport laundry to my apartments laundry room. I take it camping and bbqing at the beach as I can just throw it in the back of my truck. At home I use it to organize gear in my closet. Good product Mountainsmith.

Verified Buyer

Reviewed by Mark from Michigan on Tuesday, April 19, 2016

The bags work great for organizing my bike gear. They are soft sided bags so they do not shape well until they are full of gear.

Verified Buyer

Reviewed by Dave from Washington on Tuesday, December 29, 2015

Just what we needed to organize all of our outdoor stuff in the back of our Outback!!

Verified Buyer

Reviewed by Tim from TX on Sunday, December 13, 2015

I use these now instead to plastic bins. You can compress them when not full. You need to fill it up for it to stand as the lining is thin.

Verified Buyer

Reviewed by Jadawoman from WI on Friday, August 21, 2015

Finally all the stuff I carry in the car is organized. Tote bags for the market, winter survival gear/summer rain gear, etc. Love it.